Germany Donizetti, Lucia di Lammermoor: Bayerische Staatsoper Orchestra and Chorus / Oksana Lyniv (conductor), Nationaltheater, Munich, 13.7.2017. (JMI)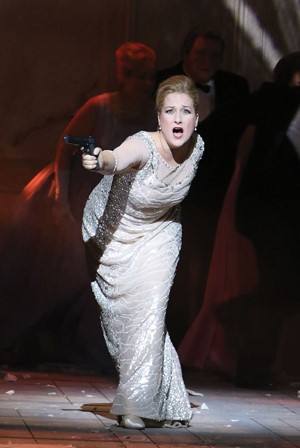 Cast:
Lucia – Diana Damrau
Edgardo – Charles Castronovo
Enrico – Ambrogio Maestri
Raimondo – Nicolas Testé
Arturo – Galeano Salas
Alisa – Deniz Uzun
Normanno – Dean Power
Production: Bayerische Staatsoper
Director – Barbara Wysocka
Sets – Barbara Hanicka
Costumes – Julia Kornacka
Lighting – Rainer Casper
This production by director Barbara Wysocka had its premiere in January 2015. I've had the occasion to see it in the past, and here is what I wrote about it earlier:  review
It must be said that the musical version is as complete as possible: it adds the tower scene, that of Raimondo and Lucia and even the trio that closes the mad scene (which, incidentally, is pure anticlimax, with little musical and dramatic meaning). In addition, all the cabalettas are repeated. Oksana Lyniv, assistant to Kirill Petrenko, was again the musical director, and her work was the most convincing I've seen from her. There was more tension in her reading than previously, and a remarkable control of all the forces under her command. The Bayerisches Staatsorchester was quite good under her baton. I have to mention once again the performance of Sascha Reckert on the glass harmonica, which fortunately is always present in Munich. Also to be noted is the vocal and stage performance of the Bayerische Staatsoper chorus.
As she did two years ago, Diana Damrau sang the role of Lucia. It was again a triumph for her: she is the great Lucia of the twenty-first century and, in my opinion, one of the greatest of all time. Diana Damrau is no longer the light soprano of 10 or 12 years ago, and she has been eliminating characters like Zerbinetta or The Queen of the Night from her repertoire. She has become a lyrical soprano with an excellent middle range and maintains her spectacular vocal technique. To this one must add that she is a real actress, who gives a lot of life to the characters she plays. Her Lucia di Lammermoor reminds one of Maria Callas and her ilk, not of the many light sopranos who have interpreted the role. It is true that she cannot hit the high E that crowns the first part of the mad scene and has to make a variation to avoid it. But it was still a great performance by a great artist.
Her Edgardo was American tenor Charles Castronovo, whom the public in Munich seemed to love more than I did. As on other occasions, I found him somewhat monotonous in his singing; his voice is attractive and adequate though not very well projected, but there is a shortness of colours.
Ambrogio Maestri's interpretation of Enrico was unconvincing. I simply did not find him suitable for bel canto. Mr. Maestri is an outstanding Falstaff or Dulcamara, but Enrico Ashton is a very different animal, and he lacked elegance and phrasing.
In contrast, Nicolas Testé was good in the part of Raimondo. He has an appealing voice, and he sang with gusto and expressiveness.
The secondary characters were excellent. Arturo was nicely interpreted by tenor Galeano Salas. Mezzo soprano Deniz Uzun showed an important voice as Alisa, and good stage skills. Finally, tenor Dean Power was an impeccable Normanno.
The theatre was completely sold out. The audience was enthusiastic at the final bows, with the loudest ovations for Diana Damrau, but there were also cheers for the other three main interpreters as well as for Oksana Lyniv.
José M. Irurzun