United Kingdom Rossini, Il turco in Italia: Soloists, Garsington Opera Orchestra & Chorus / David Parry, Garsington Opera at Wormsley, 29.6.2016. (CR)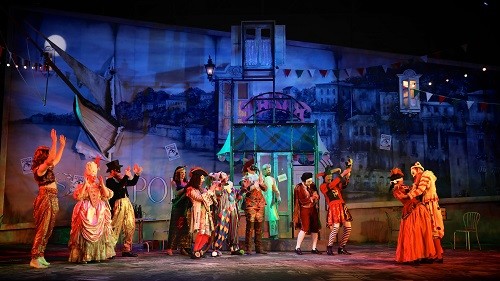 Cast:
Fiorilla – Sarah Tynan
Narciso – Luciano Botelho
Zaida – Katie Bray
Selim – Quirijn de Lang
Don Geronio – Geoffrey Dolton
Prosdocimo – Mark Stone
Albazar – Jack Swanson
Production:
Director – Martin Duncan
Designer – Francis O'Connor
Lighting Designer – Mark Jonathan
Movement Director – Nick Winston
Perhaps with a glance over the shoulder back to last year's production of Rossini's L'italiana in Algeri, Garsington Opera has, this season, revived the composer's subsequent comedy, Il turco in Italia. Composed the year after, in 1814, it inverts the farce of the earlier opera buffa by bringing the encounter between Italy and the foreign Other (in this case Turkey rather than Algeria) to the composer's native land, rather than having the Italians venture beyond their own shore. Both comedies, however, provide the setting for the clash in values that obtain with respect to these respective cultures' apparent expectations in romantic and social matters, whilst also exploring the perennially convulsive relations between the sexes.
As much as his own earlier success, Il turco also owes at least as much to Cosi fan tutte and it is fascinating to note the parallels between the two operas in their comic situations as Selim and Fiorilla, in particular, have to come to terms with their fleeting amorous fancies and decide with whom their long-term futures lie, as Fiordiligi and Dorabella also must do. Mozart's opera is seemingly also referenced musically with the use of a four-note motif in the trio 'Un marito scimunito', similar to that employed for the motto "così fan tutte" in that work. Musically it is perhaps Rossini's most Mozartian score, with a preponderance of ensembles responding intuitively to the nuances of each dramatic situation as against only a handful of genuine solo arias, and a melodic fluency and elegance sustained with characteristic energy.
Additionally, the role of the poet Prosdocimo corresponds to that of Don Alfonso insofar as he presides over, and seeks to direct the course of, the action played out on stage. The figure of Prosdocimo is actually a more modern and complicating meta-theatrical device though, in that he addresses the audience directly, in proto-Brechtian fashion, as he looks for material for a play he has been commissioned to write. All he has to do is to note down (whilst also mischievously stirring up) the narrative of 'real life' which unfolds before him, engendering a conflicting, but dramatically fruitful, three-way relationship between the audience, himself, and the stage action, which is, in turn, redolent of the tangled relationship played out among Selim and Fiorilla and their significant others. Martin Duncan's production plays all this up, and by having Mark Stone come into the auditorium to photograph the brawl which arises between Zaida and Fiorilla as they discover that they both vie for Selim's attentions. Stone acts the part with a generally deadpan humour – and there is nothing wrong with that in a role which is partially detached from the action – but he is perhaps a touch heavy-handed where more of a knowing twinkle in the eye is needed and a little more levity in his musical delivery, which is otherwise committed and convincing.
Duncan's production and Francis O'Connor's set designs neatly suggest the disruption brought about by Prince Selim's portentous arrival in Italy – a façade on the stage, broken up with some windows and a door, shows the placid bay of Naples until the prow of Selim's ship breaks into this from behind, remaining there until his departure. The lower part of that façade comes forwards later in Act I like a drawer, to reveal a room in Geronio's house and what goes on behind closed doors when his bored wife, Fiorilla, brings back the dashing Turkish prince to her house 'for coffee'.
Crucially, Quirijn de Lang, in the eponymous role, was a confident and authoritative presence – brash and assertive with singing to suit on appearing in Naples, and sure of his appeal to women, but with a lively enough disposition to negotiate with mercurial humour the confrontations with Geronio at his house in his compromising encounter with the latter's wife, and later on at both the café and the carnival in Act II. Doubtless it helps that de Lang is a veteran of this production's first presentation by Garsington in 2011. Furthermore there is also pleasing continuity in the fact that both he and Katie Bray appeared in L'italiana in Algeri last year. As Zaida, the girlfriend whom Selim had allowed himself to be persuaded is unfaithful and accordingly fled for her life, Bray brought keen charm to the role as she sought to win back the Prince in her coincidental encounter with him in Naples, proving a match for Sarah Tynan's Fiorilla insofar as Zaida's relatively smaller amount of music allowed. Tynan certainly stood out, though, for the sparkling ease with which she executed the coloratura of her music and her remaining clear and precise at the top of the accumulated textures in some of the ensembles.
The plot comprises the usual series of comic incidents, disguises, and buffoonery, which ends in a more or less predictable happy fashion with the pairs of lovers reconciled. The production allows these twists and turns to play out for themselves without cluttering the stage or obscuring the action. Instead the choreography drives the performance, which is deftly executed by the soloists and choir alike striking a happy equilibrium between farcical comedy and dramatic realism. Various degrees of good humour were brought out by the singers of the other principal characters: Geoffrey Dolton as the near-cuckolded Geronio, without allowing his musical performance to descend into mere caricature and so eliciting sympathy rather than ridicule; Luciano Botelho's singing the tenor part of Narciso solidly in his pursuit of Fiorilla with his schemes to divert Selim, though with his agility coming under slight strain in the (admittedly) very high register which Rossini occasionally calls for; and more carefree allure by Jack Swanson's Albazar.
David Parry conducted a well-paced account of the score, combining elegance and balance like a fine, bubbling prosecco, as this music should. He avoided the temptation simply to rush through it but secured from the Garsington Opera Orchestra the sense of a gradual acceleration and increasing tension which creates a genuinely exciting and dramatic effect, as well endowing the succession of ensembles with sufficient variety to sustain interest in the music from one to scene to another which can otherwise threaten to sound too similar. There were some finely shaded colours from the orchestra too, also bringing Mozart to mind such as in a wistful dialogue between clarinet and bassoon in one place, and a solo horn in another, reminiscent of that in Cosi fan tutte's 'Per pieta'. Ultimately Rossini's opera does not encompass the same subtlety of wit or the ingenious pulling together of narrative threads into a seamless, integrated whole as do Mozart's sublime comedies. But Garsington's production gives it the scope, consistency, and credibility as a piece of musical theatre which approaches that unsurpassable level and provides for a rewarding evening's entertainment.
Curtis Rogers
Further performances on 2, 5, 8, 10, 13 & 15 July for details click here.