United Kingdom Wagner, Die Walküre: Soloists, Bournemouth Symphony Orchestra / Stephen Barlow (conductor), Grange Park Opera, West Horsley Place, Surrey, 1.7.2017. (JPr)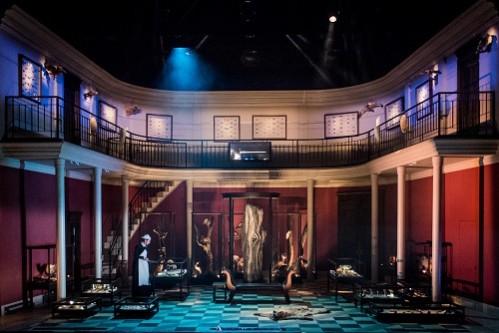 Cast:
Siegmund – Bryan Register
Hunding – Alan Ewing
Wotan – Thomas Hall
Sieglinde – Claire Rutter
Brünnhilde – Jane Dutton
Fricka – Sara Fulgoni
Helmwige – Mari Wyn Williams
Gerhilde – Tanya Hurst
Ortlinde – Becca Marriott
Waltraute – Anne-Marie Owens
Siegrune – Lauren Easton
Rossweisse – Felicity Buckland
Grimgerde – Gemma Morsley
Schwertleite – Morag Boyle
Production:
Director – Stephen Medcalf
Set designer – Jamie Vartan
Lighting design – David Plater
Well what an achievement! Forget all about the speed with which chief executive Wasfi Kani raised the money, got planning permission, broke ground and subsequently built a new 700 seat opera house in the grounds of Surrey's West Horsley Place (due a generous 99-year lease from Bamber and Christina Gascoigne). More important is how they have managed to stage a Wagner opera when it seems so difficult for our major opera companies. This summer I have seen in a matter of weeks Tristan at Longborough and now Die Walküre in productions and with musical values of the highest standards.
At West Horsley there is still much to be done before it is all finished, but an opera in 'The Theatre in the Woods' is already a summer event which should not be missed. Having mentioned Grange Park Opera's 'hard Brexit … exit' from their previous Hampshire home, Wasfi Kani, spoke amusingly before the performance appealing for 150,000 bricks to finish the façade of the opera house, as well as, money for the Lavatorium Rotundum, some permanent toilets with 'two-thirds for the female species'.
Nevertheless, you could not be anywhere than on a visit somewhere to the rapidly expanding country house opera scene when you hear the conversation: 'Is this your first Wagner opera?' 'Yes, and I believe it's something called The Valkyrie' 'Look out for a sword' was his friend's reply. So much for the plot then!
The actual story is served well by Stephen Medcalf's production which is so solidly three-dimensional and expensive looking that – money permitting – this must surely develop into a Ring cycle in coming years; otherwise what has been spent should have been put towards those bricks …or toilets! Jamie Vartan has devised a single set to provide the background to all three acts with only the merest change in what we see. It could be any German Schloss we are in, but with an upper gallery around the three sides it looks inspired by the entrance hall to Wahnfried, Richard Wagner's home in Bayreuth.  Nature seems to be the theme for the first act with a preponderance of stuffed animals; weapons and other militaria for Act II with the famous picture by Anton von Werner (of the crowning of Wilhelm I as emperor of Germany in 1871 at Versailles) very prominent. This very much sets this Die Walküre at the height of German nationalism of Wagner's own time. Act III take us from 'A Night at the Opera' to the 'Night at the Museum' series of fantasy films as the Valkyries emerge from their display cases to drag in their heroes in bloodied body bags and there is an exhibition of Romantic landscape paintings by Caspar David Friedrich (probably amongst others) on the balcony. This works fine for this opera though the Konzept might be spread a little thin over four nights of a Ring without something different to look at.
Wotan is hoping to choreograph the action of his son, Siegmund, who – because he is free of his father's will – can win back the all-powerful ring which he had to give up in Das Rheingold. He is present to hear Sieglinde recount how a sword has been left for Siegmund to use to despatch Hunding and along the way save his twin sister, Sieglinde, from her abusive loveless marriage to him. And what about that sword? Not as expected in the huge tree trunk to the rear of the stage, but in a trophy cabinet just above it. As we know Wotan's troubles are only just beginning and matters quickly spiral out of his control.
Enter Wotan's embittered wife, Fricka, who begins to disassemble his scheme. Around a large circular table and with Wotan drinking from a (Meissen?) porcelain tea set, she points out that Siegmund is 'acting' in the way Wotan wants and clearly is not a free agent. Not only that but he had made love to a woman married to someone else and who is his own twin. Wotan has to reluctantly admit he is wrong, Siegmund must now die as he clearly cannot escape the curse of the ring and so Wotan is powerless to prevent the twilight of the gods brought about by the dwarf Alberich. He tells his daughter Brünnhilde what she must do but she gets other ideas. At this point we see the climax of the 'relationship' between the 'Curator' or butler (Brian Smith Walters) and the maidservant who have been on the periphery of the action during Acts I and II. She is brutally raped as Wotan recounts how Alberich's son Hagen will bring about their downfall. Clearly the 'Curator' is Alberich (though why Wotan doesn't recognise him I am not sure) and the maid is Grimhilde of the legend and she appears heavily pregnant (with Hagen) at the end and confronts Sieglinde who is pregnant herself with Siegfried.
Even if they didn't sing well enough – which they mostly do – Stephen Medcalf extracts some wonderfully nuanced performances from his cast. Interactions between the characters was naturalistic and believable; the instant attraction between Siegmund and Sieglinde was clear for all to see, and surely Sara Fulgoni's Fricka must be the most indignant portrayal there has ever been.
Not for the first time this summer I am remembering the great Wagner tenor Alberto Remedios who we lost over a year ago. For those who never saw or heard him live as Siegmund, Bryan Register is similarly lyrical and tireless from his exciting 'Wälse! Wälse!' outbursts to his tender expression of devotion to his twin sister in Act II. He just lacks a little of his predecessor's Italianate tone but you cannot have everything, and so Register is one of the better Siegmunds I have heard in recent years. Clare Rutter was womanly and ardent as Sieglinde culminating in her radiant 'O hehrstes Wunder'; whilst Alan Ewing's singing sounded a bit gruff and unvarying to me as a one-dimensional, black-hearted Hunding.
As hinted at above, Sara Fulgoni's resplendently sung Fricka was total convincing in its dramatic detail and her long 'conversation' with Wotan never seemed half as long as it sometimes can. Her husband Wotan was sung by a singer new to me, Thomas Hall, though his Wagner is clearly a known quantity (click here). Straight-backed, authoritative, he brought power and gravitas to the role, though he was helped a lot by the intimate horseshoe-shaped auditorium. He harnessed his resources consummately to give Brünnhilde a suitably noble and emotionally engaging farewell and summon some 'real' fire. She was left asleep on the floor in the middle of the stage whilst Wotan retreated to the display cabinet clearly designed for her.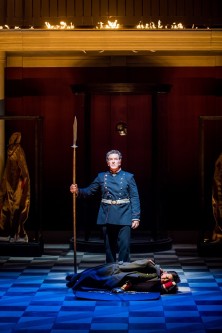 The eight Valkyries (wearing military uniforms and spiked helmets) were a fine bunch and I have heard a lot worse. This leaves me with Jane Dutton's Brünnhilde. This former mezzo is fairly new to this role and her voice is possibly still transitioning. Once again her dramatic identification with her character was not in doubt. From her 'Hojotohos' on there was a certain shrillness to her singing, though where the role lay in the chest area of her former voice she was more successful and there was a poignant grace to her imploring 'War es so schmählich?'.
Stephen Barlow did a fine job of accompanying the singers and drew some accomplished playing from the Bournemouth Symphony Orchestra. I missed the ominous sense of dread the opening stormy Prelude should create as we hear the fleeing Siegmund's anxious heartbeats. It was as if the orchestra was not yet warmed up. Nevertheless, the opera was authoritatively conducted throughout and tension began to build midway through Act II and from that point the music never lost its grip on me. There were a number of highlights but conductor and orchestra were at their very best during the Valkyries' rampant 'Ride' and the incandescent Magic Fire Music conclusion at the end of a compelling Act III.
Next year it is Verdi's Un ballo in maschera, Gounod's Roméo et Juliette and Rodgers and Hammerstein's Oklahoma! 'and more'. However, more Wagner soon please!
Jim Pritchard
For more about Grange Park Opera click here.