Sweden Paula af Malmborg Ward, Kärlekskriget (The Love War): Soloists, Vattnäs Chamber Orchestra / Fredrik Burstedt (conductor), Vattnäs Concert Barn, Mora, Sweden, 6.7.2017 (world premiere). (GF)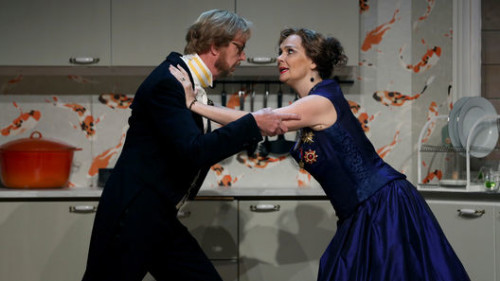 Production:
Libretto – Mathias Clason (based on Ebba Witt Brattström's novel "Århundradets kärlekskrig")
Direction – Niklas Hjulström
Sets and costumes – Mathias Clason
Lighting design – Jimmy Svensson
Masks – Robin Karlsson
Cast:
SHE – Pers Anna Larsson
HE – Lars Arvidson
IVONA – Amelia Jakobsson
This must be one of the quickest adaptations of a literary work for the operatic stage. Ebba Witt Brattström's Århundradets kärlekskrig was published on 21 March 2016 and immediately attracted attention. Mathias Clason read it and felt it was destined to become an opera. He contacted the author, an opera aficionado herself, who immediately encouraged him to give it a try. He called Anna Larsson, artistic director of the concert barn at Vattnäs, who gave her approval. He met Paula af Malmborg Ward at a café in Gothenburg. She agreed to write the music. Niklas Hjulström became involved as director and the process became a whirlwind. On 10 September the libretto was handed over to Anna as her birthday present! It took Paula nine months to compose the music – an extremely short time for 100 minutes of music – and the premiere was on 6 July 2017!  The time for studying the extensive solo parts, for rehearsals, for lighting design and building the sets, was also on a tight schedule, and yet on opening night there were no signs that this was a rushed job. Everything went like clockwork and the atmosphere was charged with feelings, bitter conflicts – and a generous helping of black humour as well. The problem with the concert barn is that – even though the venue is intimate in size and the acoustics good – it is sometimes difficult to catch the text and there are no surtitles. Since later I was able to get hold of the libretto I now have a deeper understanding of the drama and can savour the wit, the sharp-edged one-liners, the psychological nuances and the sheer animal thrust that permeates much of the action; also the vulgarities that are part and parcel of a more than thirty-year-long matrimonial love-war and that sometimes conclude in very down-to-earth obscenities. I heard some less than flattering comments about these in the interval from shocked visitors, who obviously couldn't accept or understand that this is not theatre in the abstract sense but a matter of life and death, under very realistic, real-life circumstances.
The opera is in two parts and takes place in the kitchen of the couple's flat in central Stockholm. The cupboards and shelves are filled with bunches of paper but the fridge at least contains something nourishing. HE and SHE come home, in gala dress from a dinner. Both have important positions in society. SHE is a central figure in the Department of Equality, HE is an expert in cultural life. It is towards the end of their long relationship and the hateful feelings between them are openly demonstrated, even physically. After a night filled with reproaches, SHE says: "After thirty-three years … but now, damn it, it's over!" End of act.
The second act takes place half-a-year later. It's the same kitchen, but now it's filled with moving boxes. Separation is a fact. They meet again, for the last time. The aggressions are toned down, there is a sense of resignation about the situation. The long war comes to a cease-fire. Traditional operas invariably end with the death of one or both of the contracting parties or – if it is a comedy – reconciliation and reunion. But this is not opera, it is real life. I believe that the majority felt the same exhaustion that HE and SHE must have felt when the party was over. So strong was the drama, so tangibly realistic the development.
In the novel there are just the two. In the opera a third character is added: IVONA, a young assistant to SHE, who also helps out in the flat as cleaning woman and in other functions. She could be seen as a parallel to the third person in another famous relation drama, Kristin in Strindberg's Miss Julie. But IVONA is more active, she takes part and comments on the proceedings and in the second act she has had enough of the couple's warfare and gives notice. Before that she has also acted as a kind of comedienne to lighten up the atmosphere – one of the many ingredients in this brew that make this opera stand out against many others in the genre.
I have so far only touched upon the drama as theatre, but Paula af Malmborg Ward has created a musical score that enhances the drama, comments on it and carries it further. Structurally the work is traditional insofar as there are "numbers": arias, duets, trios, interconnected with recitatives or – quite often – spoken dialogue. The 14-member chamber orchestra is employed with discrimination. A solo instrument will often offer a comment: at the beginning of the second act the first violin has a long solo in ¾-time, to name just one example. Stylistically the music is distantly related to Kurt Weill but has an integrity of its own. Opera lovers with some scepticism towards contemporary opera should not shy away from Kärlekskriget. The music is very accessible indeed – and yet with an pleasant 21st century twist. There are also references to traditional opera with quotations from Wagner and others. IVONA makes her first entrance singing Senta's ballad from Der fliegende Holländer. There is a clear reference here to another woman who sacrifices her life to save a man.
The three soloists are truly impressive. Pers Anna Larsson and Lars Arvidson are experienced character actors and identify deeply with their personas. Besides acting on the highest level, they also sing their roles with burnished tone and palpable intensity. Young Amelia Jakobsson is an exuberant IVONA, acting with superb timing. The orchestra play superbly under the inspirational direction of Fredrik Burstedt – and also function as chorus several times. Mathias Clason's sets and costumes further enhance the production and Niklas Hjulström's direction is filled with enlightening twists.
Kärlekskriget is a total success, and I do hope it will be produced in other theatres as well to give others the opportunity to experience one of the most successful new operas I have seen. One such opportunity will be this autumn in Västerås. Don't miss it!
Göran Forsling