Germany Munich Opera Festival 2017 [1] – Rossini, Semiramide: Bayerische Staatsoper Orchestra and Chorus / Michele Mariotti (conductor), Nationaltheater, Munich, 21.7.2017. (JMI)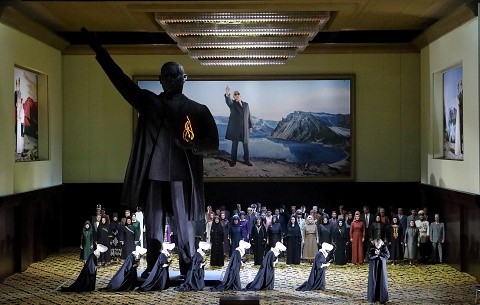 Cast:
Semiramide – Joyce DiDonato
Arsace – Daniela Barcellona
Assur – Alex Esposito
Idreno – Lawrence Brownlee
Oroe – Simone Alberghini
Azema – Nikola Hillebrand
Mitrane – Galeano Salas
Nino's Shadow – Igor Tsarkov
Production:
Director – David Alden
Sets – Paul Steinberg
Costumes – Buki Shiff
Lighting – Michael Bauer
Videos – Robert Pflanz
I had the opportunity to see and enjoy this production of Semiramide when it premiered last February. The return performance in Munich was also a great success and, in some ways, even better than a few months ago.
David Alden's production, which brings the action up to modern times in an unnamed Muslim country, serves the plot well. The sets consist of a series of modules in the form of moving walls, which allow for easy scene changes. With a few movements one is transported from the temple to Semiramide's palace to the Queen's rooms to the tomb of the murdered King Nino. The walls are completed with pictures of Nino and Semiramide's family. The costumes are attractive, and clever use is made of video projections.
Michele Mariotti, the current music director in Bologna, once again led the orchestra. From his background, one can see that Rossini's music has been a constant in the career of this young conductor. His direction has always been full of life, and it was even more convincing now than last February. Semiramide is an opera that requires outstanding musical direction, and Michele Mariotti delivered, drawing a remarkable performance from the orchestra. The chorus was also excellent.
Queen Semiramide was once again interpreted by Joyce DiDonato. She is a lyric mezzo, not the dramatic soprano that the part demands, but her technique is impeccable. What she does not have are the top notes – either written or traditional – but her voice is lovely, superb in coloratura, and very expressive, especially in the Act II scene that precedes her death. I dare say that her performance was even more convincing than in February.
Daniela Barcellona sang the part of Arsace, as she has so many times in the past. She maintains her agility perfectly, as well as her musicality, particularly in the beautiful duets with Semiramide, where she was close to perfect. I found her better than last month in Tancredi in Valencia (review click here), and also better than her Arsace in February.
Alex Esposito gave life to the evil Assur, and he was excellent, although less brilliant and more impersonal than Samuel Ramey of some 30 years ago.
Lawrence Brownlee had his moment of glory in the aria and cabaletta of Act II: he sang with gusto and without problems on the difficult high notes. For reasons I cannot understand, the Act I aria 'Ah dov'è il cimento' was again cut.
Simone Alberghini did well as Oroe, while soprano Nikola Hillebrand (the only newcomer in the cast) was a good Azema. Galeano Salas as Mitrane had an appealing voice.
The theatre was sold out, and the audience cheered the four main protagonists – especially the two women – and Michele Mariotti with great enthusiasm.
José M. Irurzun