Germany Munich Opera Festival 2017 [2] – Shostakovich, Lady Macbeth of the Mtsensk District: Bayerische Staatsoper Orchestra and Chorus / Kirill Petrenko (conductor), Nationaltheater, Munich, 22.7.2017. (JMI)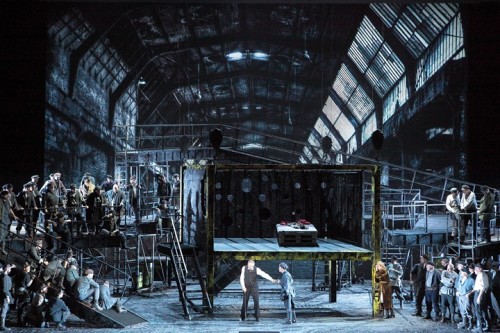 Cast:
Katerina – Anja Kampe
Sergei – Misha Didyk
Boris – Anatoli Kotscherga
Zinovy – Sergej Skorokhodov
Head of Police and Old Convict – Alexander Tsymbalyuk
Sonjetka – Anna Lapkovskaja
Pope – Goran Jurić
Police Sergeant – Peter Lobert
Axinja – Carole Wilson
Old Ragged Man – Kevin Conners
Production:
Direction – Harry Kupfer
Sets – Hans Schavernoch
Costumes – Yan Tax
Lighting – Jürgen Hoffmann
This new production by Harry Kupfer premiered last November, and I reviewed it at the time. My thoughts on the staging have not changed: review
As at the premiere, the musical direction was in the hands of Kirill Petrenko. The conducting of this genius is always a special occasion – he is one of the few truly great conductors. His reading was magnificent, almost miraculous, a few months ago. What can I say now? His leadership has been simply prodigious, unbeatable, an event that will be remembered time and time again. I can only congratulate Berlin for having chosen him to be the head of the Berlin Philharmonic, while we continue to think about what the future holds for us in Munich. We're going to miss him a lot, whoever his successor might be. The Bayerisches Staatsorhester becomes an exceptional orchestra under his baton. The chorus, which has much to sing in this opera, was also impressive.
The cast was the same as a few months ago. Katerina Ismailova was again superbly interpreted by Anja Kampe, who truly shone in one of the best performances I can remember from her. She always offers great intensity on stage, and this was no exception. The character's tessitura falls mostly in the middle, which means that Ms. Kampe need not offer the tight top notes sometimes present in other roles. Her performance was impeccable, from the young woman full of life and desire in the first part of the opera to the woman abandoned in the last act, where she was able to convey huge emotion to the audience.
The part of Sergei was interpreted by tenor Misha Didyk, whose performance was correct. He does very well on stage, although he does not shine in vocal terms. Boris Ismailov was played by veteran bass Anatoli Kotscherga. His stage performance was perfect, but vocally he seems rather in decline.
Tenor Sergej Skorokhodov has an attractive voice and did well in the part of Zinovy. It is almost a luxury to find him in this somewhat secondary character, and I have the impression that we might have been better off had he sung Sergei.
Bass Alexander Tsymbalyuk, doubling as Chief of Police and Old Prisoner, has a powerful voice and is a good actor. Mezzo-soprano Anna Lapkovskaja was a strong Sonjetka, and bass Goran Jurić a sonorous Pope, although somewhat exaggerated on stage.
In the secondary roles, Kevin Conners was suitable as the Old Ragged Man, and Carole Wilson as Axinja and Peter Lobert as the Police Sergeant were also fine.
Once again the Nationaltheater was fully sold out. The public showed their enthusiasm at the final bows with ovations and cheers for Kirill Petrenko and Anja Kampe.
José M. Irurzun