Switzerland Wagner, Lohengrin: Soloists, Chorus of the Zurich Opera, Philharmonia Zurich / Fabio Luisi (conductor), Zurich Opera, Zurich. 4.3.2017. (JR)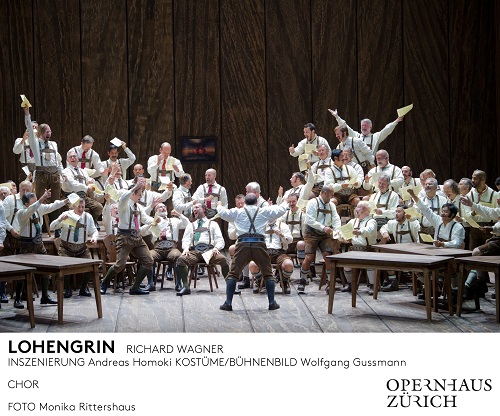 Production:
Director – Andreas Homoki
Sets & Costumes – Wolfgang Gussmann
Lighting – Franck Evin
Dramaturgy – Werner Hintze
Chorus director – Janko Kastelic
Cast:
Henry the Fowler – Christof Fischesser
Lohengrin – Brandon Jovanovich
Elsa – Rachel Willis-Sørensen
Telramund – Martin Gantner
Ortrud – Anna Smirnova
Herald – Yngve Søberg
Four Brabantian noblemen- Tristan Llŷr Griffiths, Gyula Rab, Dmytro Kalmuchyn & Stanislav Vorobyov
This revival brought a multitude of changes to the original 2014 cast.
Instead of Klaus Florian Vogt as Lohengrin we had a chance to hear American tenor Brandon Jovanovich, singing his first Wagner in Zurich. Instead of Elza van den Heever we experienced the young American soprano Rachel Willis-Sørensen. As Ortrud, in place of Petra Lang, and instead of the scheduled Michaela Martens, Russian soprano Anna Smirnova. A new Herald, a Viking in form and voice, Norwegian bass-baritone Yngve Søberg. King Henry (Christof Fischesser) and Count von Telramund (Martin Gantner) remained from the original production. A stellar cast, then, for the Zurich Festival.
The production by Opera Intendant Andreas Homoki of Lohengrin (shared with the Staatsoper Vienna) remains one not universally acclaimed; Homoki strips the opera of all its usual militaristic trappings and updates the action to almost contemporary times: it is set in a small mountain village in Bavaria in place of Brabant in the Low Countries. The set is a wood-panelled village Gasthaus (complete with 1970s veneered panels for the three walls) where funerals, marriages and all other major events in the village take place (it also serves, less successfully, for the bedroom where Lohengrin and Elsa fail to consummate their marriage). The men were in Lederhosen, green hunting jackets and hats, leather hiking boots and thick walking socks; the women wore Dirndls in matching colours. Jovanovich had difficulty, having discarded his nightshirt, putting one of his shoes on and nearly missed the fight with Telramund.
Homoki, in the programme, explains his intentions: the village is a political entity just as much as a country or empire and the same principles apply: local jealousy and hierarchy, and plots to seize power.
After a fine Overture with its inexorable crescendo (the violins sounding a little under-nourished at the very beginning, admittedly a very exposed passage), the opening of the opera brought extra trumpets blasting majestically from a side box. The Herald, Yngve Søberg, made a very firm impression, far better than his predecessor four years ago.
Christof Fischesser as the King seemed to have a problem, not so much with his voice but with his nose, which he wiped continually, and he also coughed once or twice. Perhaps he was recovering from a cold, but no announcement was made. He looked quite out of sorts, as though firing only on two cylinders. Normally his rich, sonorous bass impresses – particularly in the very low register. Michael Gantner was truly excellent throughout, both as singer and actor. The greatest applause at the curtain call, however, was for Anna Smirnova as Ortrud who looked a real "bruiser" and sang almost twice as loudly as everyone else. Her intonation lapsed occasionally and she was prone to excessive vibrato early on.
The chief interest for those who had seen the original production four years ago was to sample Brandon Jovanovich as Lohengrin and Rachel Willis-Sørensen as Elsa. Jovanovich's voice in the top register is not as beautiful as that of Klaus Florian Vogt, admittedly a hard act to follow. Jovanovich's "Mein lieber Schwan!" was not particularly affecting. Lower down Jovanovich has plenty of power and stamina; he has sung Siegmund in Berlin and San Francisco, he is not ready for Siegfried, and may never be. Rachel Willis-Sørensen has a beautiful voice, acts well, and is already no stranger to Covent Garden; she can occasionally swoop up, rather than leap up, to the top notes.
The chorus, particularly the men, were in fine and lusty form. The orchestra has audibly benefited from a series of orchestral concerts and the brass were in particularly fine form. Luisi never put a foot wrong and never slackened. He may be diminutive in stature (certainly looked it, sandwiched at the curtain call between tall Americans and Russians), but his conducting was a tour de force. It was an evening to savour.
More Wagner of this quality, please: dare one hope for a Homoki Ring?
John Rhodes