United Kingdom 2017 BBC PROMS 9 – Beethoven, Fidelio: Soloists, Orfeón Donostiarra, BBC Philharmonic / Juanjo Mena (conductor). Royal Albert Hall, London, 21.7.2017. (JPr)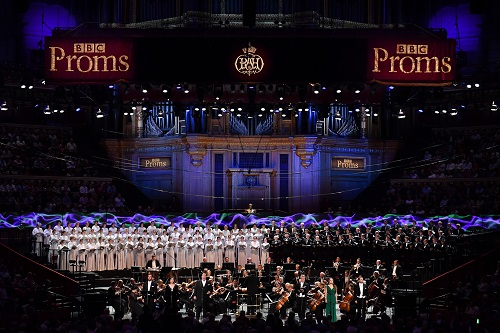 Florestan – Stuart Skelton
Leonore – Ricarda Merbeth
Rocco – James Creswell
Marzelline – Louise Alder
Jaquino – Benjamin Hulett
Don Pizarro – Detlef Roth
Don Fernando – David Soar
There are so many things about the BBC Proms which scream 2017, including mentions of its website – as well as Radio 3's – and how you can get the Proms on your mobile or tablet via the BBC iPlayer Radio app. Yet I still had to listen to this concert performance of Fidelio – which was sung in German – to the distracting fluttering noises of those around me turning the pages to read the English version in the rather cumbersome programme. In this regard, the BBC Proms are stuck in the dark ages. I know spending money at the BBC is a tricky issue at the moment, but surely something could be worked out to project the translation in the hall? The LED screens behind the chorus weren't doing anything – apart from permanently displaying a couple of coloured squiggles – and surely these might be used along with TV screens for those sitting higher up.
This was an unashamedly old-fashioned evening and – despite nearly all the singers knowing their roles – they were all dressed formally. There were no props and only minimal interaction between the singers. In Act II it was as though Rocco and Fidelio/Leonore were encountering Florestan at a cocktail party rather than 'the deepest dungeon of the prison' in which he is illegally imprisoned. Fidelio is Beethoven's sublimely simple story about the struggle for political liberty, a faithful wife's bravery and the triumph of the human spirit. Hiliary Finch in her programme introduction wrote: 'Initially, audiences seem to have been puzzled by Fidelio's unique hybrid of Singspiel (an opera, like Mozart's The Magic Flute, with both song and dialogue, as at the start of Fidelio), opera seria (as in the noble extended recitatives and aria of Leonora and Florestan) and rescue opera (complete with the vengeance aria of Don Pizarro). Fidelio became considered a problem opera.' She goes on to suggest it is not that now, but I am not certain that is true. Certainly its themes resonate more than ever in 2017, however, there seems fewer and fewer stagings of Fidelio. This could possibly be due to the lack of singers to sing it successfully, and this was not entirely overcome at this Prom.
The dialogue continues to cause a problem: I remember two attempts to address this in the past – both 'failures' – firstly at the Proms in 2009 (click here) and recently at the Royal Festival Hall (click here). This time we had the singers speaking their words and being amplified, and then this help was switched off for them to sing and – with one exception – no one had the size of voice that could fill the cavernous Royal Albert Hall. Fidelio is a fairly intimate work and the venue was too big for it, though of course I'm sure it sounded great on radio and will look okay when transmitted on BBC Four on 30th July.
I have written before how Beethoven was never quite satisfied with his only completed opera and there are indeed four possible overtures for it. In fact what Beethoven left us, is probably more of a cantata than an opera. Here it all went one step further and with the ladies of the Orfeón Donostiarra looking stunning in white, I felt it was being treated as an oratorio. There are many awkward transitions in the piece which segment the drama into individual 'numbers'. In Act I for instance we find the Jaquino/Marzelline duet, Marzelline's aria, a quartet, Rocco's 'gold' aria, a trio, a march, that 'vengeance aria' for Don Pizarro, another duet, Leonore's big scena, a chorus for the prisoners ('O welche Lust') and the finale. In Act II, there is Florestan's scena, Fidelio and Rocco's gravedigging duet, another trio and finally a dramatic quartet when Pizarro nearly despatches Florestan. All this is followed by a trumpet call after which our hero and heroine are saved when minister of state, Don Fernando, arrives to unconfined joy and relief all round, and the chorus sings Leonore's praises. It is actually Beethoven's vision of love and justice that triumphs in the end pointing as it does – if a tad optimistically – to a better future in a better world. I'll make no comment here as the 2017 BBC Proms – from what I have read – already has something of a political agenda. I will leave others to decide whether that has anything to do with this annual celebration of the best of what classical music has to offer.
The fresh voiced tenor, Benjamin Hulett, was ideal for the lovelorn Jaquino. Louise Alder was the winner of the Dame Joan Sutherland Audience Prize at the 2017 BBC Cardiff Singer of the World and her engaging Marzelline, the jailer's daughter, showed all the qualities that must have won her that accolade. Her lyric voice made light of the Mozartean aria 'O wär ich schon mit dir vereint' and her singing was very warm throughout. Alder made much of a character who has clearly led so sheltered a life within the prison compound that she falls for a girl disguised as a young man. Don Pizarro, the sinister prison governor, was sung by Detlef Roth (whose Amfortas I have seen at Bayreuth) and this was a strange assumption, in my opinion. Instead of seething anger, his character always seemed like a grown-up throwing a tantrum. When he came back on the platform later in Act I – to complain about the prisoners being let out of their cells – I was expecting him to stamp his foot … and he did twice! By contrast, David Soar brought suitable regal authority to Don Fernando. Also making a fine vocal impact was Andrew Masterson's refined First Prisoner.
I had the pleasure of meeting the engaging guest leader of the BBC Philharmonic, Carla de Kleuver-Leurs, on the way to the Royal Albert Hall who told me the previously announced Rocco, Brindley Sherratt, was ill and had been replaced at the last moment. I noticed a small insert in some of the programmes, but why was no announcement made to the audience in the hall? It was James Creswell who stood in and understandably sang from a score. In 2013 I praised his Rocco for English National Opera (review click here). I am not certain how often he has sung the role in German and he deserves praise for taking this on at the last moment. On this occasion he sang with great dignity and an eloquent bass voice, though his portrayal was less the avuncular Rocco and more like the philosophical Hans Sachs.
Making her Proms debut as Fidelio/Leonore was Ricarda Merbeth who I have seen as Senta at Bayreuth. Her voice was impressive in the key solo, 'Abscheulicher! … Komm Hoffnung', as well as, in all her duets and other ensembles, though it always sounded a size too small for the role, at least in this venue. Occasionally striving perhaps for too much volume, there was a little shrillness as the opera went on, though mostly her voice was expressive and rich.
If there was a reason to go to this Prom – or hear it (again) on iPlayer or see it when broadcast on BBC Four – it is because of Stuart Skelton's outstanding Florestan. His first utterance, 'Gott! Welch' Dunkel hier!', was exactly the heartfelt cry of anguish it must be. From the opening aria – as Florestan bemoans his likely fate while putting his trust in God that Leonore may yet come to save him – to his last note, Skelton's voice reached every part of the Royal Albert Hall. This is a fiendishly demanding role and I have been present when it has challenged some of the greatest heroic voices over the years, but this performance was world-class, whatever the decade.
Juanjo Mena brought dramatic momentum and passion to the performance that was sometimes lacking in some over-reverential singing. He is chief conductor of the BBC Philharmonic who were excellent, and the Proms debut ensemble from Spain, Orfeón Donostiarra, filled the hall with some glorious sound especially during the life-affirming Finale.
Jim Pritchard
For more about the 2017 BBC Proms click here.