United States Various composers, Primo Passo: Daniel Ezralow (choreographer), Dancers of Ezralow Dance, Wallis Annenberg Center for the Performing Arts, Beverly Hills, 13.7.2017. (JRo)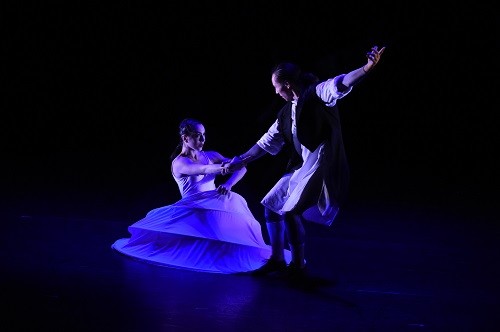 Dancers: Kelly Allen, Chad Azadan, Will Clayton, Joachim Cooder, Shauna Davis, Junji Dezaki, Raymond Ejiofor, Gerald Espinosa, Najla Gilliam, Isaac Huerta, Charissa Kroegeer, Kelsey Landers, Re'Sean Pates, Vanessa Nichole, Anthea Young
Production:
Brothers
Choreography – Daniel Ezralow and David Parsons
Foreign Tails
Choreography – Daniel Ezralow, Jamey Hampton, Ashley Roland, Morleigh Steinberg – ISO Dance
Costumes – ISO Dance
Super Straight is coming down
Costumes – Jackson Lowell
Lighting – Howell Binkley
SF and Pulse
Costumes – Jackson Lowell
Lighting – Ryan O'Gara
Chroma
Costumes – American Apparel
Though he is noted for creating international dance spectaculars from the Sochi Winter Olympics to The Beatles LOVE for Cirque du Soleil, Daniel Ezralow has brought an intimate program to the Wallis, one whose intent is never overshadowed by production values. Stagecraft works seamlessly with movement to create a sense of wonder, as the dancers inhabit his choreography like a second skin.
Loosely organized around the notion of 'first steps' in Ezralow's artistic life, Primo Passo functions as a career retrospective of this original artist's work and reflects his unique blend of optimism, invention and daring.
The Prologue, a brief video montage of 1950s television news broadcasts and popular shows, is meant to establish the theme for the evening and serve as an introduction to the choreographer's childhood influences. Though it attempts to tie the dances together thematically, it feels tacked on and an unnecessary distraction from the main event – a collection of dances that opens with Brothers from 1982.
Brothers features Gerald Espinosa and Re'Sean Pates in a playful duet set to Stravinsky's Concertino for Twelve Instruments. Performed largely within the circle of a single spotlight, it is an ode to friendship with its acceptance of both the camaraderie and competition natural to male bonding.
Danced to lush music by Debussy, Foreign Tails is a Pilobolus/MOMIX inspired piece that creates an otherworldly realm with minimal props. Seven gauzy, white, bell-shaped objects sit on the floor. Are they giant lampshades? Mysterious lighting illuminates the forms, and within two of them are vague shadows of a hand, a foot and an arm. Five bells slowly rise like jelly fish floating to the top of the sea and remain poised high above the stage. The remaining two flip over and turn inside out to become the hoop skirts of two hidden female dancers – the marvelous Kelsey Landers and Anthea Young – seated on the floor. A pair of elegant male dancers appears behind them. Dressed in white tunics, Junji Dezaki and Isaac Huerta partner the women, who glide, slither, roll and spin in joyful abandon. But there is also a sense of ritual to their movements as the proceedings take on the aspect of myth or fairytale with Dezaki and Huerta seeming like exotic fishermen with their magical catches. When the women suddenly disappear, leaving their hoop skirts behind to be discovered by their partners, it's as if a pair of mollusks have abandoned their shells and left the fishermen alone on the shore. Of course Debussy's impressionistic music sets the mood, but the effortlessness of the dancers in their interpretation contributes to the wonder of the scenes.
Ezralow is insightful in his music selection as well as sensitive to lighting – both of which create atmosphere. In Super Straight is coming down, first performed by Hubbard Street Dance of Chicago in 1989, Thom Willems's dissonant soundscape and Howell Binkley's lighting create a disturbing sci-fi setting. On a dark stage, five dancers dressed in business attire emerge from five sheer plastic containers. One can't help but think of robots released from their packaging. Driven by the percussive music, the dancers' bodies seem to move without volition, at the mercy of their arms and legs which govern movement and bid their torsos to follow.
Leonard Bernstein's Prelude, Fugue and Riffs serves as inspiration for Ezralow's SF. Like Alexei Ratmansky with his Serenade After Plato's Symposium set to Bernstein's 1954 Violin Concerto of the same title, these choreographers have discovered, as did Jerome Robbins before them, that Bernstein's compositions are delightfully suited to dance. To jazzy horns, sighing saxophones and percussive beats, Ezralow's grey-suited dancers bounce up and down in front of a sharply horizontal backdrop of glowing red light. The choreography shines as the dancers break free from their communal bouncing – not by dint of theatrics, but because their movements rise organically from some internal place as the music riots to an explosive conclusion.
The weakest piece was Awakening Solo. While it was enjoyable to hear the live music of Joachim Cooder on mbira and nail violin, the choreography for Anthea Young felt overwrought and predictable.
Pulse has the company sliding across the stage to a composition by David Lang. Dressed in black diaphanous costumes, the dancers propel themselves across the floor with outstretched arms pointing skyward, at moments reaching toward one another for human contact.
The program ended with Chroma, a real crowd pleaser, where the dancers, dressed in vivid primary colors, cavort around and behind two freestanding video screens. Their acrobatic antics are coordinated with their projected forms on the screens to create a wizardly dance to Strauss's The Blue Danube – a fitting finale to an evening in the convivial company of Daniel Ezralow.
Jane Rosenberg