Austria Borodin, Prince Igor, and Johann Strauss II, Die Fledermaus: Soloists, Youth Chorus (chorus master: Lucio Golino), Chorus, and Additional Chorus of the Vienna Volksoper (chorus masters: Thomas Böttcher and Holger Kristen), Vienna State Ballet, Orchestra of the Vienna Volksoper, Vienna State Opera Stage Orchestra, Alfred Eschwé (conductor). Volksoper, Vienna, 25. and 30.6.2017. (MB)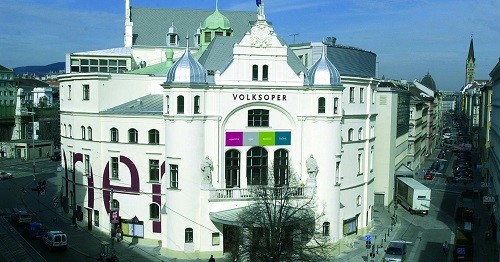 Prince Igor
Cast:
Prince Igor – Davide Damiani
Prince Galitsky – Martin Winkler
Vladimir Igorevich – Vincent Schirrmacher
Skula – Daniel Ohlenchläger
Yeroshka – David Sitka
Yaroslavna – Melba Ramos
Konchakovna – Annely Peebo
Ovlur – Jeffrey Treganza
Khan Konchak – Sorin Coliban
Boyar – Levente Szöke
Production:
Director & set designs – Thomas Schulte-Michels
Costumes – Renate Schmitzer
Choreography – Teresa Rotemberg
Dramaturgy – Christoph Wagner-Trenkwitz
Abendspielleitung – Angela Schweiger
Die Fledermaus
Cast:
Gabriel von Eisenstein – Jörg Schneider
Rosalinde – Ulrike Steinsky
Adele – Anja-Nina Bahrmann
Ida – Klaudia Nagy
Dr Falke – Daniel Ochoa
Prince Orlofsky – Martina Mikelić
Alfred – Szabolcs Brickner
Prince's Manservant – Heinz Fitzka
Frank – Daniel Ohlenschläger
Boris Eder – Frosch
Dr Blind – Christian Drescher
Production:
Szenische Neueinstudierung – Heinz Zednik
Set designs – Pantellis Dessyllas
Costumes – Doris Engl
Original sketches – Evelyn Frank
Choreography – Lili Clemente & Susanne Kirnbauer
Abendspeilleitung – Karin Schynol-Korbay
As my time in Vienna drew to a close, I was lucky enough to make two visits to the Volksoper. I thought it might be interesting to treat the two evenings together, very different though they were, not least since the differences were not always what I had expected they might be. In the blue corner stood Borodin's Prince Igor, new last year to the house, and thus still operating in the shadow of its premiere; in the red stood Die Fledermaus, this production alone, so it would seem, receiving its 499th (!) performance.
I say 'it would seem', since I was a little unsure what was intended by crediting Heinz Zednik – yes, that Heinz Zednik – with 'Szenische Neueinstudierung', without naming a director. No matter, anyway. This is a straightforward staging, with little attempt to mine any Freudian undertones – how I wish Christopher Alden's attempt at ENO had been better accomplished – but that is not what it is 'for', rightly or wrongly. It clearly brings in a large number of visitors, and actually has English titles (for the sung passages, the dialogue making do with brief summaries), whereas German titles are the norm for the German-language performances on other evenings: for instance, for Fürst Igor. In such a show – for that is essentially what this Fledermaus is – much, then, depends on the acting of the performers, and members of this cast were undoubtedly inside their roles. It is perhaps more akin to The Mousetrap than to contemporary theatre, but for a more general audience, which this undoubtedly attracts, it is an attractive way in. (Not that, for the moment, I am suggesting it is the only way in, far from it.) I do wish productions did not encourage over-acting to the nth degree by whoever plays Frosch, but there we are. The dancers of the Vienna State Ballet looked and moved beautifully; it was truly a joy to watch – and indeed to hear – their Johann Strauss waltzes and polkas. (At the ghastly New Year's Concert – does anyone still watch that? – a little goes a long way indeed.) The one more overtly directorial touch sits a little oddly, I thought. Yes, Orlofsky is clearly a bit of an oddball, to put it mildly. But does that mean he must be gay? I tend to think he either needs more queering – the work too – or to be left alone; here, such treatment seems at best dated, at worst, something, well, worse…
Fürst Igor, by contrast, is a bit all over the place as a staging. That is partly the work, of course, insofar as one can consider it a 'work' at all. This almost new staging, by Thomas Schulte-Michels, comes across as unsure of what it is trying to accomplish (not helped, I admit, by decidedly peculiar choreography). Perhaps there is something to be said for treating the opera as a series of barely connected tableaux, but if so, it probably needs framing as such more clearly. Here, we have a more or less 'stand and sing' Prologue, followed by a bizarrely Orientalist first act in the Polotsvian camp. I assume, or hope, the latter were intended ironically, but without that framing it is difficult to tell. Following the interval, the second act, what we should have expected to be the first, seems to be from an entirely different production: full of violence and debauchery, much more contemporary – to us – in its visual impression at least. The third and fourth acts attempt, it seems, some sort of synthesis, which I presume to be the point. I should like to have been convinced more than I was. In the end, it made me appreciate just how extraordinary Dmitri Tcherniakov's achievement at the Met had been, welding this problematical opera into searing, coherent drama. The comparison is doubtless unfair, but another – with the ultra-repertory Fledermaus – would not be in this staging's favour either.
In both cases, the orchestra, under the same conductor, Alfred Eschwé, was excellent. Without bowing to Viennese operetta nativism, one can probably say that there is something to playing this music so often that can help – although equally, it could lead to something drearily routine, which it did not. Eschwé's conducting of Die Fledermaus was no more interventionist than the staging, but it carried the action along well, and charmed, without ever hinting at sentimentality. If there were times when I might have liked something a little more yielding in Prince Igor, especially at certain tricky corners, there was a great awareness of colour throughout, and the orchestra came across as enthralled by the opportunity to play such music. Choral singing was excellent too.
If there were a stronger sense of company acting in Die Fledermaus, there would be, really, given the nature of the enterprise. Ulrike Steinsky (a former Adele herself) made for an elegant Rosalinde, Anja-Nina Bahrmann a characterful Adele, offering pinpoint precision in both pitch and timing. Jörg Schneider was somewhat hammy as Eisenstein, but Szabolcs Brickner afforded a degree more self-awareness – not too much – as Alfred; he has a fine tenor voice too. Martina Mikelić's depth of tone as Orlofsky made me keen to hear her in other, deeper repertoire. Daniel Ohlenschläger, the one singer common to both casts, impressed equally as Frank and as Skula. His double-act with David Sitka's Yeroshka had more than a hint of the mendicant menace in Boris Godunov to it. Davide Damiani's Igor was well sung and capably acted. I should have loved to see what he might have made of a more coherent staging; likewise Martin Winkler as Galitsky. Melba Ramos tugged on the heartstrings as Yaroslavna. Annely Peebo and Sorin Coliban also stood out vocally. Much to enjoy then, and not a little on which to reflect.
Mark Berry