China Wang: Niu Niu (piano), Shanghai Philharmonic Orchestra / Muhai Tang (conductor), Shanghai Symphony Hall, 30.6.2017. (RP)
Xilin Wang – Concerto for Piano and Orchestra Op.56; Symphony No. 3 Op.26
History was my first love. Classical music came a bit later. Discovering Xilin Wang and his music is the history of twentieth-century China writ large. The 79-year-old composer has said that the world is black and white; ultimately evil triumphs over good. Observing him basking in the applause at the end of the concert, the press of fans and photographers craning for his photograph, you are tempted to think that his words are mere hubris. Wang, however, has a perspective that few share, let alone have the ability to express in music.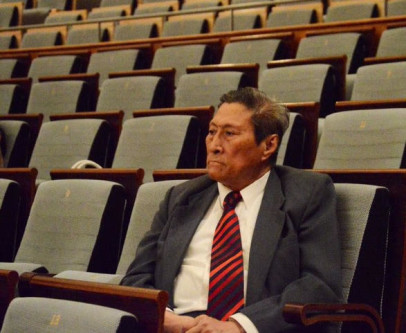 He was born in 1937 in Henan Province in central China, the birthplace of Chinese civilization with over 3,000 years of recorded history. His father was an official in the Nationalist Party, which had a tenuous hold on the reins of power from 1928 until 1949 when the Communist Party defeated it, ending the Chinese Civil War. During his youth, the horrors of the Japanese occupation and political persecution were real to him. In 1964, the young composer publicly criticized the Communist Party and was exiled to Shanxi Province. Wang labored for ten years in a factory under harsh conditions, although family members suffered worse fates. He later conducted a song and dance ensemble.
As the Cultural Revolution receded, Wang returned to Beijing and discovered the music of Schoenberg, Bartók, Stravinsky, Penderecki, Shostakovich and their ilk, whose works had previously been banned in China. He forged a compositional style that was a synthesis of Western techniques and Chinese traditional music, with sources as disparate as the Peking Opera and Shanxi folk music. Official acclaim followed, with three of his compositions awarded the highest prize in music offered by the Chinese government. His Third Symphony, which premiered in 1990, has been hailed as his Declaration of Human Rights, embodying his character and aesthetic ideals. 'History, you and I should all cry with bitterness that it already exists, and should also cry with happiness that it will continue to exist', as one musicologist put it.
The massive work, over an hour in length, is unified by a long sequential melody, introduced first by the cellos and contrabasses. Wang exploits a wide span of percussion sonorities from the beauty of the harp, marimba and xylophone to the menacing rattle of the snare drum. There are splashes of color that offer the prospect of hope, but they are inevitably dashed by cruel military marches, the slap of the whip and terrifying sounds that rain down from the heavens. The pairing of alto flute and cello is particularly evocative, as are the extended solos for English horn. In the final seconds, the music evaporates into thin air.
I have only heard Muhai Tang conduct at the extremes of the repertoire – Rossini operas in Zurich and a Mahler 'Symphony of a Thousand' in Tianjin (for review click here). Wang's symphony, although smaller in scale than the Mahler, is no less ambitious a work and is similarly dense, powerful and emotional. Tang brought clarity and structure to the complex score, essential for a work with so many repetitive, brooding passages. He never slid into sentimentality, even in the few lyrical measures where lighter textures and the brilliant colors of harp and percussion afforded the opportunity. It was a committed rendering of a compelling work.
The Shanghai Philharmonic Orchestra played splendidly, paying homage to the composer and his music. As is generally the case with Chinese orchestras, some of the members appeared to be impossibly young but displayed technique and commitment that belied their ages. The principal cellist, alto flutist and English horn player were afforded solo bows that were richly deserved.
I went to the wrong concert hall, which quickly dawned on Niu Niu's extremely helpful agent. In what must have been the smoothest taxi ride ever on a rainy Friday evening, I got from the Shanghai Oriental Art Center to the Shanghai Symphony Hall in record time. I nonetheless arrived late, and only heard the final, scintillating measures of Wang's piano concerto. Tall, elegant and reserved, Niu Niu played Chopin's Nocturne Op.27 No.2 as an encore. It was beautiful and evocative, executed with precision, clarity and utmost feeling. He is only 20 years old; undoubtedly, there will be another chance to hear him. I can only hope the same holds true for Wang's piano concerto, or any of his music for that matter.
Rick Perdian