Spain
Verdi, Messa da Requiem:
Orfeón Donostiarra, Orchestre Philharmonique du Luxembourg / Gustavo Gimeno (conductor), Kursaal, San Sebastián, 26.8.2017. (JMI)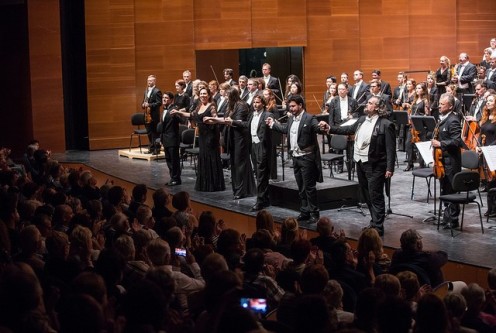 Cast:
Soprano – María José Siri
Mezzo soprano – Daniela Barcellona
Tenor – Antonio Poli
Bass – Riccardo ZanellatoThere are many opera lovers who consider this to be Verdi's twenty-ninth opera, and there is no doubt that it's the most operatic Requiem ever composed. Few operas offer a more exciting overture than the one that opens this Mass. Nor is it easy to cite an explosion of the forces of nature comparable to the one in the 'Dies irae'. Not many arias compare to the 'Ingemisco', and the wonderful trio of 'Lacrymosa' can be heard in
Don Carlos
. Finally, there are few arias as exciting as the 'Libera me' that the soprano sings at the end. Some will say that the final fugue is not operatic, and they are right, but Falstaff also ends with a fugue.
Gustavo Gimeno had the difficult task of conducting the Requiem after the brilliant performance that Yannick Nézet-Séguin led here three years ago. In my opinion, Maestro Gimeno was convincing, although he had some ups and downs. He was brilliant at the most dramatic moments, with great energy and full control, but there was a lack of emotion in the more lyrical passages. The Orchestre Philharmonique du Luxembourg was very good, and Orfeón Donostiarra were bright and powerful.
The soprano role was sung by María José Siri, whose appealing voice is well suited for Verdi operas. Her performance was compelling, although I missed some more piani sounds in her 'Libera me'. Mezzo-soprano Daniela Barcellona also did very well. Her ample voice is appropriate for the part, and she sang with gusto and emotion.
This score requires a full lyric tenor, but Antonio Poli is a light tenor. He has an attractive middle range, but in the upper register his voice gets rather narrow. Finally, Riccardo Zanellato was rather modest.
The Kursaal was sold out, and the audience gave a very warm reception to the artists, with the biggest ovation for Orfeón Donostiarra.
José M. Irurzun