United Kingdom 2017 BBC PROMS 29 – Mussorgsky, Khovanshchina (orch. Dmitry Shostakovich): Soloists, Schola Cantorum of The Cardinal Vaughan Memorial School, Tiffin Boys' Choir, BBC Singers, Slovak Philharmonic Choir, BBC Symphony Orchestra / Semyon Bychkov (conductor). Royal Albert Hall, London, 6.8.2017. (JPr)
Performers included:
Ante Jerkunica – Ivan Khovansky
Christopher Ventris – Andrey Khovansky
Vsevolod Grivnov – Golitsyn
Elena Maximova – Marfa
Ain Anger – Dosifey
George Gagnidze – Shaklovity
Jennifer Rhys-Davies – Susanna
Norbert Ernst – Scribe
Anush Hovhannisyan – Emma
Colin Judson – Kuzka
Stage director – Paul Curran
'Vittoria! Vittoria!' is from another opera (Tosca) but it was what I felt like shouting as this semi-staging of Mussorgsky's Khovanshchina began at the Proms …as it was I limited myself to a fist pump. The evening had begun dispiritingly when I arrived to be presented with the programme the size of an Argos catalogue because of the text for this five-act opera. However, when taking my seat in the Royal Albert Hall it was clear that – at long last – after the urging of myself and others we were going to have surtitles. Throughout the evening because of screens large and small everyone had the opportunity to watch the singers and understand more about what they were listening to by reading the words being sung. I suspect little more than half the tickets available for this concert had been sold – and certainly few were standing – but this might have been different if it had been known in advance that opera in a foreign language at the Proms is now more accessible to a wider audience because of these new surtitles.
In the end Mussorgsky's Khovanshchina will now linger in the memory as one of the Proms's most triumphant evenings. The ovation the performance received – as the incomparable Semyon Bychkov lowered his baton for the final time – was richly deserved. Much of the enthusiasm seemed generated by Mussorgsky's opera itself, which was left unfinished when he died. There are various competing completions including those by Rimsky-Korsakov and Stravinsky/Ravel. Getting a rare hearing – and certainly never previously heard at the Proms – Bychkov chose the orchestration made by Dmitri Shostakovich in 1959. My only encounter with Khovanshchina was at Covent Garden in 1982 so this was as if I was hearing the score for the first time.
I cannot comment on the other versions but I understand Shostakovich's is more in keeping with Mussorgsky's fatalistic vision of Russia's at the end of the 17th century. Apparently Bychkov conducted Khovanshchina to considerable acclaim at Vienna Stata Opera in 2014 with several of the soloists we were hearing at this Prom. Together with the BBC Symphony Orchestra and four choruses there was music-making of the highest quality and it was a great advertisement for the dramatic power of the Shostakovich edition. It all seemed perfectly respectful to Mussorgsky's notes and his sombre musical spirit, yet I wonder if it would always sound like that without this confluence of talents?
Before the advent of the surtitles it would be naive to believe that the Royal Albert Hall audience could be bothered to read the translation in programme – or understand enough Russian – to appreciate what the opera is about. How otherwise could they grasp the struggle amongst the revolutionaries and reactionaries plotting against the Tsar. The idea for the opera was first brought to Mussorgsky by his friend, Vladimir Stasov. It concerns the rebellion of Prince Ivan Khovansky, the Old Believers (a schismatic sect), and the Muscovite Streltsy against the regent Tsarevna Sophia and the two young co-Tsars Ivan and Peter – later 'the Great' after he eliminated those who opposed him – who were attempting to 'Westernise' Russia.
It is not an easy plot to follow – even with surtitles – and it is rather like a lost Verdi Russian opera, though possibly with better music. I was ticking off familiar Verdian tropes of – amongst others – nationalism, social, political and religious turmoil, a seer, lust, intrigue, a father at odds with his son, revenge and, finally, mass sacrifice. All that seemed missing was secret identity until in Act III Dosifey, leader of the Old Believers, announces he has princely blood.
Semyon Bychkov always seems at his very best when tackling the most complex operas and I can never forget his outstanding Lohengrin at Covent Garden in 2009 (review click here). With his usual calm authority, here he commanded a huge BBC Symphony Orchestra, a brass band, a large combined chorus, and 15 soloists.  He revealed a keen ear for the score's occasional refinements and paced the sprawling drama expertly; the evening – which lasted over four hours – flew by. (His Parsifal at Bayreuth next year should be something not to be missed.) The impeccable orchestra featured a number of virtuosic contributions – particularly from Alison Teale's cor anglais during the Act IV 'Dance of the Persian Slaves' – and played throughout with a pounding intensity, commitment and a fervour that went right to the heart of Mussorgsky's music.
Hopefully having resolved the 'long-standing' surtitles issues, the Proms can now address what their idea of 'semi-staged' is. Here Paul Curran's involvement must have been just to coordinate getting the soloists on and off the platform and arrange the coup de théâtre at the end of Act V when there was atmospheric red lighting flickering around the auditorium, as the Old Believers are persuaded to immolate themselves rather than surrender to the Tsar's troops. It would be good in a semi-staging if everyone could be 'on message'; Ain Anger's Dosifey, Jennifer Rhys-Davies's Susanna and Norbert Ernst's Scribe seemed to have given some thought to a proper costume for their characters whilst others – especially Elena Maximova's Marfa and George Gagnidze's Shaklovity – seemed dressed for the elegant cocktail party they might be attending after the performance. Nevertheless, most singers knew their music and the rest only briefly glanced at scores on music stands. Therefore because of this deep involvement with their roles any stiffness inherent in the usual concert performance format was overcome, and they brought the plot's unfolding drama to vivid life.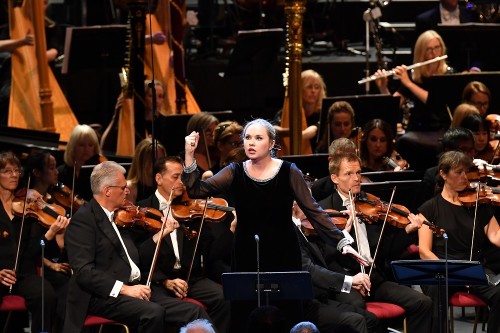 The cast – virtually uniformly excellent – was a veritable United Nations. Though what was good was that – wherever they were born – singing in Russian seemed to hold no fears for any of them. Elena Maximova was the visionary Marfa and sang with barely supressed sensuality and tortured spirituality. Hers was the finest performance I have heard by a mezzo-soprano at the Proms since the incomparable Petra Lang as Kundry in Simon Rattle's 2000 Parsifal. Equally outstanding was Ain Anger whose remarkable bass voice brought nobility and an uncommon dignity to Dosifey and it was wonderful to hear George Gagnidze – who I have previously heard in broadcasts from the Met – live.  His signature roles seem to be Amonasro, Tonio, Alfio and Scarpia, but he sang Shaklovity with such malevolence that it gave me chills and his Iago must be wonderful to hear.
They were well supported by all the other singers led by Ante Jerkunica as Prince Ivan Khovansky. A minor quibble here is that I would have preferred an older – more experienced – bass as Jerkunica's insouciant stage manner seemed at odds with his role as the brutal boyar, one of the old aristocracy. It was wonderful to hear Christopher Ventris singing so well as the bully Prince Andrey, Nobert Ernst was a nervy and voluble Scribe, Vsevolod Grivnov impressed in his brief appearance as Golitsyn and so too did Anush Hovhannisyan as Emma, even though she was initially a little shrill sounding.
The night had a further collection of heroes and heroines in the magnificent choral work we heard and they played a major role in the success of this Prom whether they were lamenting the current plight of Russia or as Old Believers going stoically to their death.
This was one of the great Proms events and gentlemen and women in England – and other regions of the UK – who avoided it should think themselves accurs'd they were not here. Now where do those words come from?
Jim Pritchard
For more about the 2017 BBC Proms click here.