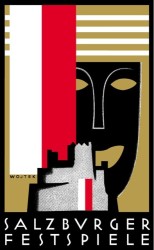 Austria Salzburg Festival [4] – Brahms and Tchaikovsky: Yefim Bronfman (piano), Vienna Philharmonic Orchestra / Riccardo Muti (conductor). Grosses Festspielhaus, Salzburg, 13.6.2017. (MB)
Brahms – Piano Concerto no.2 in B-flat major, op.83
Tchaikovsky – Symphony no.4 in F minor, op.36
It has never been entirely clear to me why Brahms's Second Piano Concerto seems to be performed less frequently than his First – other, that is, than on account of the still more extreme technical demands it places upon the pianist. Come to think about it, we probably have our answer there, for it is surely the greater work of the two, or at any rate the one falling more strongly within a tradition of Mozartian perfection. I wonder, though, whether its less overtly tragic demeanour has something to do with it. At any rate, in my experience at least, a performance would appear to be a rarer occasion than one might expect. I therefore greatly looked forward to this concert from Yefim Bronfman, the Vienna Philharmonic, and Riccardo Muti.
It is very difficult quite to put my finger on why I felt slightly nonplussed by the performance of the Brahms. There was nothing wrong with it and a great deal to admire. Was I too hung up on great recorded performances of old? Perhaps: I immediately think of Gilels and Jochum here, and many readers will have their own favourites. The horn solo opening was wondrously tender; as usual, the VPO gave of its best for Muti. Bronfman's response was musicianly, indeed that of a chamber musician. Not that there were not more turbulent passages, but perhaps on balance, the first movement was a little skewed towards the Apollonian. 'Skewed' is probably the wrong word, though, for there was certainly some sense of a dialectic here. And there was admirably big-boned pianism to relish too. Ultimately, though, I felt this a movement observed rather than experienced. Perhaps the fault was mine; stranger things have happened…
I was intrigued by the sense of Mendelssohn in the shadows of the scherzo, both from the orchestra (Muti's doing, surely) and to a lesser extent the piano. Elfin rhythms were nicely sprung, but there were darker colours and moods too. Muti imparted a fine sense of grandeur to the trio, conflict in the cross-rhythms and all. The slow movement I found just a little matter-of-fact. It was taken on the swift side, but better that than dragging, and there was a greater sense of emotional involvement than in the first movement. The solo cellist's tone, however, was a bit of a problem, especially earlier on: rather wiry, although certainly able to project. Bronfman's way with those magical, half-lit passages was special: prophetic, certainly, of the late piano pieces. There was a degree of Haydnesque playfulness to the finale, likewise a degree of Brahms in 'Hungarian' mode; I wondered, though, whether a greater contrast between the two might have been beneficial. At any rate, none of Brahms's cruel demands held any obvious fear for Bronfman.
I heard Muti conduct Tchaikovsky's Fourth Symphony with the Berlin Philharmonic in May. Memory can play tricks here, even when one reads the earlier review. (I have not yet, although a link may be found above.) However, I suspect that, admirable though that performance was, there was here with the Vienna players a greater sense of urgency. The intimate scenes, redolent of the contrast between public and private in, say, Eugene Onegin, were once again to be heard and, more to the point, to be experienced. And the expressive range was certainly greater than what, for whatever reason, we had heard in the Brahms. A chamber ballet or a song without words? There was no need for Muti to choose in the second movement; nor did he. I was put in mind of Berlioz at times, not least in the way that the emotional complexities of the work were shown potentially to be allied with complexities of genre and structure. The ghostly dances of the scherzo were despatched, with precision, mystery, and fantasy, leading to a finale of considerable nervous energy, rather as if the opening to the final scene of an opera – which, in a sense, this almost is. Petersburg Onegin, perhaps? The argument was symphonic, of course, but Muti and the VPO excelled also in summoning up an aural stage before the eyes of one's mind.
Mark Berry