Sweden Puccini, Madama Butterfly: Soloists, Chorus and Orchestra of Opera på Skäret / Marcello Mottadelli (conductor). Opera på Skäret, Kopparberg, 29.7.2017. (GF)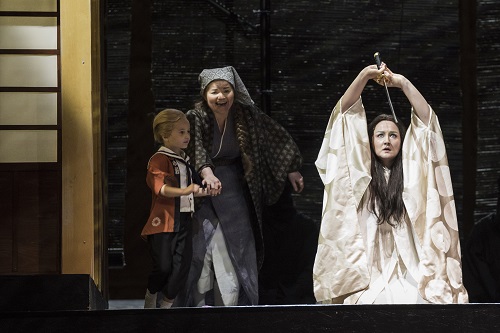 Production:
Director – Leslie Swackhamer
Set designer – Sven Östberg
Costume designer – Susan E. Mickey
Mask design and wigs – Robin Karlsson
Lighting design – Kevin Wyn-Jones
Cast:
Cio-Cio San (Madama Butterfly) – Elisabeth Teige
Pinkerton – Aaron Cawley
Sharpless – Javier Franco
Suzuki – Siv Oda Hagerupsen
Bonzo – Tadas Girininkas
Goro – Alex Tsilogiannis
Yamadori/Commissary – Tor Lind
Kate Pinkerton – Frida Bergquist
Dolore, Cio-Cio-San and Pinkerton's son – Telina Pettersson
According to a survey by Operabase of the most frequently performed operas during the 2014/2015 season, Madama Butterfly took fifth placed, preceded by the eternal top-contenders La traviata and Carmen and followed by Puccini's three hits La bohème, Tosca and Madama Butterfly. No wonder this premiere was a sell-out and the remaining 11 performances were also heavily booked in advance. Though the opera was a failure at the premiere in 1904 – due to late amendments by the composer and insufficient rehearsal time – it quickly became part of the standard repertoire, following several revisions, and the rest is history. The culture clash theme is still topical and probably even easier to understand today with the deeper insights we have acquired now that cultures have started to intertwine as a result of the globalisation. When the opera was new, Japan and Far East were exotic to Europeans, and Puccini underlined this by creating a score with oriental seasoning – as he did twenty years later with Turandot and China.
At the pre-performance talk, set designer Sven Östberg explained that he has adopted two principles from traditional Japanese theatre – both employed to compensate for the lack of advanced stage technology at Opera på Skäret. The first principle is that everything black is invisible. But what is invisible can still exist! The other principle is the use of kurokos. A kuroko is a stagehand dressed in black and thus invisible. Kurukos can move props and sets, they can help the actors change costumes – anything that is needed. They are sidekicks, invisible but apparent nonetheless. For those of us who were not used to this, the four black ghosts gave an impression of mystery, even magic.
The Japanese atmosphere was a constant feature: the costumes – no less than a dozen women in colourful kimonos and parasols, sometimes filling the whole stage – the movements and gestures, the masks, Prince Yamadori arriving in a rickshaw etc. American stage director Leslie Swackhamer is something of a Butterfly specialist with some ten previous productions to her name; the latest, before Opera på Skäret, was at Washington National Opera earlier this year. In her view, Butterfly is a strong person with her own will, not a weak victim, and Elisabeth Teige is physically cut out to answer to this vision. Generally speaking, all of the central characters are not mere cardboard figures but rather human beings of flesh and blood. That Pinkerton is a scumbag in the first act cannot be denied, but when he returns in the third act and belatedly realises what he has done, he is disconsolate. Consul Sharpless is a somewhat vaguely outlined person but he radiates warmth and compassion in the second act. Arguably the most fascinating character is Suzuki, who here is a multifaceted personality: humble, understanding, timid, caring but also a tigress – for instance when she drives away the slimy Goro with a broom. And Goro was excellently impersonated by Alex Tsilogiannis: oily, insinuating and constantly smiling. The sets were sparse: only Butterfly's house, or rather pavilion, on top of the empty stage. Ms Swackhamer trusted her actors and avoided background activities which, more often than not, only distract from the essentials. Here the unavoidable tragedy was allowed to unfold without disturbances to the bitter end, where the cruel libretto and Puccini's emotional music combined to move the audience to tears.
Luckily conductor Marcello Mottadelli avoided the sentimental approach which can make this music seem merely sentimental and cloying. Instead he opted for fresh, lively tempos and gave the jagged rhythms of the prelude a dramatic edge that in 1904 must have made the premiere audience feel that times were beginning to change, also in musical terms. Excellent playing was offered by the pick-up orchestra, and the chorus, mostly skilled amateurs, were a well-drilled and homogenous body. The famous humming chorus, which ties together Acts II and III, was suitably dreamy.
The production team and cast were an amalgamation of many nationalities. Today this is the normal situation in many opera houses and it has worked well at Opera på Skäret for many years – next year they will celebrate their fifteenth anniversary! The shining star of this production is definitely Norwegian soprano Elisabeth Teige in the title role. She was a marvellous Senta in last year's Der fliegende Holländer and her Butterfly was even more sensational. The fifteen-year-old geisha is of course something far removed from Wagner's heroine, but Butterfly also needs a grand voice and Ms Teige delivered with beautiful steady tone, powerfully and with expressivity. She was truly glorious in the long duet that ends Act I; "Un bel di vedremo" in Act II was heartrending and together with Siv Oda Hagerupsen we were treated to a magical cherry blossom duet, magical and playful. She crowned her performance with a touching final act. A great achievement indeed!
Aaron Cawley, Irish but active in Germany, was a bit stiff in the opening act, also vocally. Maybe it was intentional, since he showed much more flexibility during his brief return in the last act, where "Addio fiorito asil" was touchingly sung with deep involvement. Spanish baritone Javier Franco impersonated the diplomat Sharpless convincingly. Vocally it is an ungrateful role but he did his best to hide that. Siv Oda Hagerupsen, Norwegian like Elisabeth Teige, was a very alive and convincing Suzuki and she sang excellently. I have already praised Alex Tsilogiannis, Greek but trained in Florida and London, for his distinctive Goro, and the minor roles were also well cast. A special homage to Telina Pettersson for her acting as Butterfly's son. It was deeply moving.
The Opera på Skäret team have gone from strength to strength during the eleven years I have followed them and this Madama Butterfly is another feather in their collective cap. Now I look forward to next year's anniversary.
Göran Forsling