United Kingdom Prokofiev, Romeo & Juliet: Dancers of English National Ballet, English National Ballet Philharmonic / Gavin Sutherland (conductor), Royal Festival Hall, London, 1.8.2017. (JPr)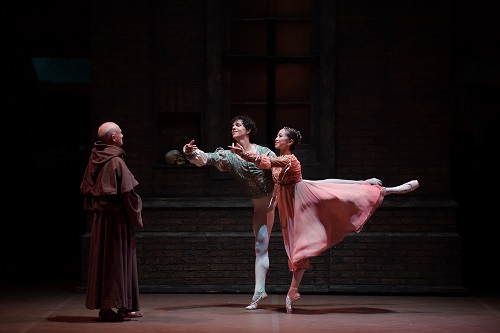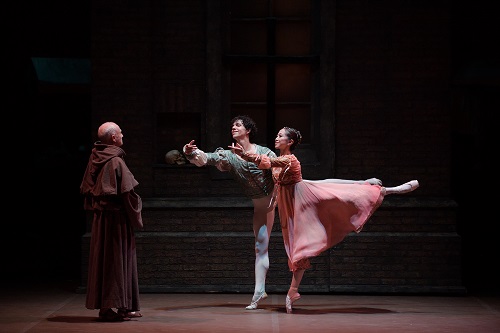 Production:
Choreography – Rudolf Nureyev
Design – Ezio Frigerio
Lighting – Tharon Musser
Restaging – Élisabeth Maurin and Lionel Delanoë
Cast:
Juliet – Erina Takahashi
Romeo – Isaac Hernández
Mercutio – Fernando Bufalá
Benvolio – James Forbat
Tybalt – James Streeter
Rosaline – Alison McWhinney
Paris – Emilio Pavan
Lord Capulet – Fabian Reimar
Lady Capulet – Jane Haworth
Nurse – Laura Hussey
Friar Lawrence/Escalus, Prince of Verona – Michael Coleman
Nureyev's wonderful 1977 Romeo & Juliet is one of two productions that I returned to time and again as my interest in ballet was burgeoning. Apparently, Rudolf Nureyev zeroed in on the following quotation from Act I of Shakespeare's play: 'Some consequence, yet hanging in the stars. Shall bitterly begin his fearful date. With this night's revels and expire the term.' Nureyev choreographed his version of Romeo and Juliet for London Festival Ballet – the former name of English National Ballet – 40 years ago and I am fortunate to have the memories of being there on the first night, and am left wondering where those intervening years have gone.
Nureyev was almost 40 and for some his physical artistry was considered to have diminished somewhat. However, for many like me what he still had then – and for several years thereafter – was the ability to be constantly compelling dramatically, and someone who could transcend even the most modest showcase for his talents. This Romeo & Juliet remains a vivid theatrical spectacle because it is conceived on a grand operatic scale. It is all framed by Ezio Frigerio's magnificent red and orange sets which – despite being slightly cramped on the makeshift Royal Festival Hall stage – are solidly three-dimensional and realistically monumental. His costumes are also sumptuous, with green for the Montagues and red for their Capulet rivals. My only criticism of the whole evening was the lighting which – despite giving some of what we saw a miasma of gloom – made much of the proceedings seem like one of those National Gallery Renaissance paintings before its restoration to bring out its original colours.
There is a melancholy start which establishes Nureyev's themes for his version of a story we believe we all know. There is the expected romance but its primary concern is that predetermined fate cannot be avoided and death is everywhere. The first thing we see are four scrambling fate figures playing with dice and then a cart trundles on carrying plague victims. Later Romeo gives a coin to a beggar, who then falls dead. Nureyev's Verona is a fated place! At the Capulets' ball, the dancers seem to form a blindfolded Rota Fortunae (or wheel of fortune) and just before the bedroom pas de deux Juliet appears to be ravaged by a very Shakespearian hooded death figure. Throughout this Romeo and Juliet we see the struggle for the lovers' souls between the spirits of love and death.
Nureyev's Verona is also full of violence, vendetta, and sex. Men posture, brawl and pursue young women lustily. It is all very bawdy and this extends to Juliet's Nurse – usually a prim and prissy figure – who is shown enjoying the attentions of a servant. Juliet sees her Nurse (the wonderful Laura Hussey) with her skirts round her waist and in an instance, we appreciate Juliet's innocence and her imminent sexual awakening.
Nureyev provides scope for great dramatic projection throughout his Romeo & Juliet which has obviously been restaged with great respect and affection by Élisabeth Maurin and Lionel Delanoë (who performed in it for the Paris Opéra Ballet). Nureyev gives great opportunities to those who often are mere cyphers with little to do in this ballet such as Lady Capulet (Jane Haworth), Paris (the statuesque Emilio Pavan) and several members of the corps de ballet. It is a play without words and this cannot be illustrated better than by highlighting how we see a letter – carried by Friar John (Grant Rae) from Friar Lawrence (Michael Coleman) – never gets to Romeo to explain that Juliet is simply asleep and not dead. At about the same time Juliet has a life and death solo with the apparitions of Tybalt and Mercutio when she is conflicted as to whether to take a potion or commit suicide. As she brandishes her dead cousin Tybalt's dagger the hilt appears to her like the sign of the cross and she takes this as the 'sign' to drink the sleeping draft. After a slightly stuttering start when the company seemed to be coming to terms with unfamiliar surroundings – it is their first visit to the Royal Festival Hall in almost a decade – Nureyev's powerfully atmospheric piece was as haunting, amusing, captivating and deeply affecting as always. It remains the best version of this story I have ever seen.
Élisabeth Maurin is quoted in the programme as describing this Romeo & Juliet as 'a small marathon' and indeed we see more steps than in the usual more anodyne versions of the story. We are told that in the seven minutes of the balcony pas de deux there are '22 lifts, 24 arabesques, 5 kisses and 8 coupé jetés' and how the six-minute Act II pas de deux has eighteen lifts with one lift every twenty seconds. First and foremost, Nureyev wanted to challenge himself and secondly to increase the profile of the male dancer in ballet, which remains his lasting legacy.
As to be expected Isaac Hernández (Romeo) and Erina Takahashi (Juliet) carried the dancing; although Fernando Bufalá was a suitably energised, jokey, Mercutio. With his leaps bursting forth with élan, Hernández was in tireless form dancing with fluidity, control and a fine sense of line and phrasing. He made Nureyev's difficult – and often fussy – steps look easy, which of course they are not. He isn't Nureyev's Romeo though, because – although just as charismatic – there is more of a boyish adolescent quality to his performance and he is not as testosterone-fuelled as the 'original'.
Erina Takahashi is a sleekly elegant and technically precise dancer and the difficult set pieces held no fears for her. Perhaps because of nerves there was a fixed grin on her face during her initial encounters with Romeo and – on this occasion – it took me some time to believe she was in love with him. Nureyev gives the lovers intricate and extremely physically demanding duets and both dancers rose to the challenge splendidly. As the evening went on, Takahashi's Juliet becomes more emotionally connected with Romeo through all the climbing over his shoulders, hanging upside down and intertwining herself with him she has to do …and this conveys more passion and tenderness than it might sound. From the moment at the end of Act II when Juliet discovers her new husband has killed her cousin, Tybalt, Takahashi was Juliet for me. Her wailing at the end when she wakes in the crypt beside the dead Romeo, brought its usual tear to my eye.
Though English National Ballet was across the water from their regular London home at the Coliseum they exhibited once again their energy, discipline, commitment and pride in what they were performing. How hard they work should also not be underestimated. Since I was sitting close to the stage I could witness their total engagement and how often the dancers reappeared on stage in different guises, including as acrobats, flag throwers or mandolin players. There were a number of strong performances and James Streeter's scenery-chewing, manic and brutish Tybalt stood out. Everyone seemed to clearly know why there were on stage and this extended even to non-dancing characters such as a priest and Paris's young page. Kudos also to the sword fighting which was some of the best I have seen on stage whether in straight theatre, opera or ballet.
My almost final words go to Gavin Sutherland whose conducting propelled along his fine English National Ballet Philharmonic with great distinction for a stirring account of Prokofiev's score. They provided the perfect accompaniment to Shakespeare's timeless tragedy and the remarkable vision of the much-missed legend that was Rudolf Nureyev.
I doubt you are wondering – but in case you are – what was the other production I saw over and again at the beginning of my interest in ballet …well it was Rudolf Nureyev's enchanting 1975 The Sleeping Beauty. Is there any chance this might be revived?
Jim Pritchard
For more about English National Ballet click here.