United Kingdom

2017 BBC PROMS 59: Mozart – La Clemenza di Tito: 
Soloists; Glyndebourne Festival Opera Chorus; Orchestra of the Age of Enlightenment / Robin Ticciati (conductor). Royal Albert Hall, London, 28.8.2017. (CC)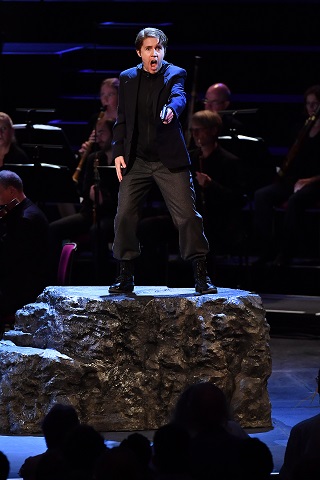 Cast:
Titus – Richard Croft
Vitellia – Alice Coote
Servilia – Joélle Harvey
Sesto – Anna Stéphany
Annius – Michèle Losier
Publio – Clive Bayley
Production:
Original Director – Claus Guth
Proms Director – Ian Rutherford
Designs – Christian Schmidt
This was the second Ticciati Prom this season: his concert with the Scottish Chamber Orchestra in Prom 40 (see review) was a success, including a stimulating Berg Violin Concerto (with Christian Tetzlaff) and a fleet and light Schumann "Rhenish". Ticciati's mastery of texture and structure was clearly on display in this performance fresh from Glyndebourne of Mozart's last opera, La Clemenza di Tito; as was his sense of drama, the orchestra stunningly exciting in the work's final stretch.
The number of performances this opera receives in comparison with those of other mature Mozart operas is tiny. Interestingly, though, the last time I reported on this opera for Seen & Heard International, at ENO in 2007, Alice Coote was Sesto. Here she took the role of Vitellia, with Sesto taken by the astonishing Anna Stéphany. (If you're following the swapping of roles, Vitellia at ENO was Emma Bell).
The staging, in a minimalist adaptation for the Albert Hall, hsd a couple of rock-like shapes at the front where the more overtly interpersonal events occurred and a space at the top of the stage behind the orchestra where events of state were played out. The spatial interplay was most effectively seen in the second act, with the chorus at the front of the stage (the "People of Rome") and Tito atop, agonising in the background. The libretto – Metastasio adapted by Mazzolà – tends towards stasis but in doing so offers a stage for Mozart's sublime instincts to take over. Projections of reeds at the back of the stage provided a hint at setting, but a savage lighting malfunction in the first act, with parts of the stage plunged randomly into darkness, was interruptive to say the least. A projection of falling petals in 'Non più di fiori' felt twee more than profound and I dare say the flames of the inferno of the Capitol were not even vaguely exciting to any.
Robin Ticciati, Music Director of Glyndebourne since 2014, inspired the OAE to wonderful transparency, enabling the counterpoint in the Overture to shine with vibrancy. Impeccably coiffured, the Overture led to the great combination of Alice Coote (Vitellia) and Anna Stéphany (Sesto). Coote has been providing some fabulous experiences of late, including a memorable title role in Handel's Ariodante at the Barbican in May this year. Stéphany's crystal clear delivery coupled with her transformation into a member of the other sex, so perfectly managed, was the perfect complement to Coote's confident Vitellia. Vocally they worked perfectly together – the first scene ends with a quatrain that was simply beautifully delivered. Coote's 'Deh, se piacer mi vuoi' was stunning in its elegant simplicity, while Stéphany's 'Parto, parto' was the highlight of the evening, finding her in perfect harmony with the orchestra and its obbligato; it was crowned by exquisite vocal flexibility. Similarly, Stéphany's legato at 'Se al volto mai ti senti' was a thing of beauty, while tender ness reigned her incredibly tender Act Two 'Deh, per questo istante solo'.
American tenor Richard Croft – who substituted for Steve Davislim in the Glyndebourne run apparently after Davislim had "artistic differences," to quote the Glyndebourne website, over Guth's staging – was a terrifically vocally flexible Tito, the higher registers of his voice free and clear, the lower almost baritonal. There was a core of lyric power running through his interpretation, his Act Two soliloquy 'Che orror! Che tradimento' given in simply fabulous voice and truly pained.
Michèle Losier was a terrific Annius, confident and stylish; another reflection of the care gone into the preparation here was that Losier and Stéphany together provided another instance of Mozartian magic. Annius opens the second act, and Losier projected just the right sense of vulnerability; perhaps only her 'Torna di Tito a lato' was merely "good" – a description that in the context of the prevailing vocal excellence of this performance is more negative than positive here. Joélle Harvey was a fresh-voiced and feisty Servilia.
The rich bass of Clive Bayley was perfect for Publio. Bayley's acting was a problem; he looks like a stock villain, his stance aslant and awkward. He seems to have only a couple of gestures. A shame, as the actual sound of his voice fitted the performance to perfection.
The Glyndebourne Chorus was in terrific form, delivering the occasional semaphore requested by the production in perfect synchronisation as well as sounding fabulous.  Superb continuo playing came from Ashok Gupta and cellist Luise Buchberger.
It's been good to see two Glyndebourne productions this year: one at Glyndebourne itself (Traviata) and this, at one remove. Mozart's Tito may not leave one with the impression of the sheer perfection of, say, Zauberflöte or Figaro, but its many merits made for a most involving evening.
Colin Clarke