Germany Bayreuth Festival 2017 [1] -Wagner, Parsifal: Soloists, Chorus and Orchestra of the Bayreuth Festival / Hartmut Haenchen (conductor). Festspielhaus, Bayreuth, 14.8.2017. (JPr)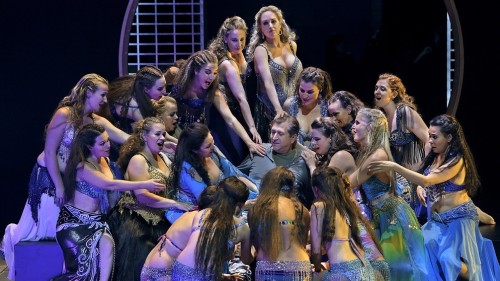 Wagner, Parsifal
Cast included:
Amfortas – Ryan McKinny
Titurel – Karl-Heinz Lehner
Gurnemanz – Georg Zeppenfeld
Parsifal – Andeas Schager
Klingsor – Werner Van Mechelen
Kundry – Elena Pankratova
Production:
Director – Uwe Eric Laufenberg
Sets – Gisbert Jäkel
Costumes – Jessica Karge
Lighting – Reinhard Traub
Video – Gérard Naziri
Dramaturgy – Richard Lorber
Chorus Director – Eberhard Friedrich
I read one headline about this year's Bayreuth Festival which was 'Kein Skandal is auch ein Skandal!'. Even those who do not know German can probably guess what this is saying. It has been all quiet on the Wagner front with seemingly some rapprochement between all the members of the extended family. This includes – in the centenary of his birth – Wieland Wagner's children who have often been the harshest critics of current festival director, Katharina Wagner, the daughter of Richard Wagner's other grandson, Wolfgang. Wieland's birthday was on 5 January and a commemorative concert was held in the Bayreuth Festspielhaus on the day before this year's festival began.
Inside the theatre all has also gone well, apart from the annual ritualistic – and thoroughly undeserved – booing of Katharina Wagner … her father was also booed so she is in great company! The final outings for Frank Castorf's Ring are underway; the production has never been to everyone's taste but all agree that again it is wonderfully played, sung and conducted by Marek Janowski. There was a standing ovation for the performance I was at of Katharina Wagner's own staging of Tristan und Isolde and Barrie Kosky's new Die Meistersinger has been equally well received. (Reviews of both of these operas will follow on this site in coming days.) Kosky is the first director of Die Meistersinger at the Bayreuth Festival in several decades who is not a member of the Wagner family and – of great interest to some – he is the first Jewish stage director to work there.
But to start I revisited – now in its second year – Uwe Eric Laufenberg's Parsifal. Because of its religious imagery and a number of terrorist atrocities – in Germany and elsewhere – in 2016, it led to the heightened security arrangements at the Bayreuth Festival which means some visitors being bused in from various hotels in the town have to yomp through a disorganised car park before reaching anywhere near the Festspielhaus. I was reminded why it was built there in the first place: Wagner wanted to be far enough away from Munich so only those most devoted and dedicated to his music would undertake the journey …and nothing has really changed in 2017!
We are in roughly modern times and for Act I we see a rubble strewn, much-damaged church in an Iraq ravaged by war. Wagner's knights seem to be Christian monks in habits and their pastor (Gurnemanz) wears a knitted cap and has spectacles he constantly fiddles with. (Actually he has the appearance of an Imam.) They are clearly a charitable brotherhood since during the Prelude we see the ruined church can be used as a place of refuge. Those who are shown sleeping soon pick up their beds and belongings and leave. Soldiers are never far away and wander in and around at times but don't ever appear threatening. There is a large baptismal font where Amfortas bathes and we are supposed to grasp a connection between him and the naked image of Christ taken down from a crucifix, wrapped in a shroud and removed to a side chapel near the beginning. This gains in significance towards the end of the act as Amfortas wears a crown of thorns and has his side pierced to provide the blood which will renew the brotherhood. This mirrors the supposed words of Christ: 'This is my blood of the covenant, which is poured out for many for the forgiveness of sins.'
At the point when Parsifal is shooting (offstage) the swan, a young child in red T-shirt and short trousers falls onstage. It is as if he has been felled by a ricocheting bullet and this continues to be a powerful image which we see too often on today's news channels. He is taken away and Parsifal comes on with his crossbow and we see the traditional – if rather stiff – white swan. Titurel's relationship to Amfortas is very much like that of the Pope Emeritus to the current pontiff and he appears onstage – which is unusual – and presides over the Grail Ceremony. Kundry, of course, does very little in Act I and is dressed as one of her previous incarnations, Herodias. 'Zum Raum wird hier die Zeit' brings us a simply stunning few minutes of videography from Gérard Naziri when we leave the Earth, head out to the edge of our own galaxy – and possibly beyond – and then return.
As Act II begins the glazed tiling we see suggests a mosque, here presided over by Klingsor who is a transsexual in a skirt and first seen attempting to pray towards Mecca. He is holding someone – Amfortas? Christ? – hostage who will later be shown ravishing Kundry. From an upper room – with its large array of crucifixes – Klingsor spies on both Kundry and Parsifal and we later see him self-flagellating. There are a couple of religiously-dubious moments and the first is the crucifix with its phallus-like end that Klingsor brandishes with much glee. And secondly, when the Flowermaidens enter in burkas but soon disrobe to appear as harem girls. Parsifal enters looking like a military sniper and is soon stripped of his combat gear to be bathed by the girls. What still seems noticeably strange is that Laufenberg has Kundry step out of the scene when Parsifal is singing – and he does the same when she sings – when it is a duet. Parsifal returns to put his uniform back on and mimes fixing his weapon before Klingsor eventually interrupts proceedings and relinquishes the spear – he originally captured from Amfortas – much too easily. Parsifal breaks it so he can make the sign of a cross with the broken pieces. All the crucifixes we have seen on the upper level fall to the stage.
For Act III, several more years have passed and we are in a smaller even more derelict chapel and the natural world is a reclaiming the ruins. Gurnemanz gets the 'holy' water he needs from a fridge acting as 'die heilige Quelle'. Both Gurnemanz and Kundry have aged markedly: he occasionally resorts to using a wheelchair, she is stooped and has a tremor. Parsifal enters dressed all in black and it seems to have been a long tour of duty for him. Kundry washes his feet in a small tin bath. For the Good Friday Music (Karfreitagszauber) young people looking like gap year eco travellers enters and frolic naked under a waterfall at the back. As Parsifal absolves Kundry of her sins she is venerated by future generations. More impressive video shows the tolling of a bell and the baptism in rushing waters of Kundry, Amfortas and Richard Wagner himself!
We are then back in the original church setting as in Act I and Titurel's coffin is brought on. Amfortas refuses to shed blood despite the protestations of his knights and a throng of devotees and zealots of all the world's major religions. As Parsifal – now in a suit typical of a modern-day preacher – brings back the spear it is thrown into the coffin and everyone else does the same with their religious artefacts and clothing. What Uwe Eric Laufenberg is possibly showing us is that the community has renewed itself by coming together because of a shared hope and optimism for the future, and this does not need any belief system about a supreme being. I wish achieving reconciliation in the world could be as simple as that!
Through most of the stage action there has been a still, seated, figure (a dummy) up in the cupola looking down on proceedings. I felt last year this might be Wagner himself, though I wasn't as convinced about that this year. Anyway, at the conclusion of this Parsifal the houselights go up as if to query 'Weisst du, was du sahst?' ('Do you know what you saw?'). Everyone onstage wanders into a slight haze as if confirming that the future is in our own hands.
The subheading of Hartmut Haenchen's informative programme essay on how he has revised Wagner's Parsifal score – so that this performance reclaimed the composer's intentions more than any recent ones at Bayreuth – was 'Tempo, performance practice, and new insights into the score'. Some of his ideas he has put forward before in a previous article (click here) and this year has seen further changes in instrumentation – particularly with regard to the bells – and tempo, such that he writes: 'With the slight acceleration called for by Wagner, I count on a playing time of 3 hours and 54 minutes and believe this choice of tempo reflects the work's binary character alternating between action and reflection.'  Indeed, what was freshly spring-cleaned last year had seemed to have accreted greater tension, spirituality and reverence. The chorus was on blistering form and Haenchen encouraged diaphanous playing from the remarkable Bayreuth Festival Orchestra. In line with his thesis – hinted at above – he brought everything to its incandescent resolution 'bang on' – by my reckoning – 3 hours 54 minutes!
Georg Zeppenfeld repeated his noble, grave – yet paternal – Gurnemanz. He sings with an ease that belies the role's difficulties and – because of the famed acoustics of the Bayreuth Festspielhaus – any native German speaker would have understood his every word. Ryan McKinny sang with great musical intelligence and Amfortas's great cry of 'Erbarmen!' was every bit as anguished as it must be as he elicited compassion for his character's suffering. Elena Pankratova is not one of the best Kundrys I have seen and heard and she was never seductive enough of voice or demeanour in Act II. The volume she produced however was ideal for Andreas Schager's well-acted and impassioned Parsifal. He employed Tristan-like, trumpeting tones which were a totally different sound if compared to the more ethereal Klaus Florian Vogt last year. Haenchen appeared to indulge him a little for 'Amfortas! Die Wunde!' and it reminded me more of Siegmund's cries of 'Walse! Walse!'. Karl-Heinz Lehner was a suitably portentous-sounding Titurel and Werner Van Mechelen, snarled and growled away effectively as Klingsor and was another who sang very loudly. The Flowermaidens had well-balanced voices and danced and sang with appealing enthusiasm.
Jim Pritchard
For more about the Bayreuth Festival click here.