United Kingdom Gilbert & Sullivan, Princess Ida: National Gilbert & Sullivan Opera Company, Harrogate Festival, Royal Hall, Harrogate, Yorkshire, England, 12.8.2017. (RJW)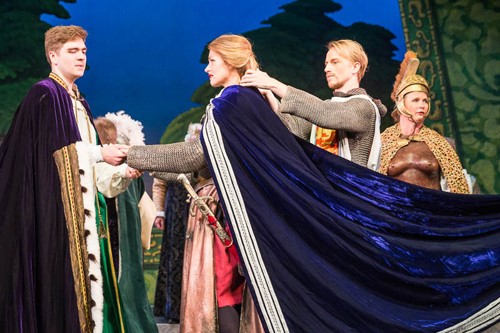 Cast:
King Hildebrand – Donald Maxwell
Hilarion – Laurie Slavin
Cyril – Nick Sales
Florian – Matthew Kellett
King Gama – Richard Suart
Arac – James Cleverton
Guron – Matthew Siveter
Scynthius – Stephen Godward
Princess Ida – Emma Walsh
Lady Blanche – Gaynor Keeble
Lady Psyche – Natalie Montakhab
Melissa – Katie Grosset
Production:
Director – Vivian Coates
Musical Director – Aidan Faughey
Choreography – Mary MacDonagh
Scenic design – Paul Lazell
Lighting – David Marsden
This professional production by the National Gilbert & Sullivan Opera Company should not be confused with a former company production of 2009, for this is a completely new production. Director, Cav Vivian Coates, has previously directed Ireland's Lyric Opera at the Festival and the group was always praised for their excellent presentations. After this performance the audience left the auditorium buzzing about the outstanding quality of what they had just seen. Of all the productions of this opera held at the Festival over the past 24 years, this has to be one of the most memorable. Headed by stars like Maxwell and Stuart one was sure that the evening would turn out to be something special.
King Hildebrand's Court opens the first act with a stunning medieval picture. Complemented by magnificent costumes from the RSC the effect was tremendous and was greeted by audience applause as the chorus launched into "Search throughout the panorama".
During the evening Coates' able direction brought in a number of surprises and clever routines. The singing was strong and Festival orchestra accompanied magnificently to bring out the richness of Sullivan's score. Aiden Faughey's pace seemed ideal.
The colours of Gilbert's eccentric characters were noticeable and the acting came over well. Extra props helped bring in new business. The entrance for "Gently, gently, evidentially" was unusual when grappling hooks were first seen thrown over rocks and ropes supporting Hilarion and courtiers came into view. Visual aids to illustrate "We intend to send a wire to the Moon" and an easel of placards to illustrate a monkey's development into Darwinian man in "A Lady fair" were elegant touches that helped make this production special. For me the result was superior to either a Mike Leigh or Scottish Opera D'Oyly Carte professional production.
In a theatre whose acoustics are not the best in the world, diction was amazingly good. Richard Suart gave a brilliant portrayal of the disagreeable and stooped Gama, and kept a believable character. He later crowns Hilarion as Hildebrand does with Ida in the second act finale. Donald Maxwell's Hildebrand had a commanding presence and likewise played a benevolent king when dealing with the absurd Ida. Ida (Emma Walsh) provided the commanding presence expected of any head of a ladies' seminary and her "O goddess wise" was sung to perfection. Laurie Slavin is an elegant tenor who as Hilarion enthusiastically led the fight to claim his bride. Ably supported by Matthew Kellet as Florian and Nick Sales as Cyril the trio worked well together. Their "Haughty humble coy or free" was used to magically transform themselves into girls as two of the three singers masked the third changing into their robe – a clever piece of stagecraft.
The chorus provided good backing throughout, and were strong in the finales. The assortment of weapons wielded in Act III by the terrified girls were amusing — tennis rackets, candelabra, rakes and mops being hopelessly inadequate.
Paul Lazell has regularly provided settings for the Festival both at Buxton and Harrogate and here surpasses himself with his zany composite set of medieval motifs, vibrant greens and a fantasy prospect of Castle Adamant.
The team needs to be congratulated on their worthwhile achievement.
Raymond J Walker