United Kingdom 2017 BBC PROMS 35 – Rogers & Hammerstein, Oklahoma! (semi-staged): Soloists, John Wilson Orchestra / John Wilson (conductor), Royal Albert Hall, London, 11.8.2017. (CS)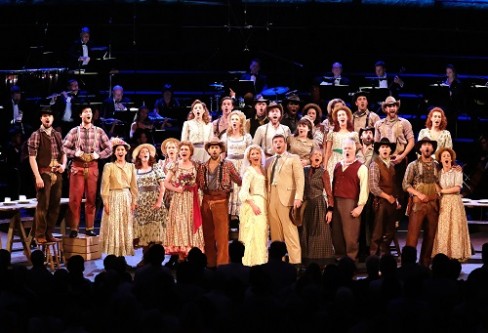 Cast:
Aunt Eller – Belinda Lang
Curly – Nathaniel Hackmann
Laurey – Scarlett Strallen
Will Parker – Robert Fairchild
Jud Fry – David Seadon-Young
Ado Annie – Lizzy Connolly
Ali Hakim – Marcus Brigstocke
Clive Carter – Andrew Carnes
Gertie Cummings – Melle Stewart
Ike Skidmore – Emmanuel Kojo
Cord Elam – James Leece
Production:
Stage director – Rachel Kavanaugh
Choreographer – Alistair David
A 'bright golden haze' settled over the Royal Albert Hall when John Wilson brought his eponymous Orchestra to town, for a toe-tapping, smile-inducing performance of Rodgers & Hammerstein's paean to an American national consciousness rooted in the land – Oklahoma!
The show must contain one of the most 'grim' couplets in musical theatre – 'He's lookin' oh, so purty and so nice/He looks like he's asleep./ It's a shame that he won't keep,/ But it's summer and we're runnin' out of ice …', sings Curly to 'Pore Jud', when he explains that a man has to die before a woman shows her true feelings – but other than that, it was 'Ay yippy yi ki yea' all the way from the 'beautiful morning' to the honeymoon departure of newly-weds Laurey and Curley in the 'Surrey with the Fringe on Top'.
Oklahoma! seems at first glance a good choice for Wilson and his musicians.  After their tributes in recent Proms seasons to Bernstein, Gershwin and Sinatra, and celebrations of the sounds of Hollywood and Broadway, here was the opportunity to present a ground-breaking musical drama in its entirety.  For, Oklahoma! (1943) was the musical which initiated the partnership of Richard Rodgers and Oscar Hammerstein II, after Jerome Kern had turned down Hammerstein's adaptation of Lynn Riggs' play, Green Grow the Lilacs (1931).  Written at a time when librettist Hammerstein hadn't had a hit since Show Boat in 1927 and Lorenz Hart, Rodger's lyricist of twenty years, was drinking his way to redundancy, Oklahoma! abandoned the vaudeville-derived conventions of the Broadway shows of the 1920s and 30s – with their dancing-girl spectacle, sassy choruses, non-linear drama and clichéd musical numbers according to character-type – for dramatic logic, and integrated music and dance.
As Wilson observes in a programme note, 'It's the first piece where the characters, as well as the plot, develop through song'.  But, his ambition to 'achieve total authenticity in terms of style' and to play 'every single note of the score, every last quaver', perhaps, paradoxically, didn't serve the musical as well as he had hoped.  For, at three hours and fifteen minutes, it's a long show; and, while the fabulous melodies and lush orchestral sequences come thick and fast in the first hour, thereafter there's a lot of musical repetition.  As the balance between song and spoken dialogue tilts in favour of the latter in Act 2, the musico-narrative of the Frontier Romance, so compellingly established at the start, begins to wane, and it takes the arrival of the much-needed Oklahoma! finale-chorus to revive the sagging spirits and verve.
That's not to detract, however, from the exuberance and freshness of this performance, of Act 1 in particular, which swept away the grey clouds – be that weather or war-mongering – which have dampened this month of August.  'Semi-staged' does director Rachel Kavanaugh a disservice.  Yes, there were just a few bales and boxes, a mangle and clothes-line, a rocker and some wagon-wheels, to whisk us to the corn meadows and cattle plains of Oklahoma territory in 1906, but the stage business, and choreography, were so rooted in the land and real-life – wringing washing, brushing hair – that the absence of set was immaterial.
The driving energy of Alistair David's choreography created a utopian feel-good force which surged through the drama.  Indeed, we were swept up in the communal togetherness in the opening scenes, when Will Parker's tales of Kansas City – where everything's up-to-date and 'like a dream … It's better than a magic-lantern show!' – inspired a breath-taking outburst of tap-dancing delight from Robert Fairchild.  As a former Principal Dancer with New York City Ballet, it's perhaps not surprising that Fairchild can 'dance a bit', but his athleticism and grace were phenomenal.  Explaining to his initially sceptical fellow cowboys that the two-step and ragtime had sent the waltz into fusty oblivion, Will inspired them to join him in a physical celebration of community as they learnt how to adapt to the modern world.
The message is that if you join in the song and dance you'll belong in this land.  And so, Nathaniel Hackmann's Curly swaggers down the steps, 'bow-legged from the saddle fer God knows how long', mid-way through his hymn to youth and the limitless freedom of the land of the frontier.  'Oh. What a Beautiful Morning' immediately establishes the play's mood and setting (replacing the traditional opening chorus) and so rich and lyrical is Hackmann's baritone that it's no wonder that his optimism and lovable swagger encourage others to join in his song, which quickly becomes an anthem.  Soon, everyone shares that 'beautiful feelin'', convinced that 'Ev'rythin's goin' my way'.
Scarlett Strallen put in a nuanced dramatic performance as the confused Laurey, hoping for happiness but unsure where or with whom it lies.  The penetrating power and more 'operatic' colour of Strallen's voice (she lessened the US twang during the sung moments which reveal Laurey's private thoughts and feelings) distinguished her from other Oklahoma lasses, and if the tone was occasionally a little hard-edged as her soprano climbed, there was still a sense that this was a 'star performance'.
As the flirtatious Ado Annie, Lizzy Connolly was bubbly and defiant in equal measure, and delivered her solo, 'I Cain't Say No', with punchy honesty and panache.  Belinda Lang made the most of the pragmatic matriarch Aunt Eller's one-liners, turning her mangle with fierce elbow-grease and swinging her rifle around with alarming alacrity.  Lang's essay at ever more heavily accented diction, occasionally led her to force the text, though, and this exacerbated the resonance arising from the amplification.  Throughout the performance, too often the casts' words, spoken and sung, slipped into the ambient echo.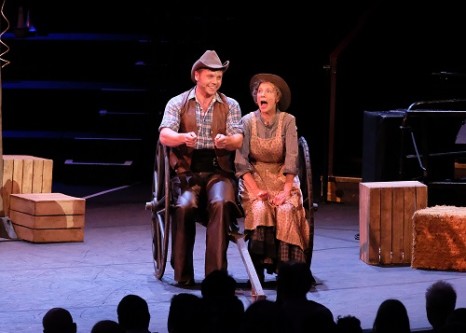 Comedian/actor/writer Marcus Brigstocke was cast as the peddling Persian merchant, Ali Hakim, and he barked and hammed his way through his assignations and altercations with Annie with a strong stage presence.  But, this was a rather odd character portrait.  There was little evidently 'Persian' about the tweed-suited, bowler-hatted merchant clutching a worn leather holdall, which weakened the relevance of some of his sales pitch – as when he holds up a garter, 'Real silk. Made in Persia!'  More importantly, there was nothing very 'Other' about him either, though 'Ali' was surely originally intended to be a thinly veiled cipher for a Jewish immigrant.  Perhaps such period allusions are out-of-date, but a period piece reflects its context.   Kavanaugh seemed to wish to wipe away all shadows from the sunlit plains.
The only 'darkness' came in the form of Jud Fry, superbly acted and sung by David Seadon-Young, who powerfully captured the alienation of the 'growly', 'burly, scowling man' of whom Laurey says, 'He makes me shivver ever' time he gits clost to me'.  'Lonely Room' stood alone in the shadows of the upbeat narrative as Seadon-Young intimated tragic cracks in the social unity and communal harmony.  But, Jud's voice is silenced by his defeat in the dream-ballet sequence – intelligently choreographed by David who segues the action between dance, chase and fight with fluency.
But, even here, Laurey's fears of Jud's sexuality were not explored in depth: he was portrayed as a violent potential rapist and there was little consideration of what causes his alienation and despair.  Curly blames Jud for his own misery: 'How'd you git to be the way you air, anyway settin' here in this filthy hole-and thinkin' the way you're thinkin'? Why don't you do sumpin healthy once in a while, 'stid of stayin' shet up here-a crawlin' and festerin'!'  However, Aunt Ellie's suggestion that the community should cover up Jud's death at Curly's hands – 'Le's do it here and say we did it in court […] le's not break the law.  Le's just bend it a little' – might raise a laugh but is also a reminder that at this time in American history (perhaps still today) there were those in society who were denied justice.
This was a performance for revelling rather than reflection, though, and even Wilson could not resist swivelling on his chair to enjoy the extended spoken scenes.  The JWO balanced vigour, breeziness, schmaltz and sentimentality in perfect measure, the strings' swaying gloriously through the slushy big themes, the trumpets adding a touch of glitz and, as in the trial scene, a note of menace; guitar, banjo and xylophone adding a hometown twang.  When they launched into the bright and breezy overture, it hardly seemed possible that the orchestra had already played a matinée performance which must have finished barely two hours before the evening 'curtain up'.
Wilson and Kavanaugh may have declined to shine a light on the political or social vision that the musical contains, a vision intimated in Laurey's joyful anticipation of married life, 'Soon be livin' in a brand-new state!'.  The chorus's echo, 'Brand new state, gonna treat you great! We know we belong to the land/ And the land we belong to is grand!', suggests a celebration of a social unity rooted in the land, of American statehood and of the opportunities offered by post-war democracy.
But, the positivity of the songs and dances was infectious, tempting us to believe that everything is indeed going our way.  An 'enchanted evening', indeed.
Claire Seymour