United Kingdom Various composers: Finbarr Malafronte (guitar), RMS Queen Mary 2, Royal Court Theatre, 1 & 3.8.2017. (RP)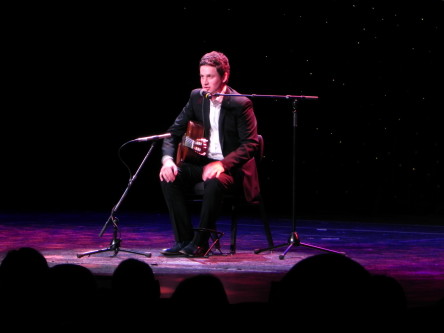 There is a fair share of classical music to be heard while crossing the Atlantic Ocean on the Queen Mary 2. You might listen to a string quartet while enjoying afternoon tea or the gentle sounds of the harp as you sip your espresso, while piano music often accompanies the partaking of stronger libations. All fine musicians I am sure, but they are relegated to supplying background music for a myriad of other activities. Alone on stage for three recitals (I missed the first one.) at the Grand Court Theatre, however, was classical guitarist Finbarr Malafronte.
Based in London, Malafronte studied with Cuban-born, internationally renowned guitarist Manuel Barrueco at the Peabody Institute in Baltimore, and later at the Royal College of Music in London. He has performed in Wigmore Hall, St Martin in the Fields, St James's Piccadilly and, of course, on ocean liners. An agent who books such acts heard him play and offered him a contract. He shelved the idea for a couple of years but has since repeatedly performed at sea.
Apart from Dowland's Allemande and Bach's 'Jesu, Joy of Man's Desiring', Malafronte's focus was on music by Spanish and Latin American composers. Two of the highlights were the soulful melodies of 'Milonga Del Angel' by the Argentinian Astor Piazzolla and the Brazilian João Pernambuco's repetitious, almost mechanical 'Sons de Carihoels'. The former's name is synonymous with the tango, while Pernambuco, who earned his living as a blacksmith, was one of the founders of the classical choro, derived from a popular Brazilian song style. Malafronte perfectly captured the delicacy and melancholy of Cuban composer Leo Brouwer's 'A Day in November'.
The Old World was represented by guitar arrangements of two of Granados' Spanish Dances and three Catalan folk songs arranged by Miguel Llobet, as well as the concluding number, Fernando Sor's 'Introduction and Variations on a Theme by Mozart'. Sor's most famous composition is a tour de force for the guitarist, and Malafronte the virtuoso was on full display.
The reverence that Malafronte bestows upon the masters of the guitar is also afforded the princes of jazz and popular music. A bouncy 'Penny Lane' by Lennon–McCartney sat easily beside Manuel Ponce's 'Scherzino Mexicano', as did Dave Brubeck's 'Take Five' and the Rodgers and Hart ballad 'Blue Moon' nestled between the Paraguayan composer Augustin Mangore Barrios' deeply spiritual 'Una Limosna por el Amor de Dios' (Alms for the Love of God) and pieces by Villa Lobos. Eric Clapton's 'Tears in Heaven', which he wrote while coping with the tragic death of his four-year-old son, was performed with crystalline purity and searing simplicity.
Malafronte transfixes an audience with his musicianship, ease on stage and the sheer beauty of the music that he performs. He also possesses a rare skill; in just a few words he can bring to life the composers and their music, as well as his instrument's rich lore. He is a born communicator, whether playing his guitar or speaking.
While at breakfast on the morning before his final recital, I overheard a woman timidly ask her companion if he would be attending Malafronte's performance that afternoon. He barked back, 'That young man is phenomenal, just like a young Segovia'. I never heard Segovia live, but Malafronte is a mighty fine guitarist.
Rick Perdian