United Kingdom 2017 BBC PROMS 46 – Schoenberg, Gurrelieder: Soloists, CBSO Chorus, London Symphony Chorus, Orfeó Català, London Symphony Orchestra / Sir Simon Rattle (conductor), Royal Albert Hall, London, 19.8.2017. (AS)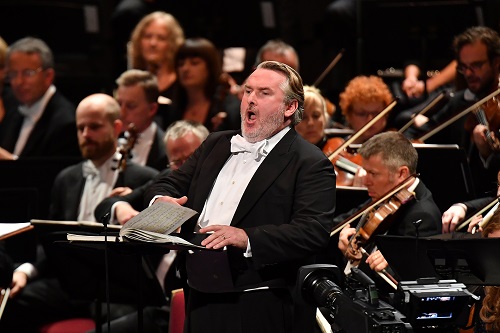 Cast:
Tove – Eva-Maria Westbrook
Waldemar – Simon O'Neill
Wood-Dove – Karen Cargill
Klaus the Fool – Peter Hoare
Peasant – Christopher Purves
Speaker – Thomas Quasthoff
It's true that huge choral forces took up the entire section of seats behind the orchestra on either side, but otherwise the hall was pretty well full to capacity at this concert, and the arena was packed. I imagine that many came to this event in order to experience Sir Simon Rattle's first Prom concert with the LSO, but it was heartening to see such a large audience for a work that is still a rarity in performance. And that audience was very attentive. Gone were most of the coughers, the fidgets, the neighbours muttering to each other in stage whispers and all the other usual Prom distractions. The atmosphere was indeed electric as we saw and heard a most wonderful performance unfold in front of us.
Simon Halsey is the chorus-master of all three bodies listed above, and his contribution in training his forces to the pitch of excellence they displayed must be acknowledged. We take the excellence of the LSO for granted: on this occasion it was a much augmented ensemble, with not only a large battery of percussionists and numerous brass players, but with extended string forces – there were for instance 20 first and 20 second violins.
The soloists (Eva-Maria Westbrook, Simon O'Neill, Karen Cargill, Peter Hoare and Christopher Purves) were all first-rate, all highly experienced and entirely comfortable in their roles. It would be invidious to select any one for particular praise, though an exception might be made in the case of the Speaker, Thomas Quasthoff. Schoenberg apparently wanted this part to be taken by a retired singer, and Quastoff's bass-baritonal Sprechgesang resounded throughout the hall with magnificent effect.
Then there was Sir Simon Rattle. In this kind of repertoire he is at his very best, and at his best there is none better than he as an inspirational generator of performance energy in front of large choral and orchestral forces. The manner in which he conjured up and maintained an exotic, hypnotic atmosphere throughout the varied episodes of the work was quite extraordinary. No passage in its 110-minute length flagged; every episode was characterised with compelling richness and complete understanding of Schoenberg's unique demands.
Finally, the music itself. Should we regret that this was Schoenberg's only choral essay of this character and magnitude, and that he soon abandoned its highly expressive, very late-Romantic style for more astringent methods of composition? I think not. As the programme note reminded us, he was already going down the path towards atonality before he finally completed the Gurrelieder, and he could not have gone back to such a lavishly expressive style with any degree of comfort. He did of course return to tonality on occasion after he had evolved his serial technique, but his remaining works in traditional forms are smaller in scope and range of expression. In the Gurrelieder there are continual intimations of things to come, both in the work's instrumentation and in its expressive explorations of the extremes of tonality: sometimes tonality is already breached. The Gurrelieder is an unique work. It has absorbed Wagnerian and other influences and speaks with a completely individual voice.
Alan Sanders
For more about the BBC Proms click here.