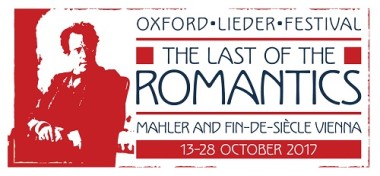 THE OXFORD LIEDER FESTIVAL: 13-28 OCTOBER 2017
THE LAST OF THE ROMANTICS: MAHLER AND FIN-DE-SIÈCLE VIENNA
The 2017 Oxford Lieder Festival –The Last of the Romantics – will be a thrilling two-week exploration of the life and music of Gustav Mahler and Vienna at the end of the Nineteenth Century. Mahler was a dominant musical figurehead: a composer and preeminent conductor who was steeped in tradition but was also a pioneer and champion of the new, and the Festival programme reflects this, exploring his influences, contemporaries and legacy. A performance of Mahler's complete songs is at the heart of the Festival, complemented by the songs of other composers, chamber and choral works and study events.
Some of the world's leading singers and instrumentalists will take part, including Ian Bostridge (24 Oct), Sarah Connolly (20 Oct), Maria Forsström (22 Oct), Angelika Kirchschlager (26 Oct), Mark Padmore (19 Oct),Birgid Steinberger (28 Oct), Roderick Williams (23 Oct), Imogen Cooper (19 Oct), the Doric String Quartet (19 Oct) and members of the Orchestra of the Age of Enlightenment.
Highlights of the Festival include the opening concert on 13 October featuring Kate Royal, Toby Spence, Dietrich Henschel who, together with the Orchestra of the Age of Enlightenment (OAE), perform chamber versions of two of Mahler's seminal works Lieder eines fahrenden Gesellen & Das Lied von der Erde. Richard Strauss is heavily featured at the Festival and on 15 October the 1926 silent film version of his opera Der Rosenkavalier – set in Vienna & premiered in 1911 – will be shown accompanied by the OAE in Strauss' own chamber-orchestra arrangement of the opera. Other recital highlights include BBC New Generation Artists Kathryn Rudge (18 Oct), presenting favourite Strauss and Schubert songs, and Ashley Riches (17 Oct) performing Brahms's Four Serious Songs. Alessandro Fisher (23 Oct), joint winner of the Kathleen Ferrier Awards in 2016 and one of today's most exciting young tenors will present an all-Schubert programme. The final concert will feature soprano Birgid Steinberger (28 Oct) together with baritone Stephan Loges in a programme including Mahler's settings of poems from Des Knaben Wunderhorn.
Mahler's Vienna will be placed in a wider context, with tradition represented in the songs of Schubert and Beethoven and an exploration of Brahms's glorious melodic gifts. There will also be music by Hugo Wolf, Alexander Zemlinsky, Erich Korngold, Joseph Marx and others. Mahler's choices of texts, his wider artistic influences from literature to art to nature and folk music, the publishing history of his music, his stature as a song composer, and his encouragement of other composers, will all be explored,
Two late-night performances (14 & 23 October) will look ahead to the Second Viennese School, including several of Schoenberg's seminal works. Study days, masterclasses, workshops and more once again make for an exhilarating Festival that will illuminate the era.
For more information visit www.oxfordlieder.co.uk.