United Kingdom Gilbert & Sullivan, Engaged: Festival production by Alan Borthwick and Friends, Harrogate Festival, Royal Hall, Harrogate, Yorkshire, England  11.8.2017. (RJW)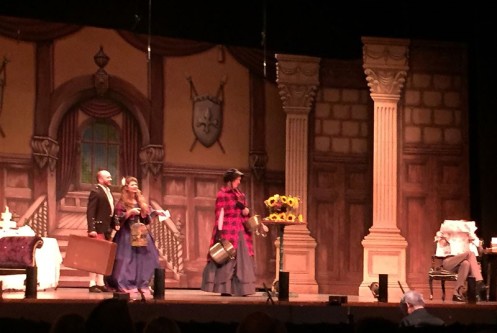 Cast:
Cheviot Hill – Geoff Lee
Belvawney – Simon Boothroyd
Symperson – Ian Lawson
Angus Maclister – Giles Longstaff
Major Muggeridge – Andrew Crawford
Belinda Trehern – Annabel Hamid
Minnie – Gillian Robertson
Mrs Macfarlane – Fiona Main
Cora – Claire Turnbull
Production:
Director – Alan Borthwick
Musical Director – David Lyle
This performing group from Edinburgh is well known at the Festival, and they delight in bringing obscure plays and operas by Gilbert and/or Sullivan. This year is no exception. After the Gilbert copyright had expired in 1961, George Roswell & Kenneth Mobbs set to work adapting Gilbert's play Engaged (1877) into a comic opera using Sullivan's lesser known music. The piece first played professionally at the Theatre Royal, Windsor in 1962 and a vocal score was published by Chappell in 1963. As a piece it has some interesting corners yet it follows Ages Ago by being rather wordy despite George Rowell's condensing of Gilbert's original play lines. However, the music is successful and the choice of items by Sullivan from his rarely heard operas are well fitting, particularly "Little Maid of Arcadee" (Thespis) and "Won't it be a Pretty Wedding", a lovely number that is used with later repeat. The Rose of Persia is heard in a few of the numbers, and the Di Ballo overture make an appearance. Usefully, the programme lists the origination of the musical numbers.
It helped the audience to know in advance the basic plot: travellers to a remote refreshment and boarding cottage on the border of England and Scotland enhance their custom by occasionally putting logs on a nearby railway line to cause an accident and stop the train. They then can offer refreshment and hospitality to the distraught passengers, but on this occasion get something more than they bargained for. Romance is in the air both on the train and within the village settlement and so marriages are forthcoming.
The lassies of the village gave the opening act a bright and cheery start followed by the introduction of local characters. After an off-stage explosion some of the train passengers appeared, sooner than expected perhaps, and conveniently only men. Of them Cheviot, a larger than life character, was well played by Geoff Lee. Minnie Symperson (Gillian Robertson) and Cheviot sang well in their "Penny Roll" number while Belinda (Annabel Hamid) and Belvawney (Simon Boothroyd) gave good support in the charming Rose of Persia number "Poor Me".
The costumes were excellent and nicely matched the period. Only astray was the use of modern sunglasses for a temporary disguise, and a silver helium-filled balloon which I would have liked to pop. The lighting and Drawing Room set looked well and much care had been taken over a well-filled wedding breakfast table.
Raymond J Walker