United Kingdom 2017 BBC PROMS 53 – Beneath the Underdog: Charles Mingus Revisited: Shabaka Hutchings (bass clarinet); Bart van Lier (trombone); Leo Pellegrino (baritone sax); Christian Scott (trumpet); Kandace Springs (vocalist); Metropole Orkest / Jules Buckley. Royal Albert Hall, 24.8.2017. (CC)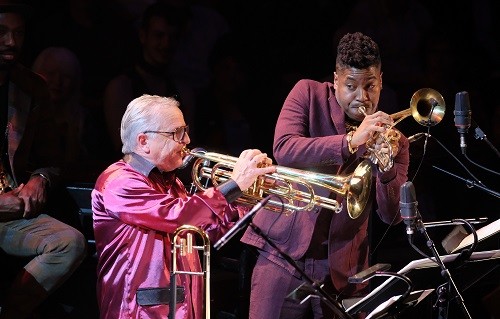 Boogie Stop Shuffle (1959, arr. John Clayton)
Celia (1957, arr. Outi Terkiainen)
O. P. (Oscar Pettiford) (1970, arr. Ilja Reijngoud)
1 X Love (1957, arr. Vladimir Nikolov)
Goodbye Pork Pie Hat (1959, arr. Nikolov)
II B. S. (1963, arr. Clayton)
Weird Nightmare (1946, arr. Stefan Behrisch)
Gunslinging Bird (1959, arr. Gil Goldstein)
Fables of Faubus (1959, arr. Tom Trapp)
God must be a Boogie Man (1979, arr. Mendoza)
The Dry Cleaner from Des Moines (1979, arr. Davies)
Moanin' (1959, arr. Trapp)
Better Git It in Your Soul (1959, arr. Trapp)
Jules Buckley has brought his Metropole Orkest to the Proms before with the music of Quincy Jones last season. This time, it's Charles Mingus who Buckley wants to showcase in a event of completely electric energy. "We're going to be ripping it up," says Buckley, intending to show Mingus' "serious intent". Mingus had an individual approach to jazz, a collective vision "misgivings of what he considered over-use of musical notation" as Brian Priestley says in his booklet note. Also influenced by classical approaches and by Gospel, his work has an intriguing life of its own.
There was a little shuffling with the programme, perhaps in congruence with the sense of improvisation that is a vital part of this music. That energy was there in spades for the first item, Boogie Stop Shuffle, originally from the album Mingus Ah Um and heard herein an arrangement by John Clayton. It acted as an introduction to three soloists who dominated the evening with their excellence: Shabaka Hutchings (bass clarinet), Christian Scott (trumpet) and Bart van Lier (trombone). Scott really needed no amplification, although he was given it regardless: his sound is simply huge. Shabaka Hutchings is a super-cool bass clarinettist, while Bart van Lier brought the weight of experience to the performance: he joined the orchestra in 1992 and will actually retire this year.
The announcements of changes to programme ended with a "Mexican wave" of sound from the audience leading into Celia, a ballad originally from the album East Coasting. The name is that of Mingus' second wife, who died as recently as last year. Initially smooth and smoochy, the Metropole strings deliberately filmically saccharine, the music led to a huge trumpet solo that seemed drawn to the highest reaches of that instrument. Talking of highest reaches, trombonist Baer van Lier has a supreme command of his 'bone, over all registers but it is in the stratosphere that his sweet command is at its most magisterial: this control in a high register most trombonists surely wouldn't even acknowledge, was utterly remarkable. The fast-moving O. P. (dedicated to bassist Oscar Pettiford, 1922-60) found Van Lier playing what looked to be a flugelhorn while Christian Scott's astonishingly nimble trumpet wove a complex line above a thicket of slower-moving strings. The soloistic group pretty much exploded at the close, before the ballad 1 x Love appeared. Harmonically ambiguous – intriguingly so – Scott, Leo Pellegrino and van Lier were joined by Marc Scholten on sax and Rik Mol as another trumpeter for this 1957 piece.
The strangely-titled Goodbye Pork Pie Hat is a tribute to Lester Young (1909-59) – and Young's headgear!. A slow blues, it began with a mesmerising guitar solo from Peter Tiehuis. If the title of II B. S. ("Two B. S.") is elusive, so is the piece, with its extended double-bass solo (uncredited, but one assumed from the orchestra listing Erik Winkelmann) seamlessly leading into a hymn of rhythmic joy, a machine-like energy and a re-affirmation that Christian Scott and Bart van Lier work so well together, here joined by the impeccable baritone sax of Leo Pellegrino.
Sounding more a product of the sixties than the forties, Weird Nightmare, the earliest piece of the evening (1946) introduced the wonderful Nashville vocalist Kandace Springs, duetting here with Lou Pellegrino on baritone sax. This comes from Mingus' early Los Angeles period. After a psychedelically dissonant introduction, Kandace Spring, in dark glasses and leather jacket – a combination of cool and hard – crooned her way beautifully through this intriguing piece.  The madcap opening to Gunslinging Bird, a fast 6/4 blues offered huge contrast (Bart van Lier once more tremendous in his virtuosity; here Leo Pellegrino's sax solo rose to van Lier's challenge and offered playing of the very highest standard, registrally isolating low notes to pound out rhythms one moment, screaming up at the top and offering multiphonics the next).
That was a long first half; the second began with the 1959 Fables of Faubus, foregrounding Lou Pellegrino's baritone saxophone and Christian Scott's trumpet in this rather zany piece. The "Faubus" of the title was Orval Faubus, the governor of Arkansas who opposed the integration of black school pupils. More fun still was God must be a Boogie Man (1979) starring the voice of Kandace Springs and – the audience. We were drilled in when to sing the descending phrase of the title; and, indeed, then called upon to contribute in the song proper. Springs was once more outstanding, as she was in the vocal acrobatics of The Dry Cleaner from Des Moines.  But possibly the true highlight of the evening were the outstanding solos of fushia-haired New York-based saxophonist Leo Pellegrino, choreographed to a tee in zebra-striped shoes, in Moanin'. His sheer physical agility while playing his instrument virtuosically was simply unlike anything I have experienced before. Unsurprisingly, he brought the house down.
Good to see such an explosion of soloists for Better Git It in Your Soul (Pellegrino, Scott, Hutchings, van Lier, with Jans Vroomans on piano). It was an extraordinary night of jazz, full of verve, and a true tribute to Mingus. Arrangements were supremely imaginative; the Metropole Orkest in stunning form.
Colin Clarke
For more about the Proms click here.