France ITINÉRAIRE BAROQUE 2017: Baroque music festival in Périgord vert, France, 27-30.7.2017 (CC)
This report goes hand-in-hand with an interview I was privileged to conduct with Ton Koopman, the festival's founder and director. At the heart of this festival is the "Itinéraire", a sequence of concerts given at multiple venues. An audience is split into a number of groups and each group is accorded a guide. Each group starts at a different church/venue and works their way around in order until all audience members have see all five concerts/ venues. I will be reviewing in the order my group saw them, which was the second venue first.
But the "Itinéraire" happens on the Saturday. There's an opening concert on the Thursday and a day of Baroque music at Cercles on Friday to report on first …
Ouverture: Celebrons Telemann Bettina Pahn (soprano); Amsterdam Baroque Orchestra/Ton Koopman.  Abbatiale Saint-Cybard de Cercles, Dordogne, France, 27.7.2017
Bach – Orchestral Suite No.2 in B minor, BWV 1067
Telemann – Canary Cantata for soprano, strings and basso continuo, TWV 20:41
Purcell – Chaconne in F (King Arthur)
Telemann – Overture-Suite, TWV 55:10, "Burlesque de Don Quichotte"
Bach – Cantata, Non sa che sia dolora, BWV 209
Telemann – Trio Sonata for recorder, violin and basso continuo, TWV 42:a4. Concerto for transverse flute, recorder, strings and basso continuo TWV 52:E1
The location of this concert is the Abbatiale Saint-Cybard de Cercles, henceforth simply referred to as "Cercles." It is where the Festival starts from, if not where it ends; it is also where the Itinéraire departs from, and is also the host for Saturday's events (including a rather nice mini-market in the church grounds). The audience is positioned on all four sides of the stage: this was the only concert where we were placed behind the performers, meaning the vocal items had the soloist singing away from us ("us" being a group of critics from various publications and organisations, as motley a crew as you could wish to meet).  Yet the Amsterdam Baroque Orchestra's sound is so beautiful, the performance of the Bach second Orchestral Suite so accurate from both orchestra and flautist Marion Moonen that all was swept before it. There was plenty of character, especially from Moonen in the Double of the Polonaise, which gave the real feeling that this was home turf for the performers (which, of course, it is). And so, it was that Bach opened the Telemann festival, just as he was to close it. For Koopman, Bach is all, as he clearly explained when I interviewed him.
It was a massive treat to hear the tragi-comic Canary Cantata, or "Funeral Music for an artistically-trained canary bird." Some readers may know Dietrich Fischer-Dieskau's recording of this with an instrumental group that includes Lothar Koch on oboe (readily available on YouTube with some hilarious visuals, incidentally). Here in France, florid harpsichord playing, the superbly clear soprano of Bettina Pahn (even heard from behind she sounded special) and full involvement from all meant that the full "drama" was caught. It was a nice idea to separate this from more Telemann by the delightfully courtly Chaconne in F from Purcell's King Arthur. Difficult to imagine a more beautiful performance than this one, too.
The Telemann Burlesque de Don Quichotte is a wonderfully illustrative piece of programme music, each movement individually titled in relation to the Don Quixote story. No missing Telemann's representation of sighs, while the members of Amsterdam Baroque found a nice gentle rhythm for the Don's awakening.
Linking back to the Orchestral Suite, Bach's Cantata BWV 209 foregrounds a flute (Moonen) along with voice (there is also a prominent solo violin part). In fact, the dialogue between flute and Catherine Manson's violin was a highlight of the evening. For Pahn, it was her superb legato and purity of slurs that impressed. Interesting that to follow, a remarkably intense Telemann Trio Sonata had been programmed (with Reine-Marie Verhagen on recorder). The concentration of its first movement was like a prolongation of the Bach. Finally, the remarkable Concerto in E minor for flute, recorder and strings. It begins with an evocative Largo duet for the two soloists followed by a vigorous allegro. A second Largo offers the most civilised of dialogues between the soloists, Moonen and Verhagen interacting hypnotically, accompanied by pizzicato strings. The perfect way to close.
Understandably, the church was packed, the reception enthusiastic.
"Baroque en Cercles": Concerts held at Abbatiale Saint-Cybard de Cercles, Dordogne, France, 28.7.2017
12 noon: Divertimenti da Camera
Telemann –  Concerto a 4, TWV 43:G6.
Vivaldi – Chamber Concerto in G minor, RV 105 for recorder, violin, oboe, bassoon and basso continuo
Telemann – Sonata, TWV 41:11 (excerpt)
Vivaldi – Chamber Concerto in D, RV 94 for recorder, violin, oboe, bassoon and basso continuo
Telemann – Trio Sonata in A minor, TWV 42:a4
Vivaldi – Chamber Concerto, "La Pastorella," RV 95
Collegium Musium Den Haag [Inês d'Avena (recorder); Péter Tábori (oboe); Sara DeCorso(violin); Tomasz Wesolowski (bassoon); Rebecca Rosen (cello); Claudio Ribeiro(harpsichord/director)]
Telemann's Concerto a 4 in G major is a perfect way to open a lunchtime concert. Bright in key and demeanour, it has the flute, oboe and violin in the most genteel of conversations; more than this, it exemplifies a core trait of Telemann's expression, his imaginative use of textural variety, something that was repeatedly evident throughout the festival. Unafraid to thin textures to a minimum, his music poses many challenges to performers.
Far more overtly virtuoso is Vivaldi's remarkable Chamber Concerto in G for recorder, oboe, bassoon and basso continuo. The bassoon part in particular is massively demanding, and was despatched with real aplomb by Tomasz Wesolowski. Ensemble work was particularly fine in the finale (no tempo indication is given, but it had a lovely, lively, dance-like feel). It was balanced by the lighter D major Chamber Concerto for recorder, violin, oboe and bassoon (superb virtuoso violin playing by Sara DeCorso). The sharp attack of the chords in the opening movement added an incisive edge to the concert's fare; they certainly lay at the opposite end of the emotional spectrum to the sighing gestures in the Affettuoso of Telemann's Trio Sonata in A minor, TWV 42:a4 that followed. Finally, the deliciously carefree "La Pastorella" Chamber Concerto from Vivaldi. The recorder/bassoon interactions (d'Avena and Wesolowski) brought particular joy.
16:30: La Flûte d'Harlequin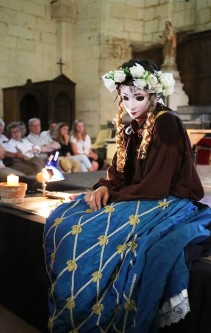 Telemann – Fantaisies for flue without basso continuo, TWV 40:2-13
Le Corps Éloquents [Hubert Hazebroucq (baroque dance & choreography); Julien Martin (soprano, alto and tenor recorders, copies after Jacob Denne and Pierre Bressan by Ernst Meyer). Marie Astrid Adam (masks); Marielle Viallard (costumes)]
Every festival has its high point, and sometimes they just don't happen at the beginning or the end in the big gala events. And so it was here. An unassuming performance of Telemann's twelve Fantaisies sounded like a nice way to spend a late afternoon in sunny France. Perhaps even in a pleasantly nodding way. The concept, however, immediately made one sit up to bolt upright attention. Here, presented with Baroque dance in costumes of the commedia dell'arte was music of infinite vivacity and never-ending quirkiness. (Try to guess where the gestures are going next and Telemann will confound you every time.)
The Fantaisies here each depicted one of the twelve months of the year in a beautifully stylised way. So hypnotic was Hazebroucq's dance, his masks and costumes that it was easy to forget Julien Martin over there in the corner, turning each and every phrase with infinite care. Martin's way with Telemann's counterpoint was wonderful, delineating each register with clarity (like Bach in the Solo Violin Sonatas and Partitas and in the Cello Suites, Telemann is able to use a single line to convey counterpoint via registral spacing).
The performance was funny (especially Hazeboucq dressed, and acting like, a blushing maiden) yet at times infinitely touching, with each subtle move taking on maximal impact. Martin announced each movement as we went along. As I state in the interview with Koopman, it was as if the event reached across the centuries, via Tamino and his Zauberflöte through to the astonishing flautist Kathinka Pasveer and her part in the Stockhausen Licht cycle of operas. Not bad for a concert that, on paper, I though would be at best interesting.
20:30: De Venise à Londres: un Voyage dans l'Europe musicale des XVII et XVIII siècles
J. C. F. Fischer Suite in D minor (Journal de Printemps No. 1)
Handel – Ariodante: Scherza infida; Concerto grosso in G, Op.6/1 (HWV 319); Rinaldo: Venti Turbini
Lully – Chaconne de Phaêton
Telemann – Sinfonia spirituosa in D, TWV 44:1
Vivaldi – Nisi Dominus, RV 608
Maarten Engeltjes (counter-tenor); Musica Poetica/John Ma (violin)
And so, on to the next discovery. This time, it was the counter-tenor Maarten Engeltjes, who (rightly) received the only standing ovation of the festival. Right up there, on this occasion, with the likes of Philippe Jaroussky and Iestyn Davies (in his generation), Engeltjes has all of their expressive capabilities, their strength and, arguably, even more of a stage presence (certainly I would put him above Iestyn Davies in this regard).
After a perfectly lovely account from Musica Poetica of Johann Caspar Ferdinand Fischer's D minor Suite, culminating in a splendid "Passacaille," the standard skyrocketed with Engeltjes' arrival for "Scherza infida" from Ariodante. It takes a lot to beat Alice Coote's version at the Barbican (English Concert/Bickett) but Engeltjes' silken legato, superb diction, expressive decoration and the fact he was completely and utterly living the music was in just another league. We needed the clean lines and happiness of Musica Poetica's version of Handel's Op.6/1 Concerto grosso to recover, quite frankly, before Engeltjes returned for more Handel, a similarly stunning account of the energetic "Venti Turbini" from Rinaldo. The vocal virtuosity was second to none, and all credit to Boysen and Musica Poertica for the ensemble work, particularly the doubled semiquaver passages on the bassoon.
Again, it was left to another composer to ground us: this time literally almost with a Chaconne (ah, if only he had called it a "Ground") by Lully.
Telemann's Sinfonia spirituosa in D is well worth acquaintance. It contains simply gorgeous slow music before a furioso finale. But it was Vivaldi's remarkable Nisi Dominus, RV 608 that provided the real ear-opener. In the accompanying interview, Ton Koopman speaks of Vivaldi's vocal works now coming into focus after decades of rule by the Gloria. The softly pulsing opening music of the Nisi Dominus holds infinite emotion. Whether in spectacular semiquavers or lines that seemed never to end, Engeltjes convinced us that this was the greatest piece we had ever heard. Vivaldi's use of harmony is noteworthy in this piece, more sophisticated than this composer is usually given credit for.
An encore was inevitable: Handel's "Ombra mai fù" (Serse), as tender as it has ever been heard. A star is born.
You can find other performances of Engeltjes in these two Handel arias on YouTube here and here as an indication, and also an Ombra mai fù; however, bear in mind they pale in comparison to the magic of the Itinéraire Baroque performances.
L'ITINÉRAIRE: From 9:45 to 18:00, 29.7.2017
ORGAN CONCERT: Abbatiale Saint-Cybard de Cercles, Dordogne, France, 09:45, 29.7.2017
Buxtehude – Praeludium manualiter in G minor, BuxWV 163; Auf meinen lieben Gott in G minor, BuxWV 179; Fugue in C, BuxWV 174
C. P. E. Bach Sonata in D, Wq 70/5 (H 86): Adagi
J. S. Bach Canzona in D, BWV 588; Fugue in F
Ton Koopman (organ)
It was a lovely idea to sandwich a cheeky C. P. E. Bach movement in between the dual behemoths of Buxtehude and Bach père. Held in an atmosphere replete with anticipation, Koopman played on a centre-stage chamber organ.
Buxtehude's Praeludium manualiter contains some rather interesting twists and turns; an intriguing way to begin. Koopman gave very even rapid passages: his touch is certainly clear, even to a fault. BuxWV 179 is actually a Suite (Allemande – Double – Courante – Sarabande – Gigue), particularly courtly in the Allemande. Koopman chose a muted, restrained stop for the Sarabande; contrasting with the Suite was the jaunty Fugue in C, BuxWV 174, with a most intriguing, enigmatic little coda tagged on at the end (there is a YouTube link to Koopman performing this Fugue elsewhere, incidentally).
Absence is a funny thing. Playing isolated movements from complete pieces has always struck me as misguided when done, for example, for a plebeian listenership, but Koopman's strategy seemed rather more teasing than easing. The Adagio from C. P. E. Bach's Organ Sonata Wq 70/5 (H 86) is such a terrific piece, I for one spent the rest of the recital wondering if the rest of the movements lived up to it (they do). As so often, it is J. S. Bach that has the last word with Koopman, a subtle Canzona, BWV 588 and a joyous, jumping F major Fugue.
Our small group moved then to the first stop on L'Itinéraire:
A PROPOS DE SILVIUS LEOPOLD WEISS: Château de Clauzuroux
Gautier – Suite in D
Anonymous – Suite in B flat (c 1710)
Weiss – Suite in D minor
Joachim Held (lute)
Now this is what I call a venue. Yes, a small room but impeccably decorated; think of a UK stately home. This was the setting for a short lute concert by Joachim Held.
The Suite in D minor by Ennemond Gautier (1575-1651; also called "Gaultier de Lyon," at one time a valet for Maria de Medici, wife of Henri IV and mother of Louis XIII) was incredibly intimate, holding a beautiful Sarabande and a Gigue notable for its ever so gentle counterpoint. Good old Anonymous, who wrote such a vast amount of music (yes, he/she even beat Telemann), was responsible for a Suite in B flat of approximately 1710. It is taken from Anonymous' Wanderjahre during his/her – let's be fair, probably his – Polish travels (a lute manuscript in the monastery at Raigern) and offered a certain amount of symmetry in that it, too, holds a notable Sarabande. Here, the decoration of that Sarabande is completely written out.
The music of Silvius Leopold Weiss was little short of a revelation. Joachim Held's disc of Weiss' early works on Hänssler Classic (catalogue number HC16045 and performed there on an 11-course lute) is a stunning example of both Weiss' and Held's art. Here, we heard the French-influenced D minor Suite, its counterpoint expertly negotiated. As a perfectly chosen encore, Weiss' C minor Fantasia. Along with Engfeltjes' concert the previous evening and the Telemann Fantaisies, this was one of the three clear highlights of the entire festival.
MADRIGALI D'AMORE: Église de Fontaines
Marenzio – Non al suo amante più Diana piacque; Zeffiro, e'l bel tempo rimena
Gastoldi – Il risentito. Il prigionero
Marenzio – Chi vuol udir i miei sospiri in rime; Vedi le valli e i campi che si smaltano 
Gastoldi – Lo sdegnato. Il fortunato
Marenzio – Madonna, sua mercè, pur una sera; Ahi dispietata morte, ahi crudel vita! 
Gastoldi – L'invaghito
Marenzio – Dissi a l'amata mia lucida stella; Or vedi, Amor, che giovinetta donna 
Quatour Vocal Sankt Eriksolisterna [Elin Skorup (soprano); Anna Zander (alto); Mikael Stenbaeck (tenor); Lars Johansson Brissman (bass)]
In the lovely, light setting of the Église de Fontaines, the superb Quatour Vocal Sankt Eriksolisterna (who apparently also offer their services as a composite group of soloists for such works as Beethoven's Ninth Symphony and Mozart's C minor Mass and Requiem) shone in music of romance. The sense of ensemble was remarkable in this succession of madrigals by Luca Marenzio (1553-1599) and Giovanni Giacomo Gastoldi (1550-1622).
The dialogue between singers was evident straight away in Marenzio's Non al suo amante più Diana piacque; the Eriksolisterna singers engage through much eye contact and leaning towards one another, but close your eyes (not that you'd want to, it is very engaging to watch) and the sense of dialogue remains intact. Chamber vocalisation of the highest order, the performances were also marked by the purity of the singing. The succession of madrigals offered both four-part and three-part numbers, whichever singer was the odd one out for the three-parters subtly taking a step back. If there is a criticism it is that the tenor, Mikhael Stenbaeck, seemed a tad more score-bound than the others.
From the prayerful Marenzio Chi vuol udir i miei sospiri in rime to the sprightly, Spring-fresh Or vedi, Amor, che giovinetta donna, this was an event to relish. And a beautifully chosen encore: "Hush no more" from Purcell's The Fairy Queen, a piece that uses silence to such a telling degree (Purcell used a very similar technique in the final chorus of Dido).
FANDANGO: Église Saint-Martin d'Argentine-La Rochebeaucourt
Boccherini – String Quintet in G minor, G 318; String Quintet in D, G 448 – Fandango
La Gazette Musicale [Rie Kimura and Eunjung Anna Ryu (violins); Yoshiko Morita (viola); Anton Baba and Robert Smith (cellos)]
The Boccherini String Quintets hold a very special challenge: grounded by a second cello, the first cello has carte blanche to sing in its highest register, and often does, right up there with the first violin. These were enthusiastic performances, not always totally in tune, and this was a small church so the result was sometimes a little overwhelming acoustically. All credit to the cellos for taking this on (plenty of cross-string work in addition to those high passages), but in the G minor Quintet there was not really enough subtlety to convince.
The Fandango, which included castanets played by Anton Baba was great fun, accents nicely honoured and including a notable section for two cellos alone. Yet, for all the fun, perhaps this was not the most involving of the Itinéraire's offerings.
ORGAN MUSIC IN 17TH AND 18TH CENTURY EUROPE: Église Saint-Pardoux de Mareuil
Antegnati – Ricercar del duodecimo tono
Frescobaldi – Aria detto Baletto
Cabanilles – Corrente italiana
Sweelinck – Mein junges Leben hat ein End
Kerll – Capriccio sopra "Il Cuccu"
Mozart – Andante, K 616
Gerhard Gnann (chamber organ)
A slight miscalculation in timing, so vital on a peripatetic day such as this, led to the excision of one piece from Gerhard Gnann's recital, Pachelbel's rather delicious and beautifully constructed Chorale Variations on "Christus, der ist mein Leben" (a piece of approximately five minutes' duration).
Not to worry, there was plenty left to enjoy. Gerhard Gnann is a student of Koopman's, but he has his own distinct style: gentler in approach, one might say. Beginning with Antegnati's Ricercar el duodecimo tono (often heard in an arrangement for brass ensemble, incidentally), a charming piece that gets increasingly florid, and stopping off at the oasis of joyful sweetness that is Frescobaldi's Aria detto Baletto, Gnann demonstrated a lovely even touch in Cabanilles' Corrente italiana.
Sweelinck's set of six variations on Mein junges Leben hat ein End was the height of good taste, the work's trajectory impeccably judged. And if the Kerll was initially merely sweet in its avian invocations, the demands of the finger-twisting left-hand balanced that aspect, superbly despatched here. Finally, some modern music. Mozart, and his Andante K616. Perhaps it is unfair to call this fairground organ Mozart, especially in the light of some fascinating harmonic progressions later on in the piece, but the thought was perhaps inevitable. A beautifully balanced recital.
THE THEATRE OF MUSIC: Église Saint Barthelemy de La Chapelle Montabourlet
Hasse – Trio Sonata in F for oboe, violin and basso continuo
Geminiani – From A Treatise of Good Taste in the Art of Musick: Air, "Lady Bothwell's Lament"; Air, "Sleepy Body"
Purcell – Ground in C minor for solo harpsichord, Z221.
Handel – Trio Sonata in G minor, HWV 390 (Op. 2/5)
Arco Sonoro [Francesco Bergamini (violin); Yongcheon Shin (oboe); George Ross (cello); Edoardo Valorz (harpsichord)]
Two trio sonatas by operatic composers (Hasse and Handel) bookended this fabulous recital, the last of our group's Itinéraire (the recital starting at 17:30). The young ensemble Arco Sonoro clearly works long and hard at timbral blend, as the oboe/violin parallel motion in the first movement of the Hasse (a Larghetto) was beautifully done. Dialogues between players seemed the very essence of chamber music; similarly, the oboe/violin/cello interchanges in the Geminiani variations on the Scottish tune Lady Bothwell's Lament.
It was nice to hear Purcell's solo harpsichord Ground in C minor, beautifully given by Edoardo Valorz, its effect heightened by leaving no gap between the preceding Geminiani and its initial bars. The jaunty Geminiani "Sleepy Body" (jauntier than one might expect from the title) once more had a region-specific accent to it before Handel's wondrous Trio Sonata in G minor took over. If the first movement tended towards the heavy-handed, the Allegro second movement was like a breath of fresh air. Edoardo Valorz's harpsichord sounded like a machine in the rapid passagework – incredibly exciting; an energy continued in the final Allegro. A most fascinating programme, lovingly performed by a group I for one would like to hear more from.
TELEMANNIE: CLOSING CONCERT Église de Saint-Astier, Dordorgne, France, 30.7.2017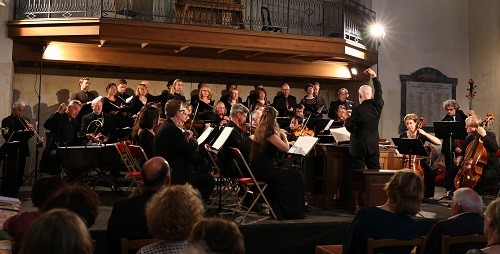 Telemann – Die Donnerode, TWV 6:3
Bach – Cantata, Ein' feste Burg ist unser Gott, BWV 80
Bettina Pahn (Donnerode), Corleia Samuelis (BWV 80) (sopranos); Maarten Engeltjes (counter-tenor); Tilman Lichdi (tenor); Andreas Wolf, Jasper Schweppe (basses); Amsterdam Baroque Choir and Orchestra / Ton Koopman.
And so, to the grand finale in the imposing, if decidedly echoey, Église de Saint-Astier. Ton Koopman explains some of the problems he faced in the interview that goes with this report, and it is certainly true that the church offers challenges. But a large space is needed for the finale – even if the male voices end up under an acoustic trap and Bach's counterpoint gets rather lost. A video feed on one wall helped address sightlines for the audience, which was seated at both ends of the venue.
I have to say, I do rather wish we had ended with the Telemann. Yes, to many Bach is all (Koopman is one such) but it is a Telemann festival, and the Donnerode ("Thunder-Ode") is a major work. Many will be surprised by its strength: try Hermann Max's version on Capriccio for a rather nice recorded perspective (review), or the slightly heavier Richard Hickox on Chandos (but do try Hickox for his fabulous soloists, including Patrizia Kwella, Michael George and Stephen Roberts).
Koopman steered the performance of Donnerode expertly. The choir sounded fabulous in the opening chorus, "Wie ist dein Name so groß," although given the soupy acoustic, words blurred. But delight upon delight followed: Bettina Pahn, not seen since the first night, was superb against a wonderful bassoon obbligato in the aria, "Bringt her, ihr Helden aus göttlichem Samen"; similarly, the soprano aria "Schönster von allen Geschlechten," with its gently swaying pair of obbligato flutes, was a joy, this time acting as balm after the bass arias.
Speaking of which, Telemann ensures both basses get an aria each before the astonishing bass duet, "Er donnert, daß er verherrlichet werde" with its exchanges of trills, overlapping agile phrases and (perhaps unsurprisingly) its prominent part for drums.
If Maarten Engeltjes had blown us away earlier in the festival, he seemed to have his wings clipped a little here, perhaps battling also against the acoustic: his aria, "Fallt vor ihm hin" was certainly good, if not the experience one had perhaps been expecting. He had, after all, left us with high expectations. Tenor Tilman Lichdi had to battle, too, in his aria, "Deines Namens," an aria with obbligato trumpet. Words really did not come through, unfortunately.
There are many obbligato soloists in this piece – perhaps a special mention for the prominent horn part in the bass aria and the horn player's superb lip trills in "Scharf sind deine Geschosse," itself beautifully sung by Jasper Schweppe.
So to Bach – a shame the swimmy acoustic claimed the counterpoint of the opening chorus of BWV 80 ("Ein' feste Burg ist unser Gott"); similarly, Jasper Schweppe was barely audible in his runs in "Alles, was von Gott geboren" – a shame, as the soprano chorale in this movement, provided beautifully by Cornelia Samuelis, worked excellently. Samuelis excelled also in her aria, "Komm in mein Herzenshaus" handling the runs well (no small achievement here) and delivering ultra-clean slurs. The final duet for counter-tenor and tenor, "Wie selig sind doch die, die Gott im Munde tragen" found Engeltjes back on top form with Lichdi, their voices blending beautifully.
An encore: Telemann? No, Bach, the chorale we heard as as the fifth movement of BWV 80, "Und wenn die Welt von Teufel wär."
It's difficult to isolate highlights from the whole experience of this festival, but the Telemann/Harlequin flute concert, Joachim Held's recital of Weiss, Gautier and their close friend Anonymous, and Maarten Engeltjes' jaw-dropping vocal acrobatics in the Friday night concert all certainly stand tall.
It was strange to return to England and hear BWV 80 almost immediately, this with with Gardiner and the English Baroque Soloists (Prom 25); and again, in another large space (the Royal Albert Hall). But nothing could erase memories of Koopman's dedication to his festival. Long may it continue …
Colin Clarke