United States

Mozart, Verdi, Puccini, Gounod, Tchaikovsky, Bellini, Gluck, Donizetti, Massenet, Bizet, Wagner:
Soloists, Lyric Opera of Chicago Chorus/Michael Black (director), Lyric Opera of Chicago Orchestra / Sir Andrew Davis (conductor), Millennium Park, Chicago, IL. 8.9.2016. (JLZ)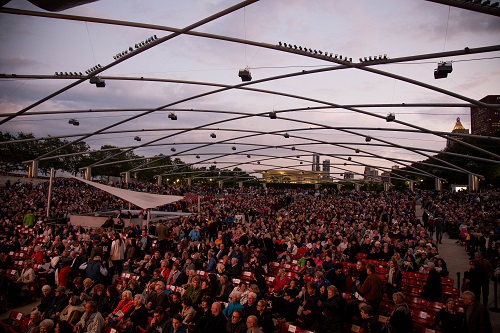 Lyric Opera of Chicago opened its 2017–2018 season with its annual concert in Millennium Park, featuring selections from seven of the eight operas it will perform this year, all sung by members and alumni of the Ryan Opera Center. Extended excerpts of two works included the revival of Gluck's Orphée et Eurydice (premiere on 23 September), and the new production of Wagner's Die Walküre, part of a very promising Ring cycle.
The Gluck, in its French version, is a collaboration with the Joffrey Ballet and incorporates dance. The Finale ("L'Amour triomphe") featured the fine voices of Andriana Chuchman (Eurydice) and Lauren Snouffer (Amour), both showing engaging style. Sir Andrew Davis gave finesse to the score, showing its distinct, emblematic lyricism.
Both sopranos also demonstrated their acumen in other opera excerpts. Given the virtuosity Chuchman displayed in an excerpt from Don Pasquale, it is clear that her role will be one of the must-see events. Snouffer was similarly impressive, and also in Susannah's aria "Giunse alfin…Deh vieni, non tardar" from Le nozze di Figaro, which demonstrated her command of the late-eighteenth-century idiom. The same was true of Dmitry Korchak, who sang Massenet's famous "Pourquoi me réveiller" from Werther. Unfortunately Korchak showed some pitch and dynamic problems, which may have been the result of the amplification system, and should be rectified by opening night.
While the sound system colored other performances, it was possible to tune out some of the technical issues. This was the case with Janai Brugger, who will perform the role of Liù in Turandot. In the aria "Tu che di gel sei cinta," Brugger gave a sensitive reading of one of the opera's most tragic moments, and showed thoughtful attention to dynamics, even in this outdoor concert. (She seemed to avoid singing directly into the microphone, and this probably assisted the overall result.) Similarly, J'nai Bridges gave a passionate account of Charlotte's aria "Va! Laisse couler mes larmes" (also from Werther), holding the audience to the very last note—an admirable feat in this public setting.
Of the other operas, the excerpts from Rigoletto included Matthew Polenzani's ardent reading of the iconic tenor aria "La donna è mobile", and he also appeared in the famous quartet that sets up the drama's dénouement. Faust was represented with two excerpts: Valentine's aria "O sainte médaille… Avant de quitter ces lieux" sung by Ryan Center alumnus Anthony Clark Evans, and Marguerite's "Jewel song", with Ms. Brugger in stunning form, allowing the music to shimmer with thoughtful touches that made the aria seem fresh.
The Lyric Opera Chorus also captured the attention of the audience in both the first-act waltz from Eugene Onegin and the famous chorus "Ad Arturo onore" from I Puritani, the latter showing richly voiced textures. Even with only a portion of the ensemble, the sound was distinctively nuanced, and also bodes well for this season's Turandot, which relies heavily on choral textures.
The concert concluded with two excerpts from Wagner's Die Walküre, starting with the famous "Ride of the Valkyries". Davis gave a measured reading, using the concert version without voices, and avoiding bombast. (Given that the chorus was already present, using them would have been an opportunity to add the vocal textures.)
Davis used a similar style with "Wotan's Farewell", with Eric Owens articulate in showing Wotan's affection for Brünnhilde and his reluctant decision to render his daughter merely human. Davis underscored Owens with discreet gestures—an organic fabric that grew into the final chords of the "Magic Fire", and a satisfying conclusion to the evening.
James L. Zychowicz