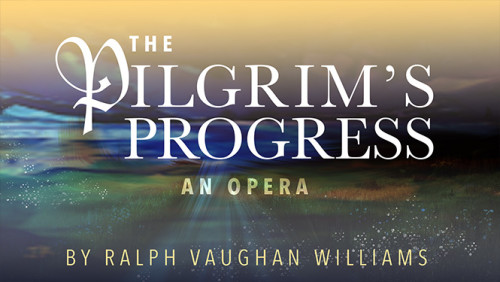 The Pilgrim's Progress to be performed fully staged for the first time in twelve years
Limited tickets available to see Gloriæ Dei Cantores and Elements Theatre Company perform Ralph Vaughan Williams's opera
ORLEANS, MA—The comfort of House Beautiful. The Arming of Pilgrim. The sheer terror of war and battle. Temptations of riches, lust, and power. Denial. Hope. Struggle. Victory. Ralph Vaughan Williams's masterpiece, The Pilgrims Progress, is an opera not to miss.
Gloriæ Dei Cantores and Elements Theatre Company will present The Pilgrim's Progress fully-staged for the first time in twelve years since they presented the New England Premiere of the work in 2005. The opera will draw audience members from across the country and abroad into a timeless story portraying the universal journey of humanity's search for spiritual redemption.
The opera was written as the culmination of 45 years of Vaughan Williams's musical journey. It's the ultimate expression of the wide variety of his musical style, exhibiting fabulous transparency of orchestration and a luminous sound. Set at the Church of the Transfiguration, this rarely performed opera depicts every person's journey on earth. It will come to life amidst frescoes, mosaics, bronze, glasswork, and stone carvings depicting the story of human salvation from Genesis to Revelation.
The opera requires a 40-person main cast, a 60-person chorus, and a full orchestra—almost a 1 to 1 ratio with the audience seating. Complete with almost 300 original costumes and thousands of rehearsal hours, "The statistics alone are staggering," said Richard Dyer of the Boston Globe. The opera is set against abstract projections—cutting-edge theatre technology designed by Michael Counts, Inc. The main cast includes highly acclaimed artists including Richard K. Pugsley, Andrew Nolen, Paul Scholten, Eleni Calenos, Martha Guth, Kathryn Leemhuis, Aaron Sheehan and John Orduña.
The Pilgrim's Progress is the featured event of an international symposium celebrating the arts and commemorating the 500th Anniversary of the Reformation. Sponsored in part by the Vaughan Williams Charitable Trust of London, it will be the first fully-staged performance of the opera worldwide since it was performed in London in 2012.
The Pilgrim's Progress will be performed at the Church of the Transfiguration, Cape Cod, MA, on October 27 & 28, and November 3 & 4 at 7:30PM. Please call 508-240-2400 for reservations. A limited number of tickets are available!
Learn more at pilgrimsprogress2017.org.