United States R. Strauss, Elektra: Soloists, chorus and orchestra of San Francisco Opera / Henrik Nánási (conductor), War Memorial Opera House, San Francisco. 13.9.2017. (HS)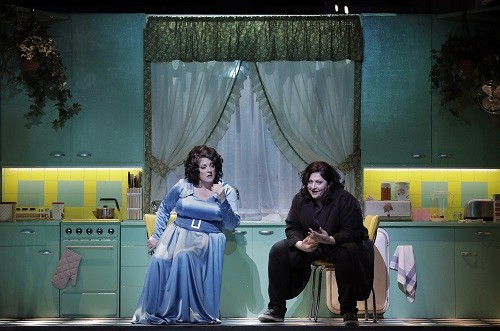 Cast:
Elektra — Christine Goerke
Klytemnestra — Michaela Martens
Chrysothemis — Adrianne Pieczonka
Orest — Alfred Walker
Aegisth — Robert Brubaker
Tutor of Orest — Anthony Reed
The Overseer — Alexandra Loutsion*
Maidservants — Jill Grove, Laura Krumm, Nicole Birkland, Sarah Cambidge, Rhoslyn Jones
Production:
Original Director — Keith Warner
Revival Director — Anja Kühnhold
Set Designer — Boris Kudlička
Costume Designer — Kaspar Glarner
Lighting Designer — John Bishop
Video Designer — Bartek Macias
Chorus Director — Ian Robertson
Christine Goerke makes such a great Elektra that she transcended a confusing night-in-a-museum production Tuesday night, wearing a loose, frumpy black outfit and commanding the San Francisco Opera stage. She towered over a near-perfect cast, aided and abetted by urgent, incisive playing from the 95 orchestral musicians. Conductor Henrik Nánási combined deftness with power in his first time leading Richard Strauss' extraordinary score.
If that first paragraph felt a bit breathless, it's just a mild taste of what this cast and orchestra accomplished in brilliantly realizing Strauss' most challenging music. It was a rush that built inexorably over an astonishing 105 minutes, reaching a shattering series of murderous climaxes.
Through it all Goerke, stalking the stage like a nervous cat, traversed Elektra's lines tirelessly, with jaw-dropping vocal power that never crossed the line into screechiness or even steeliness. She caressed her softer phrases with the tenderness Strauss calls for, but seldom gets.
Keith Warner conceived and directed this San Francisco Opera co-production with Prague National Theatre and Badisches Staatstheater Karlsruhe, which premiered last year in Prague. Anja Kühnhold, chief stage director at Karlsruhe and a longtime collaborator with Warner in Europe, directed the revival.
The setting is a museum displaying objects related to the story, which is generally based on Sophocles' play Electra. The exhibition clearly affects a visitor clad in black to suggest she's in mourning. She sees herself in the title character, and over the course of the opera she sings and acts out the role. The other characters, also in modern garb, enact the story. Parts of the museum open up into a second-floor bedroom and entry hall, a kitchen and the bath where Agamemnon, Elektra's father, was murdered by Klytemnestra, Elektra's mother, and her paramour Aegisth, for sacrificing another daughter before going off to the Trojan war.
Though the production tries to relate an ancient Greek tale to modern audiences, it might also steer them away from the music. Fortunately the musicians prevailed.
Hugo von Hoffmansthal's libretto prunes Sophocles' story to create a series of one-on-one scenes, each riveting, both dramatically and musically. Nánási, who recently stepped down as general director of the Opera Komische of Berlin, found moodiness and volatility in the score, much like Elektra herself. The orchestra responded with playing at times terrifying and dissonant, at other moments soft and insinuating.
As Elektra waits for her brother, Orest, to return from the war and take revenge on her mother and Aegisth, Elektra's sister Chrysothemis, sung by soprano Adrianne Pieczonka, yearns for the joys of her own motherhood in "Ich kann nich sitzen und ins Dunkel starren." Pieczonka's silvery soprano gracefully outlined Strauss' serpentine melodic line. Meanwhile, Klytemnestra, with Michaela Martens in a role debut, confides her nightmares to Elektra in a taut confrontation, made all the more shattering by Martens' smoothly controlled mezzo.
When Orest finally arrives, voiced with velvety tone by baritone Alfred Walker, he lent a sense of nobility before embarking on a killing spree. In the modern setting, the scenes seemed lifted from a contemporary splatter movie.
The final 20 minutes, culminating in Elektra's awkward dance of triumph, swirled out of the pit and off the stage with an amazing combination of lushness and slash. The audience's response at the end was a gutteral shout, a visceral reaction to exactly the kind of shocking, to-the-gut theater that Strauss' opera must have had in its 1909 debut.
Harvey Steiman