United States Verdi, Aida: Soloists, Washington National Opera Chorus and Orchestra / Evan Rogister (conductor), Washington National Opera, The Kennedy Center, Washington, DC. 15.9.2017. (RR)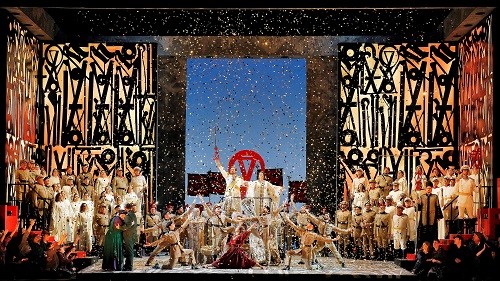 Cast:
Aida – Leah Crocetto
Amneris – Marina Prudenskaya
Radamès – Carl Tanner
Amonasro – Gordon Hawkins
Ramfis – Morris Robinson
The King – Soloman Howard
Production:
Director – Francesca Zambello
Conductor – Evan Rogister
Original Sketches & Concept Design – RETNA
Associate Director – E. Loren Meeker
Set Designer – Michael Yeargan
Costume Designer – Anita Yavich
Lighting Designer –Mark McCullough
Choreographer – Jessica Lang
The Washington National Opera production of Aida, heard on the evening of 15 September with its second cast, was satisfying if not exemplary. Or to put it another way, it was vocally and orchestrally resplendent, but somewhat visually impoverished. In any case, this cross between Romeo and Juliet and Tristan und Isolde came across well enough to be safely recommended.
As Aida, Leah Crocetto contributed a soprano voice of soaring strength, but also subtlety when needed. No matter how congested the sound became with full blasts from the orchestra, chorus, and other principals, one voice could be heard distinctly rising above it all – hers. Adding to the thrill was her seeming effortlessness. One could not say much about her acting or grace of movement on stage, but one needn't – the voice was everything.
As Radamès, Carl Tanner, who gave a splendid WNO performance as Captain Ahab in Moby-Dick in 2014, also had the requisite voice for his role. His strong start filled the opera house, but one wished for singing (and acting) that was more expressive – something he was able to develop as the evening progressed and achieved completely in the closing tomb scene. However, the relationship between Aida and Radamès failed to catch fire dramatically because there was not a spark between them.
As the king's daughter, Amneris, the svelte Marina Prudenskaya turned in some stellar acting. She knows how to move on stage and make each motion expressive, and was the one character who came fully alive. She was appropriately sinister or pathetic, as needed. That said, her vocal strength was not sufficient when matched with the two other principals, and when the orchestra was playing full strength. In the Act I dramatic trio, she was swamped, making the threesome in effect, a duet between Aida and Radamès. Fortunately, most of her scenes did not leave her outmatched. And her voice seemed to gain in strength for her big moments in Act IV, which were as vocally persuasive as her acting.
As the High Priest Ramfis, Morris Robinson had both massive physical presence and vocal power, appropriately intimidating. And Soloman Howard as the King of Egypt gave a strong performance. Gordon Hawkins, who made such a fine impression in WNO's The Ring as Alberich last year, was equally impressive as Aida's father, Amonasro.
With director Evan Rogister, the Washington National Opera orchestra was exemplary. The sweet, expressive strings in the overture were harbingers of the delicacy Rogister would achieve in the opera's finer moments, though there was no stinting of power in the big ones. His conducting was entirely sympathetic – so much so, that one had the impression that the orchestra was singing along with the singers.
The Washington National Opera Chorus rose to the big moments, and mesmerizingly chanted the temple incantations. Jessica Lang's choreography and the her dancers were pluses throughout, though one longed for something at least faintly liturgical in the temple dance lmchoreography. Instead, it was silly.
At their best, the sets and costumes did not distract, though they seldom added to the drama. Having recently visited Churchill's underground War Rooms in London, I was reminded of them by the bunker in the first scene, though the ceilings onstage were higher. Where exactly were we supposed to be? Certainly not in ancient Egypt. The military costumes had a vague pre-World War I look. The only weapons on display were swords and what looked like ceremonial axes.
In other words, this production was trying to achieve a level of abstraction to suggest any place, at any time. This kind of treatment is very much in vogue as a way to achieve a "universal" message, but in this case, it pretty much went nowhere. This was particularly evident in the sets, the drops, and scrims designed by RETNA, a Los Angeles graffiti street artist (a.k.a., Marquis Lewis). This is his first opera design effort. According to the program notes, "He has developed a distinctive constructed script that references Egyptian hieroglyphics, as well as scripts of other cultures." One other referenced culture seemed to be Chinese, as his calligraphy looks like mangled Chinese characters.
The mélange made a distinctive and strong impression. Decoratively, it was not all that bad. However, making symbols of symbols results in non-symbols. Trying to represent a symbol of symbols ends up not symbolizing anything. In this way, RETNA surrendered a tool of great power. On the other hand, the graffiti cutouts that served as sets were inoffensive, but on the scrims they looked like they were dripping or melting. Was this meant to represent the dissolving authority of the king.
As vague and spare as the sets were, a certain sense of place and time was achieved in Act III. At stage right an actual entrance appeared, into an Egyptian Temple, and stage left featured an obelisk. The full moon backdrop was impressive, making one long for more consistency earlier in the production.
The men's costumes were anodyne – either military khaki or white; the women's costumes added welcome dollops of color. But when the prisoners entered before the king in Act II, the first to appear was dressed like Fidel Castro. What was he doing there? Also, it seemed that more than half the prisoners were women and children. Since they were purportedly taken from an invading army, perhaps this was why Amonasro's forces lost.
In any case, the positives in this production overcame any reservations, to make a satisfying evening of Verdi.
Robert Reilly
Aida runs through September 23rd at the Kennedy Center.