Spain Mozart, Lucio Silla: Orchestra and Chorus of the Teatro Real / Ivor Bolton (conductor), Teatro Real, Madrid, 16 & 17.9.2017. (JMI)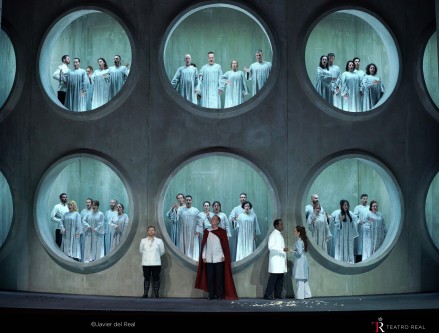 Casts:
Lucio Silla – Kurt Streit/Benjamin Bruns
Giunia – Patricia Petibon/Julie Fuchs
Cecilio – Silvia Tro Santafé/Marina Comparato
Lucio Cinna – Inga Kalna/Hulkar Sabirova
Celia – María José Moreno/Anna Devin
Aufidio – Kenneth Tarver/Roger Padullès
Production:
Director – Claus Guth (original); Tine Buyse (revival)
Sets and Costumes – Christian Schmidt
Lighting – Manfred Voss
The 2017 season at Teatro Real opened with this rarely performed Mozart opera, and the reception has been very positive. The production is marked by an appealing staging, excellent musical direction and two strong casts.
This marks the premiere of Lucio Silla at Teatro Real, and may have come about due to the fact that the current artistic director of the house is Joan Matabosch, who programmed the opera in Barcelona when he held this post at the Liceu. The production is basically the same as the 2013 Liceu version, which I reviewed at the time:  review
Joan Matabosch writes in the programme notes that Lucio Silla is Mozart's third opera, which is more than debatable since it depends on how one evaluates his previous works. In the same program, musicologist Miguel Angel Marin considers Lucio Silla to be Mozart's eighth opera, which seems to me more reasonable. What is not in doubt is that Lucio Silla is the third opera Mozart wrote for Milan after Mitridate and Ascanio in Alba, and it's really difficult to believe he could have written it at just 16 years of age.
The score is pure Mozart. Although he is not yet the great musician of his later years, he shines in the arias and recitatives. The big problem with this opera is the libretto, which is monotonous, short on drama and much too long to hold one's interest. Surely 10 years later, after Idomeneo, Mozart would not have accepted the libretto or would have demanded that profound changes be made to it. Unfortunately, Lorenzo Da Ponte had not yet met Mozart.
The chief change from Barcelona is the presence of Ivor Bolton, who has never disappointed me when conducting operas from the Baroque and Classical periods. His conducting was considerably more interesting than Harry Bicket's in the earlier staging. This is not an easy opera to lead – it can quickly become tedious – but that did not happen here. The Teatro Real orchestra was superb, but the chorus was less satisfying.
Lucio Silla may be the opera's title, but the real protagonist is Giunia, the daughter of Mario and the love interest of the Roman dictator. Patricia Petibon was a magnificent Giunia, singing with gusto and expressiveness, and with great doses of emotion. Unfortunately, her coloratura leaves much to be desired, which is particularly noticeable in her great Act II scene.
The second Giunia was French soprano Julie Fuchs, who made a very positive impression. Her voice is attractive and homogeneous, she sings in a remarkable way and is a strong actress. She was better than Ms. Petibon in the terrifying Act II aria and offered some remarkable coloratura.
Kurt Streit is a great singer-actor, and his Lucio Silla was remarkable. If this character is not the undisputed protagonist of the opera, it's because for the Milan premiere Mozart had to work with a mediocre tenor, and he changed and cut the score for him. Benjamin Bruns did fine as Lucio Silla in the second cast, although his voice is better suited to Don Ottavio.
Silvia Tro Santafé did well in the part of Cecilio, but her voice lacks colour and richness, and she fell rather short in agilities. Mezzo soprano Marina Comparato offered an attractive voice in the middle, but her high notes were whitish and too tight, and she fell short down below.
Soprano Inga Kalna sang the part of Lucio Cinna in the first cast. Her voice is not especially attractive, and she has problems at the top. Hulkar Sabirova and her ample voice made a good impression, and she would be a possibility for Giunia. She was good at coloratura, and certainly better than her colleague in the first cast.
María José Moreno was an excellent Celia in terms both of singing and acting, as was Anne Devin in the second cast.
Kenneth Tarver was impressive in the secondary character of Aufidio, and Roger Padullès was also correct in the role.
José M. Irurzun