United Kingdom Mascagni, Cavalleria rusticana: Sullivan, Trial by Jury: Soloists, Chorus, and Orchestra of Opera North / Tobias Ringorg & Oliver Rundell (conductors), Leeds Grand Theatre, Leeds, 27.9.2017. (JL)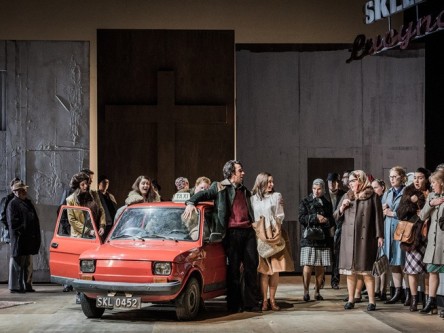 Cavalleria rusticana
Cast:
Santuzza – Giselle Allen
Lola Katie – Bray
Turiddù – Jonathan Stoughton
Alfio – Phillip Rhodes
Lucia – Rosalind Plowright
Production:
Conductor – Tobias Ringborg
Director – Karolina Sofulak
Set Designer – Charles Edwards
Costume Designe – Gabrielle Dalton
Lighting Designer – Charles Edwards
Movement Director – Tim Claydon
Trial by Jury
Cast:
The Learned Judge – Jeremy Peaker
The Plaintiff – Amy Freston
The Defendant – Nicholas Watts
Counsel for the Plaintiff – Claire Pascoe
Usher – Richard Mosley-Evans
Production:
Conductor – Oliver Rundell
Director – John Savournin
Set and Lighting Designer – Charles Edwards
Costume Designer – Gabrielle Dalton
Movement Director – Tim Claydon
The evening premiered the second of Opera North's three double bill productions marketed as "The Little Greats", of which a feature is some unusual pairings. This has resulted, notably, in the most popular operatic marriage of Cavalleria rusticana and Pagliacci (Cav 'n' Pag) being torn apart and rematched with unlikely bedfellows. Who would have thought of pairing Mascagni's Cavalleria with a Gilbert and Sullivan comedic riot. Whether this is good idea or not is going to be an entirely subjective matter. I, for one, have never seen the charm in serving in one evening a double dose of tear-jerking betrayal, jealousy, adultery and fatal knifings. What Opera North has done is not far away from the spirit of eighteenth-century intermezzi, the habit of inserting a short comedy between the acts of hefty opera seria to provide relief from the drama and perhaps restore stamina in the audience for it to endure the next act. In Opera North's format we could go home in high spirits.
In an evening of high contrast Opera North was at its finest: two ensemble efforts in which it was hard to spot a weak link. Cavalleria cannot succeed without high vocal quality. The main responsibility lies on the shoulders of whoever sings Santuzza. Giselle Allen is an actor/soprano of astonishing versatility. Götterdämmerung, Tosca, Salome – you name it, she can do it. Her performance had it all, searing vocal power with high octane physically expressed emotion. Opposite her, as Turiddu, the voice of up-and-coming heroic tenor Jonathan Stoughton could be heard clear as a bell even when at the back of the set facing the other way. He looked the part too with his shaggy dark hair, open white shirt and fashionable beard. Mascagni does not give much scope for those in the husband and wife roles of Alvio and Lola to take vocal flight. Nevertheless, Katie Bray, who has proved herself a considerable talent as a comedy actress in the role of Rosina in Rossini's Barber of Seville, proved her tragedic credentials. As Turiddu's Mama, Rosalind Plowright offered an imperious portrayal of Sicilian motherhood.
The set was semi abstract, a simple counter with some scales on it represented the village shop and a large cross at the rear, the Church, the two hubs of village life. The period was post war and the action transferred to a communist Poland with endemic shortages and queues for food that reminded me of my own experience of shopping in the USSR. Alvio's waggon became a cross between a little Fiat taxi and a Lada. It is inside the vehicle that Turiddu meets his end at the hands of Alvio's revolver rather than the libretto's off stage knifing. Not entirely convincing I thought. One of Opera North's glories is its chorus and when it came to the famous Easter hymn scene all the stops were pulled out. This is often done with Santuzza front of stage with the chorus behind in an accompanying role. Here though, the whole ensemble went for a full frontal approach that blew the socks off with spine tingling decibelic power. The orchestra matched the intensity of the stage drama with suitably committed playing, conductor Tobias Ringborg beautifully shaping Mascagni's soaring phrases.
In their own way, Cavalleria rusticana and Trial by Jury were historically important, The first kicking off the verismo movement in opera – contemporary subjects about ordinary people – and the latter being the first real success of Gilbert and Sullivan that led to them to being collaboratively locked for the next 20 years.
There was a time when the comedies of Gilbert and Sullivan were only heard in theatres, not opera houses and amateur performances abounded, some of them so wooden, as I can attest, that there has always been a breed of person that suffers acute aversion to the works. I met one of these at the interval, an acquaintance who was in the process of heading for the door in a quick getaway home. If he had stayed on and given it a chance I am sure he would have been converted.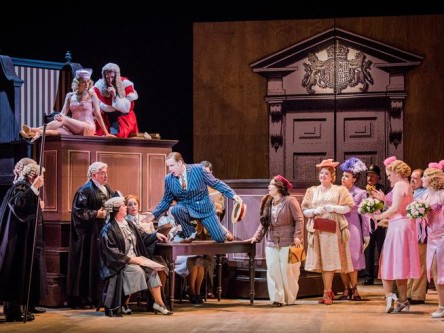 First mention must go to director John Savournin and movement director Tim Claydon (he also worked on Cavalleria with Karolina Sofulak) who ensured that a feverish energy was maintained throughout with a range of contrapuntal, virtuosic stage business that was bewildering. The conventional courtroom symbols were there; the wigs, the gowns, the Judge's raised dias. But all was on the move and even the raised benches of the jury spun dizzyingly around at times. It was no surprise to learn that Tim Claydon was a former trapeze artist.
Angelina, the plaintiff who is suing for breach of marriage promise, entered as a film star from the golden age of cinema, suitably sunglassed, accessory dog under arm and a troop of bridesmaids in tow dressed in shocking pink who all looked as if they were out for a good time. Amy Freston as Angelina, having made her entrance, shed her coat to reveal a semi see-through dress. She has not a big voice but that was not the most important thing in a genre in which the clarity of the words has to take preference in order to savour the satirical bite of Gilbert's words. Clarity of diction was always a top priority in G and S and this was sometimes found a little wanting. Nicholas Watts as the defendant was the most easily heard of the cast and he delivered with a tenor voice of presence. Jeremy Peaker's Judge was suitably commanding in trying to run the court, getting inappropriately involved in the case and maintaining regular access to his supply of alcohol stashed behind his chair. All the cast members met the demands of the taxing antics set for them while simultaneously singing with distinction. Oliver Rundel ensured that all was musically underpinned with orchestral drive and unerringly paced oompah rhythms.
John Leeman
After Leeds the production tours to Hull, Nottingham, Newcastle, and Salford for more information click here.