United States Bizet, Carmen: Soloists, Chorus, and Orchestra of LA Opera / James Conlon (conductor), Dorothy Chandler Pavilion, Los Angeles, 14.9.2017. (JRo)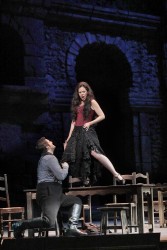 Cast:
Carmen – Ana María Martínez
Don José – Riccardo Massi
Micaëla – Amanda Woodbury
Escamillo – Alexander Vinogradov
Frasquita – Liv Redpath
Mercédès – Kelley O'Connor
Le Remendado – Brian Michael Moore
Le Dancaïre – Theo Hoffman
Moralès – Juan Carlos Heredia
Zuniga – Philip Cokorinos
Solo Dancers – Manuel Gutiérrez Cabello, Oscar Valero
Production:
Director – Ron Daniels
Set Design – Gerardo Trotti
Principal Costume Design – Denitsa Bliznakova
Original Costume Creation – Jesús del Pozo
Lighting Design – Duane Schuler
Chorus Director – Grant Gershon
Artistic Director, LA Children's Chorus – Anne Tomlinson
Choreographer – Nuria Castejón
Fight Choreographer – Ed Douglas
The most delicate of art forms, opera needs to succeed musically, dramatically, and visually in order to create something more than a serviceable production. Here the LA Opera gave a textbook example of how a single production, performed repeatedly over the years to middling effect, can rise to an entirely different level. With James Conlon conducting, Ana Maria Martínez as Carmen, and new direction under Ron Daniels, this Carmen, once dull and sexless, turned into an explosive, sensual experience.
The flamenco dancing, so ably choreographed by Nuria Castejón, which had formerly been a noisy distraction, became a percussive element in the score, thanks to its seamless integration with the orchestra. The sets, attractive but unimaginative, took on new life, sparkling with Mediterranean heat when populated by believable characters. Costumes, thanks to some adjustments by Denitsa Bliznakova to the originals, amplified time, place, and character rather than overpowering the performers.
But finally, it was Conlon's interpretation of Bizet's score, sublimely played by the LA Opera Orchestra, along with a solid cast that allowed this production to soar. Ana Maria Martínez so fully inhabited the role that one felt as if she permanently lived in this fictive Seville – dancing, drinking, and attracting any number of men. Without the exaggerated faux sexuality of flailing arms or hip-slinging torso, Martínez's body inhabited the flamenco rhythms from inside out. She made music manifest in her frame and voice. How many Carmens can stand on a tabletop, sway their hips, and raise their arms over their heads without looking like a B-movie goddess?
It was clearly Carmen in the driver's seat, and along for the ride was Riccardo Massi as Don José. The timeless appeal of Carmen, from the nineteenth century to now, has to do with her determination to do as she likes, when she likes; to use whatever means suit her without fear of being labeled 'unfeminine' or 'oversexed'. When Martínez approached Massi's reticent Don José, it was with the audacity of a man approaching a woman.
Massi, a hefty tenor – more the traditional stature of a bass – was all the more tender and compelling in the role by dint of his size. He appeared a big bear from the provinces, dazzled by the small and shapely frame of Martínez, and his smoky, supple tenor conveyed a deep-seated emotional core. Together, the pair produced the requisite heat needed to propel the action forward to the inevitable conclusion – Carmen's death at her jilted lover's hand.
Amanda Woodbury's homespun Micaëla served as a clear dramatic foil to Martínez's provocateur. The contrast of the comforting, sweet-voiced maid with the bold, exciting gypsy made the push and pull of José's longing for Carmen all the more dynamic.
As Escamillo, the toreador who woos Carmen away from the soldier, Alexander Vinogradov was an exuberant presence. Slim and significantly smaller than Massi, with a robust bass and dynamic phrasing, he was the feisty adversary to Massi's overwhelmed, lovesick José. Their knife fight, so well choreographed, was character made evident in movement and song as Escamillo elegantly parried with the skill of his profession, while José relied on physical strength to attack.
The smaller roles were notable, from Juan Carlos Heredia's Moralès and Philip Cokorinos' Zuniga to the gypsy girls, Frasquita and Mercédès, sung by Liv Redpath and Kelley O'Connor, to the smugglers Brian Michael Moore and Theo Hoffman. Particularly electric was the Act II quintet in which the gypsy pair, the smugglers, and Carmen plot their upcoming caper in the mountains.
The LAO Chorus, under the superb direction of Grant Gershon, and the LA Children's Chorus under Anne Tomlinson were the heart and soul of the opera, making us believe in the sultry world of cigarette girls, soldiers, gypsies, and street waifs.
Humor, tenderness, sensuality, high drama, violence, and regret – it was all there for new audiences and old alike. Carmen is alive and well at LAO.
Jane Rosenberg