Switzerland Langer, Figaro Gets a Divorce: Soloists, Basel Sinfonietta / Justin Brown (conductor), Geneva, 19.9.2017. (ALL)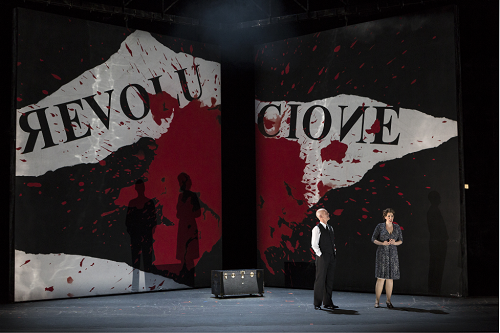 Cast:
Figaro – David Stout
Susanna – Marie Arnet
Count – Mark Stone
Countess – Ellie Dehn
Serafin – Naomi Louisa O'Connell
Angelika – Rhian Lois
The Cherub – Andrew Watts
The Major– Alan Oke
Production:
Director – David Pountney
Design – Ralph Kotaï
Costumes – Sue Blane
Lighting designer – Linus Fellbom
Figaro Gets a Divorce, the last instalment of the Figaro trilogy, was inspired by Austro-Hungarian writer Ödön von Horváth's play based on Beaumarchais' characters. Once again, the characters are the Count and the Countess, as well as Figaro, Susanna and Cherubino, but this time they are not in a comedy.
The influence of World War II is tangible. The protagonists are broken refugees attempting to leave their country for safety. The Major, who is the villain, evoked the Nazi collaborators. In Switzerland, the country of Carl Lutz, and particularly in Geneva, where most of us heard many accounts of the war years from our parents, the story had a deeper meaning than Rossini or Mozart could have anticipated.
The opera is not without problems. Elena Langer is a wonderfully gifted composer who knows how to write for the voice. The text she had to work from was written by David Pountney and is a large collection of many scenes, which come and go at breathtaking pace. Langer manages to do justice to all of them, but this comes at the price of allowing sufficient time for the music and story to settle and develop. More time, however, is needed for emotion to be felt.
There are several arresting moments, for instance when the Countess defends her family and in her final duo with the Count, showing the depth of Langer's music, but the text does not contain sufficient opportunities to bring out this side of her talent. There are modern composers such as Mantovani, Benjamin, Abrahamsen, …, who have demonstrated their ability to develop atmospheric feelings in a modern musical context. Langer has is an outstanding composer, but would need adequate material to join this group.
The Geneva forces devoted themselves to this third and last performance just as enthusiastically as on the previous days. Under conductor Justin Brown, the Basel Sinfonietta gave a strong reading of this complex piece, although sometimes slightly loud for the voices, but Langer's orchestration is admittedly more demanding than Rossini or Mozart. David Pountney's production was lively and effective. As on the other two evenings, the minimalist sets by Ralph Kotaï were very imaginative.
The cast was strong. Mark Stone, who has sung the title role in Berg's Wozzeck here in Geneva, was commanding in his despair. The part of the Mayor was more spoken than sung. Alan Oke oozed menace. Ellie Dehn conveyed authority as the Countess.
Many members of the audience were present on all three consecutive days of the trilogy. In this last work, Figaro is violent and jealous. He kills Cherubino, who has seduced Susanna (whom he attempts to divorce). None of these characters are pictures of perfection and happiness, and yet both couples end up staying together, despite the difficult circumstances. Thanks to Geneva's Grand Théâtre, we have now become much better acquainted with them.
Antoine Lévy-Leboyer