United States Bach: Yo-Yo Ma (cello). Hollywood Bowl, Los Angeles. 8.9.2016. (LV)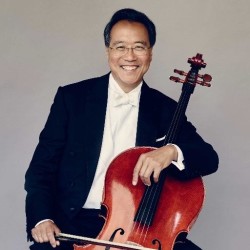 Bach – Six Suites, for solo cello
Wearing a plain blue suit at the Hollywood Bowl Tuesday night, Yo-Yo Ma played Bach's Six Suites for solo cello, sitting alone and bathed in iridescent blue light on the same, vast stage where the Beatles played 50 years ago.
Ma has been playing the complete cycle on progressively larger stages: Carnegie Hall in 1991 for 3,000 people; London's Royal Festival Hall during the 2015 Proms for 5,000; at the Bowl, estimates ran to 17,000. There's nothing like high art in large open spaces, especially if it's solo Bach. Even when Gustavo Dudamel conducted Wagner two months earlier, there was nothing like Ma's electricity, which crackled in the balmy night air.
Bach's relationship to the cello was a two-sided affair. He loved the instrument and wrote many outstanding solo passages for it in his vocal and choral works. He wrote three sonatas for cello and keyboard. And he wrote the iconic six solo Suites which have been in every cellist's repertoire since Pablo Casals made them commercial a century ago.
The first three Suites are all of the same moderate level of difficulty, as if meant for serious beginners: they address basic points of style, technique, improvisation, characterization, reverence (for the divine, not for Bach), and stamina. Their musical value is pleasant, if marginal; aside from the haunting Sarabande of No.2, however, they might not be played at all today if they had been penned by a different composer.
The last three cello suites, however, are like the last piano sonatas of Beethoven: craggy in tone and spirit, experimental in form and content, and monumental in conception and layout. They are also virtually impossible to play on any cello known to have existed – even on a vintage instrument like Ma's priceless Italian beauty – and perhaps even on the imaginary cello in the composer's mind.
In the Fourth Suite's opening Prelude, Bach uses an extraordinary two-octave leap, posing a death-defying challenge to the performer at the very outset, signaling the composer's intent to explore what really could be done with the cello. In fact, the whole of the opening Prelude is absurdly awkward to play, and equally difficult to hear, both for the player and the listener.
Suite No.5 in C minor deliberately mistunes the cellist's A-string down to G – called scordatura – to enhance the gloomy minor key and set up hallucinogenic moments like the end of the second Gavotte.
Bach intended the Sixth, in splendid D major and ringing with timbres of trumpets and drums, to be played by a largely mythical instrument with five strings. The extra string on reconstructions really makes a difference when crossing strings, and playing triple and quadruple broken chords, even to virtuosos like Ma.
Basking in the glow of the tuned in, turned on audience, unfortunately interrupted at the beginning by a fumbling patron in the aisle, Ma played the first three Suites with personality, punch, and some impressive dance moves. He also encouraged the audience not to applaud between movements as he segued from one to the next with only a beat for breath, which further emphasized the seamless flow of notes.
Stylistically, Ma used historically-informed elements, such as trills, turns, and other adornments – even an extra note or two, although he played broken chords at the end of the first movement of No.2 instead of improvising. He turned the same Suite's Allemande into a stunning virtuoso exercise, and hit his stride with a radiant No.3, which ascended gracefully into a meditative drone state after its strikingly modern first movement.
After intermission Ma started off roughly in No.5, before assembling a structure from which he could once again access the meditative state; it would be his best playing of the night, before fatigue set in and began encroaching on his powers. With his impressive instrument projected larger-than-life on the screens, Ma made the first movement's massive fugue into a wondrous fantasy of pure folly, followed by a swirling, meandering Allemande. He found new discoveries in every measure, gave the second Gavotte a true – that is to say, highly hypnotic – Bachian swing, and his Gigue was a dance of triumph.
Before No. 5 was underway, Ma spoke briefly, dedicated the concert to people in need and thanked the "incredible audience." His best moments were the quiet ones, in which he could use his instrument's ability to speak in hushed tones. He didn't mistune his cello. His energy was flagging.
Ma could have used a fifth string in No.6. But realistically, there are very few cellists who can string it both ways, and what Ma did with four strings transported all 17,000 members of the rapt audience. He used an insane pianissimo, somehow perfectly captured by the audio system, to catch the audience's attention at the end of the first movement's endless loop. In the Courante he set off explosions amidst a sea of dazzling dynamic flows that reached as quiet as a pianissimo. In the Sarabande, he allowed himself to be human, rather than theatrically transcendent. And despite signs of fatigue, he was still dancing in the second Gavotte, before finishing the final Gigue in splendid, occasionally madcap, bursts of energy.
To reward his "incredible audience," many literally standing on their chairs and cheering, Ma bounded back onstage for an exuberant performance of Pablo Casals's virtual theme song, Songs of the Birds.
Laurence Vittes