Austria Bizet, Carmen: Soloists, Prague Philharmonic Choir, Children's choir of Musikmittelschule Bregenz-Stadt, Vienna Symphony Orchestra / Paolo Carignani (conductor). Recorded at the 2017 Bregenz Festival and shown at Cineworld Basildon, 14.9.2017. (JPr)
Production:
Stage director – Kasper Holten
Stage designer – Es Devlin
Video designer-  Luke Halls
Costume designer – Anja Vang Kragh
Lighting designer – Bruno Poet
Choreographer – Signe Fabricius
Dramaturg – Olaf A. Schmitt
Cast:
Carmen – Gaëlle Arquez
Don José – Daniel Johansson
Escamillo – Scott Hendricks
Micaëla – Elena Tsallagova
Frasquita – Jana Baumeister
Mercédès – Marion Lebègue
Zuniga – Sébastien Soulès
Moralès – Rafael Fingerlos
Remendado – Simeon Esper
Dancaïro – Dariusz Perczak
Until this event I knew little about what opera is like at the Bregenz Festival with its stage surrounded by the lapping waters of Lake Constance. On screen its Tosca was seen during the James Bond film Quantum of Solace and now CinemaLive has brought us its new 2017 Carmen production by the former director of the Royal Opera, Kasper Holten. Recorded there a couple of months ago and therefore not live live, and this was probably a good idea since I read that weather can be a little unreliable for this outdoor experience in an amphitheatre which holds an audience of up to 7,000. The Festival is now in its 71st year and only the most inclement weather halts the performances which would often then continue indoors in the Festspielhaus where the choruses sing (while supporting artists mime on stage) and the Vienna Symphony Orchestra plays.
I suspect most attending the Bregenz Festival come firstly just to be there, secondly for the spectacle and thirdly for the opera itself. CinemaLive brought us the best seat in the house to see the individual performances, but perhaps lost a little of the visceral excitement of actually being there to see Es Devlin's jaw-dropping set. I won't worry about the actual dimensions and will just explain that everything was on a HUGE scale. Based on the saying 'let the cards fall as they may' we see a pack of cards flying between two hands, one holding a cigarette. In Act III when Elena Tsallagova's charming Micaëla reaches the smugglers' hideout and she plaintively sings ('Je dis que rien ne m'épouvante') about how she wants to save her beloved Don José from his Carmen fixation – she is at a vertigo-inducing height above the stage in one of those hands. Though there was a judicious use of a stunt person as Carmen escapes by jumping into the water and swimming away at the end of Act I, it is still amazing what a singer must do to earn a living these days and it definitely appeared to be Gaëlle Arquez who was pushed into the water face down to be 'drowned' at end of Act IV.
Es Devlin explained in a brief interval feature how the idea for her set design came about. She considered the surreal works best at Bregenz and 'playing with scale was very important … I went through many different gestures; I had the cloak of a toreador swirling; I had a bull with its horns … we went through many, many, many, many, many, and in the end – almost in a spirit of exasperation – we threw a souvenir packet of cards from Seville Airport tourist shop into the air' and they found what they wanted! In fact, it was actually Devlin's work – plus that of that of Anja Vang Kragh (costumes) and Signe Fabricius (choreography) – which was rather more important than the work of director Kasper Holten. Those 'playing cards' arching over the different levels of the stage were LED screens and Luke Hall's images on them changed from time to time. Initially showing the backs of the cards, they could identify Carmen as the 'Queen of Hearts' and Don José as 'Jack of Clubs'. They could also show picturesque postcard views of old Seville or famous bullfighters. On what was already a very windy evening, Es Devlin put her own rain onto the stage during Act II when her cards had a washout-out look to them.
There were myriad colourful costumes: Carmen looked a bit like a cowgirl in denim shorts on her entrance, Escamillo in Act II looked like Elvis during his Vegas years and the smugglers, Dancaïro and Remendado, seemed out of the Pirates of the Caribbean films. There was high energy throughout all the stage action and no one stood still for long, this extended to some frenzied choreography in the Act II setting of Lillas Pastia's Inn which degenerated from some twerking and flamenco into an orgiastic pool party. For the start of Act IV there was some very atmospheric 'whirling dervishes' representing the cape work of the matador.
Kasper Holten's job seemingly was to get everyone on, off and around the stage as efficiently as possible and make enough use of Bregenz's significant natural resource – the water of the lake. He did this very effectively and the major deviation from any 'traditional' production was to have Carmen spy on José and Micaëla and do her best to stop them having their future together. Carmen only leaves José because Escamillo plies her with money and she seems torn between his cash and a genuine affection for her erstwhile lover. There was a lot we saw that I anticipated: Carmen straddles José and put her a high heel on him; she takes a cigar from her garter and he sniffs it; Carmen grabs the faded rose sung about in Act II and plucks it; Zuniga is shot at the end of this act and, presumably, is pushed into the water; and there are abseiling smugglers in Act III, etc. José was a troubled soul from the start and Carmen was, typically, a sexually-rapacious minx. Theirs was an abusive relationship, she hit him and he her. Don't get me wrong – and despite the over-familiarity of some of what I saw and the characterisations – this was an excellent performance and those interested should checkout its imminent DVD release.
The cast were very good, though they were miked both for the performance at Bregenz and the video recording, and that makes it difficult to know what we heard from them – and the accompanying orchestra – would have been the same as if we had been there on the shores of the lake. The rampant energy of Bizet's score that we heard from the musicians under Paolo Carignani matched the energy I remarked about on stage. The dialogue had been reduced to barely a few words and the opera flew by.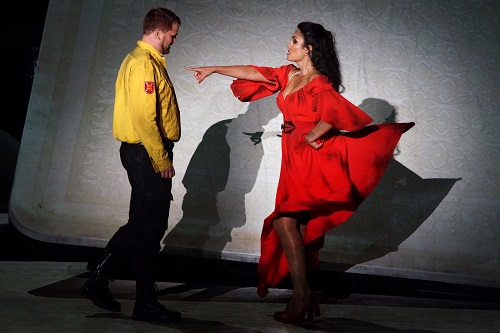 Gaëlle Arquez was superb as Carmen and her performances in this role for the new Barrie Kosky Covent Garden Carmen should be eagerly awaited. Arquez is French so – for once – the language held no fears for her. Her mezzo lies high though her voice was as sexy and sultry as need be. She prowled around the stage after her Don José like the bull menacing the bullfighter and the erotic tension between the two was palpable. Daniel Johansson's Don José was a bit of a blank canvas at first despite the evidence of his pent-up anger. I quickly began to believe in his passion for Carmen and that he could so readily become unhinged because of jealousy when she leaves him for Escamillo. The Swedish tenor's well sung Act II aria 'La fleur que tu m'avais jetée' showed evidence of a future in Wagner and I later saw he has already sung Lohengrin. Elena Tsallagova sang the saintly Micaëla whose appeal – from on high – for José to see his dying mother once again, initially falls on deaf ears before he ultimately gives in. Hers sounded a suitably sweet voice but came over rather too loud in the cinema. Scott Hendricks's pompous, insinuating, toreador was constantly preening himself in narcissistic self-admiration and was well-characterised, though his voice was rather blustery during his 'Toreador Song' and elsewhere. The rest of the cast acquitted themselves well with what little Bizet gives them to do.  As the fireworks went off during the Act IV fiesta it became apparent that for sheer extravaganza nothing must beat a night at the opera in Bregenz …if the weather holds.
James Pritchard
For more about CinemaLive events click here.