Austria Verdi, Il trovatore: Wiener Staatsoper Chorus and Orchestra / Marco Armiliato (conductor), Staatsoper, Vienna, 10.9.2017. (RP)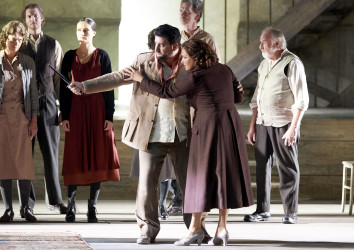 Cast: 
Il Conte di Luna – George Petean
Leonora – Anna Netrebko
Azucena – Luciana D´Intino
Manrico – Yusif Eyvazov
Ferrando – Jongmin Park
Ines – Simina Ivan
Ruiz – Jinxu Xiahou
Old Gypsy – Oleg Savran
Messenger – Oleg Zalytskiy
Production:
Director – Daniele Abbado
Set Design – Graziano Gregori
Costumes – Carla Teti
Lighting – Alessandro Carletti
Production Assistant – Boris Stetka
Assistant Set Designer – Angelo Linzalata
To mount Il trovatore, Caruso once said, all that is needed are four of the greatest voices in the world. Perhaps Daniele Abbado and his creative team decided to take his advice at face value. It is faint praise, but nothing about their concept for the Vienna Staatsoper, which premiered earlier this year, impeded the performance. The set was a pale stone, barrel-vaulted cellar of a church in what appeared to be a Southern European country. Di Luna's men wore military uniforms and waived large black flags, while the gypsies were dressed as fascist guerrillas.
Early hopes for arresting visual images were raised by the haunting sight of Azucena staring at a flame that arose from the floor, but that was a one off. The big moment was when a cannon was triumphantly lowered into the basement. The default prop was a robed statue of the Madonna that everyone seemed eager to carry in procession given half a chance. There were no anvils either on stage or in the pit; I missed them more aurally than visually.
Not since Marlene Dietrich has a singer looked as alluring as Netrebko does in a military cap. Even in rather plain attire, Netrebko radiated the same aura of glamour, mystery and intrigue as did Dietrich in her great film roles. It just comes naturally to her. She exhibited those same qualities some 15 years ago when I first heard her at New York's Metropolitan Opera in Prokofiev's War and Peace. The New York Times reported then that she had a 'clear, ample, cool Nordic voice'. These days it is more often described as smoldering.
I am not sure which adjectives to use, but suffice to say Netrebko's Leonora was pretty spectacular. She managed to keep all of that star mega wattage and smoldering sensuality in check, and her Leonora was all the more effective for it. The bottom of her voice has become richer with time, but the top has lost none of its fullness or beauty. She can float breathtaking pianissimos, pop out dazzlingly coloratura and turn a delicate trill, all the while sculpting musical lines of absolute beauty. I live in the present, not the past. So go ahead, name a soprano who can even approach her in the role nowadays.
Yusif Eyvazov and Anna Netrebko are husband and wife, and that chemistry clearly poured over into their duets; their voices blend together perfectly. Eyvazov's instrument is often described as metallic and stentorian. I did not hear that, but rather a sizable, bright voice with a distinctive timbre. His top notes thinned out a bit during 'Di quella pira l'orrendo foco', but otherwise he sailed through the performance with ease. His Manrico came across as a rather affable fellow. The same cannot be said for George Petean's Count di Luna.
The Count may have driven Leonora to suicide and unknowingly killed his brother with a bullet to his head, but he was a man in love, and for Petean's di Luna that tipped over into the realm of obsession. His 'll balen del suo sorriso /… Per me ora fatale', full of rage, despair and ultimately hope that Leonora would be his, was blistering in its intensity. He has the color, ring and thrust necessary for a Verdi baritone.
What is it about Azucena that, generally, it takes a dozen or so men with lengths of rope, leather or chain to subdue her? With Luciana D´Intino as the gypsy, it was not a given that they were going to bring her to heel. She is one of the handful of singers today who can do justice to dramatic mezzo-soprano roles. Azucena requires a voice that blazes at the top and is dark and cavernous at the other extreme of her range, which D'Intino certainly has. Dressed in black, she was almost elegant; only her wild hair and intense gaze marked her as an obsessive, vindictive witch.
Ferrando is the first voice that one hears in the air, as he narrates the tale of a gypsy woman burned at the stake, a child's bones found in the ashes and other horrors in 'Di due figli vivea padre beato'. Bass Jongmin Park, with his resonant, clear voice and straightforward delivery, gave a particularly vivid account of the aria. It anchored the opera from the start. Simina Ivan's portrayal of Ines was particularly touching for its maturity, simplicity and earnestness.
Marco Armiliato is often on the podium when Netrebko sings in concert or in the opera house, including the Il trovatore at the Met in 2015 review click here). He is a singer's conductor, attentive to textual nuances, balance and dynamics, and always faithful to the score. Orchestra and chorus responded in kind.
For the standees at the Wiener Staatsoper, perhaps the prime location is a wedge of space at the rear of the parterre. (Any other intendant would have packed it full of high-priced box seats long ago.) For the chance to hear Netrebko as Leonora in Il trovatore, they stood in line for two to three hours minimum and paid around three euros for a ticket. My seat afforded me a perfect view of them. I have been a standee and know the breed. It would seem that they got what they came for and then some, but then so did all of us.
Rick Perdian