United States Mozart, Berg, Brahms, Bernstein: Elizabeth Zharoff (soprano), Steven Becknell (French horn), Stuart Clark (clarinet), Milena Gligic (piano), Pittance Chamber Music / Susan Segal (concert host), Dorothy Chandler Pavilion, Los Angeles, 16.9.2017. (DLD)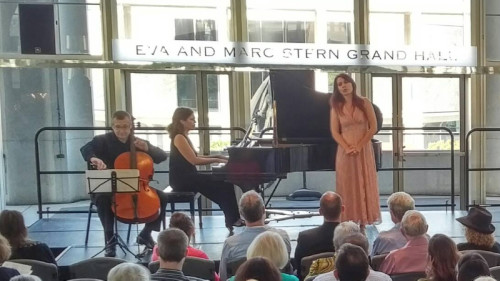 Mozart – Horn Quintet in E-flat major K.407
Berg – Sieben frühe Lieder
Brahms – Clarinet Quintet in B minor Op.115
Bernstein – Three Songs from Peter Pan and Trouble in Tahiti
The Pittance Chamber Music ensemble, an outgrowth of the Los Angeles Opera Orchestra, opened its 2017-18 Season with characteristically diverse offerings: a rarely heard Mozart horn quintet, early Berg lieder, the late Brahms clarinet quintet and an assortment of Bernstein vocal works. The pool of musical talent from which Pittance draws is formidable, and the results were both inspired and deeply satisfying.
The Saturday afternoon concert commenced with Mozart's delightful 1782 Horn Quintet. Written for Mozart's friend, the horn virtuoso Ignaz Leitgeb, the piece is as much a three-movement concerto for horn and strings as chamber sonata. The instrumentation veers from a standard string quartet: rather than doubling the violins, Mozart elected to drop a violin and add a second viola part, a change that results in a richer middle range in the ensemble, enabling the violin and horn soloists to play off one another.
LA Opera's Principal Horn, Steven Becknell, played his part with taste and reserve. This is not faint praise: his sound blended beautifully with the strings and the result was an aesthete's nirvana. It was my first experience with this Quintet, and while the score rarely dazzled, the musical beauties – balance, close dynamics, phrasing, poise and decorum – were gift enough. That said, both performance and compositional high points arrived in the second movement with a warm and lyrical horn and violin dialogue, with gilded support in the violas and cello. For a few minutes, all was right in the world.
Soprano Elizabeth Zharoff, joined by pianist Milena Gligic, followed with a stunning account of Alban Berg's Sieben frühe Lieder (Seven Early Songs) which are among the earliest performed works by the composer. The songs are a kind of synthesis of the late romantic style, with aspects of nascent dissonance and harmonic decadence that prepare one for the later music of this too-seldom-played composer (and what a pleasure to have this time and place given over to him). The core meaning of the lieder centers on the natural world and the human connection with both love and nature. 'Nacht' ('Night') rolled through a series of whole tone textures while its successor, 'Schilflied' ('Reed Song'), accommodated itself to major tonalities and settled cadences. (It is an odd phenomenon to be jarred by standard cadences.) As I listened to 'Die Nachtingall', Berg's nightingale alit in a traditional fashion; this was followed by 'Traumgekrönt' ('Crowned by a Dream'), a dreamier, less harmonically-grounded reverie. I was both struck and moved by the passage of one musical era's styles to another, and by how the individual musical voice – in this case, Berg's – remains intact.
Elizabeth Zharoff, a Domingo-Colburn-Stein Young Artist with the LA Opera, brought individual style and nuance to these songs: the quiet intensity of the passing minutes in 'Im Zimmer' ('In the Chamber'), and an erotic lassitude to 'Sommertage' ('Summer Days'), the final lied of the set. Milena Gligic was truly a partner in this song series, and she had her own set of sensual and sybaritic moments in the piano support.
In an afternoon of great beauties, none topped the Clarinet Quintet from that group of precious last compositions by Johannes Brahms. It is among the most fulsome of his late masterpieces, rich in texture, filled with sumptuous and sometimes opulent harmonies, often set off by minimalist textures: a jewel from the box of his rare final gems. The tone is set by the ensemble early in the first movement, with its gentle opening in the upper strings, the hesitant but conclusive statement of minor key modality and the autumnal ambience, pianissimo intensities and fortissimo crescendos that quickly dissipate. The entire ensemble – violinists Ana Landauer and Marisa Sorajja, violist Brian Dembow, cellist John Walz, clarinetist Stuart Clark – played with cohesion and passion, while always honoring the subtle and evasive qualities within the work.
(Should I mention the beautiful and poignant silences that regularly settle within the piece? Some of music's greatest beauties are often found in these silences, and this masterwork provides proof of it.)
The concert ended with three Leonard Bernstein selections. Cellist John Walz joined Elizabeth Zharoff and Milena Gligic for a rendition of  'Dream With Me' from Bernstein's staged version of Peter Pan, while the soprano and pianist tackled 'What a Movie!' and 'There is a Garden' from his one-act opera Trouble in Tahiti. These are interesting pieces: thorny, modern and romantic, ironic and experimental in some aspects but traditional in others. Soprano Zharoff is the genuine article with lovely articulation and emotionally-infused phrasing that stays just this side of sentimental, and she possesses a natural gift for the dramatic. She is a joy to observe. Pianist Gligic is likewise both virtuosic and sensitive, and seems to be at ease with both Berg and Bernstein. The three songs – dreamy and romantic, declarative and dramatic, layered and visionary – were performed with sympathy, bravado and nuance. What a concert!
Douglas Dutton