2017 Elizabeth Connell Prize Winner Announced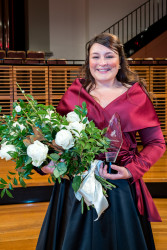 KATIE LOWE from England Cheshire born 31 year old English soprano Katie Lowe has won the 4th annual Elizabeth Connell Prize for aspiring Dramatic Sopranos held in Sydney Australia on 16 September. Ms Lowe receives $30,000 and an audition at the Royal Opera House Covent Garden in London. The Finalists were chosen from live auditions held in London, New York, Zurich, Paris and Melbourne and competed over 3 rounds in Sydney for the prize. Ms Lowe sang the "Immolation Scene" from Wagner's Götterdämmerung and "Suicidio" from La Gioconda by Ponchiello in the Final Round.
Judge and Trustee for the Elizabeth Connell Prize, Fiona Janes said of Ms Lowe, "Rarely do we hear voices of true Wagnerian potential these days. Katie has an impressive instrument with great strength and beauty. She is an elegant performer who commands the stage. I believe a voice like hers has the potential to go on and tackle the great roles of Wagner and Strauss. This scholarship was devised by Elizabeth Connell to nurture and encourage voices just like Katie's therefore we are delighted to have discovered this remarkable young artist."
Other finalists included: 2nd: Silja Aalto (Finland) also received the Lieder Prize 3rd: Emma McDermott (USA) also received the Audience Choice Award 4th: Fiona Jopson (Australia) 5: Ksenia Khovanova (Russia) Withdrew at the last moment due to unforeseen circumstances
QUOTE from KATIE LOWE: "Six weeks ago I was amazed to have been chosen as a finalist in the ECP and obviously thrilled to come to Sydney for the Final. Nothing prepared me for the shock of actually winning the ECP award. This is a life-changing experience and I intend to fulfill the promise that the esteemed judges have placed in me. It is a privilege to begin my dramatic soprano journey in Elizabeth Connell's footsteps and I hope to do her memory proud."
KATIE LOWE BIOGRAPHY – Katie Lowe is a British Soprano, born in Cheshire. She studied at the RNCM, RCM, CIAV and completed her MA in Advanced Vocal Studies at the Wales International Academy of Voice. Katie returned to the RNCM in 2015/16 to complete an International Artist Diploma course. Operatic roles include Innkeepers Wife and Woodpecker in the Cunning Little Vixen, the Vixen in the Threepenny Opera, Maman in L'enfant et les sortilèges, Kabanicha in Katja Kabanova, The Sorceress in Dido and Aeneas, Una Voce Interno in La Rondine and Anna Maurrant in the RNCM production of Kurt Weill's Street Scene. Opera excerpts include Dido, Elettra, Donna Anna, Fordiligi, Mimi, Tosca, Leonora in Fidelio, and Magda in The Consul. Katie is a recipient of the Ian Fleming Award MBF, the Sybil Tutton Award MBF, Countess of Munster Award, Les Azuriales Young Artist Award, Dennis O'Neill Foundation Award and the Josephine Baker Trust. In 2015/16 she was supported by the Sir John Fisher Foundation then awarded the Robin Kay Memorial Prize. She was the recipient of the Independent Opera postgraduate voice fellowship (2016/17), she became a Samling scholar joining Wexford Festival Opera to sing the role of Nora in their new production of Vaughan Williams' opera Riders to the Sea and performed Suor Angelica with the Manchester Opera Ensemble.
In October, she will perform Brünnhilde in Act 3 of Götterdämmerung for The Mastersingers at the Henry Wood Hall in London conducted by Tony Legge (for more information click here). She will also perform the role of the Mother in Hansel and Gretel with the Celebrate Voice Festival in Salisbury.
http://www.jsrbfoundation.com/awards-prizes/elizabeth-connell-prize/