Spain Rossini, Il viaggio a Reims: Liceu Orchestra/Giacomo Sagripanti (conductor), Gran Teatre del Liceu, Barcelona, 13 & 14.9.2017. (JMI)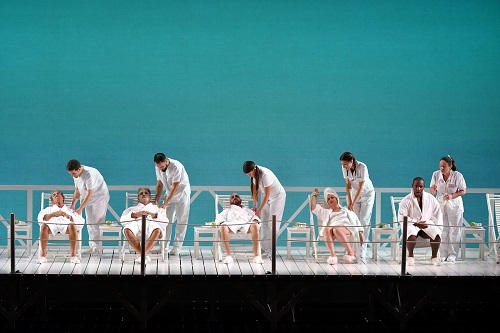 Cast:
Corinna – Irina Lungu/Adriana González
Marquise Melibea – Maite Beaumont
Countess Folleville – Sabina Puértolas/Leonor Bonilla
Madame Cortese – Ruth Iniesta
Belfiore – Taylor Stayton/Juan de Dios Mateos
Count Liebenskof – Lawrence Brownlee/Levy Sekgapane
Lord Sidney – Roberto Tagliavini/Baurzhan Anderzhanov
Don Profondo – Pietro Spagnoli/Pedro Quiralte
Baron Trombonok – Carlos Chausson/Vincenzo Nizzardo
Don Alvaro – Manel Esteve
Don Prudenzio – Alessio Cacciamani
Don Luigino – Jorge Franco
Delia – Paula Sánchez-Valverde
Maddalena – Marzia Marzo
Modestina – Tamara Gura
Zefirino/Gelsomino – Beñat Egiarte
Antonio – Carles Pachón
Co- production: Pesaro's Rossini Opera Festival and Teatro Real, Madrid
Direction & Sets – Emilio Sagi
Costumes – Pepa Ojanguren
Lighting – Eduardo Bravo
The opera season in Liceu opened with this Rossini opera, one that hadn't been seen here since 2003. The result was not everything one could hope for: the musical direction was rather modest and the cast somewhat uneven in vocal terms.
The simple Emilio Sagi staging demonstrates once again that in order to give life to an opera it's not necessary to mount a huge, expensive production: it's better to offer lots of imagination (previous review). It premiered in Pesaro in 2001 and has been revived there every year as a vehicle to present young singers from the Academy Rossini, for many years under the direction of the unforgettable Alberto Zedda.
Listening to Rossini's music coming from the pit, I could not help but remember Maestro Zedda. I had the pleasure of hearing him conduct this opera several times, in particular on the first occasion in La Corunna in 2002. While comparisons can be odious, they are also inevitable in the world of opera. Here, Giacomo Sagripanti's reading fell short of my memory of Alberto Zedda's. Rossini demands a special lightness and joy on the part of the musical director, and that was missing here. The Liceu Orchestra was not particularly brilliant under his baton.
Corinna was performed on the first night by Irina Lungu, who was the best of the cast. Her voice is engaging and well handled, and she was superb in the first aria with harp accompaniment; she was also excellent in her final aria. Soprano Adriana González was the second Corinna, and she made a very positive impression. She is a light-lyric soprano with an attractive voice and a first-rate singer with outstanding piani. It is not risky to predict that she will have a bright future.
Mezzo-soprano Maite Beaumont, who gave life to Marquise Melibea, was quite good, and shone in the Act II duet with Count Liebenskof. However, her voice is a bit light for this character.
Sabina Puértolas as Countess Folleville was not especially interesting. I had some doubt about her suitability to the part, and her performance confirmed it. For one thing, her voice gets too thin on the highest notes. Soprano Leonor Bonilla made a positive impression: her voice is appealing and she's a fine actress as well.
Ruth Iniesta was a convincing Madame Cortese with a well-projected voice; she was at her best in her first aria.
There are two tenors in this opera. Lawrence Brownlee in the first cast was terrific as Conte Liebenskof, but the Belfiore of Taylor Stayton was more modest. In the second cast Levy Sekgapane was an outstanding Count Liebenskof: a light tenor with a delightful and no problems in the highest notes. Juan de Dios Mateos as Belfiore was more modest.
Carlos Chausson was an impeccable Baron Trombonok in terms both of singing and acting. He is undoubtedly one of the great buffos of recent years. Vincenzo Nizzardo made less of an impact in the role.
Bass Roberto Tagliavini was unimpressive as Lord Sidney; I expected more from him. The second Lord Sidney was bass-baritone Baurzhan Anderzhanov, whose voice is fine in the middle but gets rather white above and is short down below.
Pietro Spagnoli was Don Profondo, and his voice was not really suited to the character. He has always been a lyrical baritone and remains so, but Don Profondo requires a bass-baritone. However, he's a good interpreter and was funny in his Act I aria. Pedro Quiralte as Don Profondo in the second cast moved well on stage and but was less dependable vocally.
Manel Esteve was a resounding Don Álvaro.
The numerous secondary characters were well covered.
José M. Irurzun