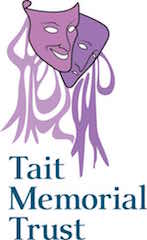 The Tait Memorial Trust is to present renowned Australian tenor Stuart Skelton, at a gala concert to celebrate our 25th Anniversary at St Paul's Church Knightsbridge, on Wednesday the 13th September at 7pm.
"Stuart Skelton's Tristan is the finest account of Wagner's most extreme and taxing operatic character…that I've ever seen or heard on a stage."  David Nice, The Arts Desk, June 2016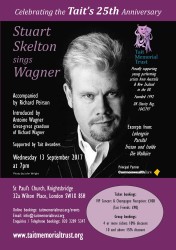 Stuart Skelton is arguably the world's leading Wagnerian Heldentenor; he is critically acclaimed for outstanding musicianship, tonal beauty and for his intensely dramatic portrayals. As Tristan, he recently opened the 2017/18 season at the Metropolitan Opera, New York, and will make his long-awaited Royal Opera House debut singing Siegmund in Die Walküre in 2018.
He will shortly appear in this year's BBC Proms at the Royal Albert Hall singing Florestan in Beethoven's Fidelio. Accompanied by pianist Richard Peirson, Stuart will be joined by some of the Tait's talented past and present awardees, Catherine Carby who is singing in the Royal Opera's Ring Cycle next year, Deborah Humble who most recently recorded Erda for Naxos with Hong Kong Philharmonic, Katrina Sheppeard who last year sang Norma for English National Opera, Jayson Gillham who's CD of Chopin, Bach and Schubert went to number 1 in Australia, and Liane Keegan, our first awardee, will return to London after a triumphant season in Melbourne's recent Ring Cycle.
All are appearing to help raise funds for the Tait Trust's work of providing scholarships for young performing artists from Australia and New Zealand studying in the UK.  The evening will be introduced by Richard Wagner's great-great grandson, Antoine Wagner.
For more information about this concert and the Tait Memorial Trust click here.