The Malcolm Arnold Festival 2017 – Northampton (Saturday, 14 October 2017 to Sunday, 15 October 2017)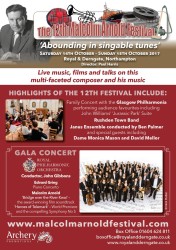 "Abounding in singable tunes" is the tag line for this, Paul Harris's twelfth Malcolm Arnold Festival. Celebration and Arnold's music go well together and for a British composer active in all genres – cinema, ballet, opera, song, chamber and orchestral there's always a deep and varied well of musical sustenance to draw upon. This one includes two symphonies – the unnumbered one for strings and the tormented brilliance of the Fifth Symphony, both on the Sunday.
This typically packed weekend of events is given its embarkation shove by David Mellor. Highlights (and there's so much more) include The Return of Odysseus from the Glasgow Philharmonia who also fittingly bring the Scottish Dances to their programme. Last year we had a substantial slice of an uncompleted opera. This year there will be a live production of the BBC radio play 'Mr Pye, an Island' by Mervyn Peake. The Harmonica Concerto will be in the Saturday afternoon concert at St Matthews. In the evening Jack Lambert with the Jenny Dyson Quintet let us hear Arnold works written during the war years.
On Sunday Dame Monica Mason will be in conversation with Tony Meredith reminiscing about Arnold. John Griff will continue his juicily valuable and rewarding illustrated series of Big and Small screen Arnold. This will be his second programme on Arnold's Forgotten Documentaries. Claire Thompson and Scott Mitchell will premiere Arnold's Kensington Gardens song-cycle. Last year the Janus Ensemble conducted by Ben Palmer brought the house down with a world class performance of the Piano Duet concerto by lora Tzanetaki (piano), Edyta Mydlowska (piano); it should have been recorded. This year they present the Symphony for Strings and the Concertinos for Recorder, Flute and Oboe.
The Gala Concert on Sunday evening is a John Gibbons event. Here is a conductor to be treasured for his staunch and inspired championing of unfashionable but meritorious British and other music. His chosen venues include Ealing, Worthing, Snape and in Northampton. He gave the Alwyn Third Symphony last year and he follows this up with the Fourth, again at Snape, this year. That he does this combined giving a practical hand up to generation after generation of young upwardly mobile musicians redoubles his achievement. This Gala concert is given with the Royal Philharmonic who let us hear Symphony No.5 and the premiere of The Heroes of Telemark Suite. The Grieg Piano Concerto is also on the menu.
For more details CLICK HERE.
The Derngate is the place to go for tickets: 01604 624811
Rob Barnett