United Kingdom Puccini, La bohème:  Soloists, Royal Opera Chorus and Orchestra of the Royal Opera House / Sir Antonio Pappano (conductor). Royal Opera House, Covent Garden, 10.9.2017. (JPr)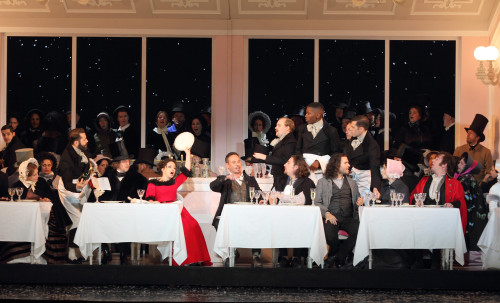 Production:
Director – Richard Jones
Associate director – Elaine Kidd
Designer – Stewart Laing
Lighting designer – Mimi Jordan Sherin
Movement director – Sarah Fahie
Performers:
Mimì – Nicole Car
Rodolfo – Michael Fabiano
Marcello – Mariusz Kwiecień
Musetta – Simona Mihai
Schaunard – Florian Sempey
Colline – Luca Tittoto
Benoît – Jeremy White
Alcindoro – Wyn Pencarreg
La bohème was Puccini's fourth opera for the stage; first put on in Turin in 1896, it was not an instant hit with the critics. The next year the Carl Rosa Company presented it in English at Manchester, and a few months later at Covent Garden. On 30 June 1899 it was sung there in Italian and thus became a staple of the repertory. That production basically survived two World Wars until John Copley's much-feted and oft-revived staging in 1974 which has finally been replaced by this new one from Richard Jones.
The librettists' source material was Murger's novel Scènes de la vie de Bohème and they selected four of the characteristic episodes and imbued them with the spirit of the original. Although set in Paris about 1830, the story is a timeless one with considerable contemporary resonances. I must remind readers how too many people believe that a composer's output is completely divorced from their personal life and the world in which they live. This certainly was not the case for Puccini as recent research continues to confirm. He is another composer whose masterpieces are often biographical in nature and here with La bohème there is the reminiscence of Puccini's own student days – sharing a room in Milan with Mascagni – and probably recalling something about lost love too. Intriguingly his graduation exercise from the Milan Conservatoire, Capriccio sinfonico, is the music we hear first as the curtain rises.
With La bohème Puccini appears more open to the concept of the symphonic development of the German masters than other Italian opera composers, especially Verdi: Act II can be considered the 'scherzo' and Act III the 'slow movement'. We know only too well that certain Puccini arias and ensembles can be taken out of their original context and performed on their own; yet his operas still don't seem to have the 'numbers' we hear in Verdi's operas up to Otello and Falstaff and seem 'through-composed'. Perhaps more significantly, Puccini uses something called 'thematic reminiscence' which is not far removed from Wagner's leitmotifs. Here in La bohème, we have themes associated with the bohemians and with Mimì, among others.
The success of John Copley's production was its sense of cinematic-style realism involving cast, chorus and extras (totalling 100 or so in Act II). There was meticulous research behind the late Julia Trevelyan Oman's ultra-faithful designs and, as a eulogising programme note once declared, 'The doors in La bohème work'! It was a 'jolly good show' and I suspect sold-out every time it was put on, but I guess it was high time to pension it off and try something new. How long into the four decades of its predecessor will this new production survive …only time will tell? Richard Jones is infamous for not explaining what he puts on stage. Back in the mid-1990s I chaired an event when he was asked what his controversial Covent Garden Ring was all about and his retort was 'Well, what does it mean to you?' Recently, I understand, Jones was cross-examined about whether this La bohème was 'traditional' and – yes, you've guessed it – his reply was: 'Please can you tell me what traditional means?'
There was much to admire in this new staging and audiences may grow to love it over subsequent reworked revivals. I hope the Copley production may not have been destroyed because Jones's replacement is not yet strong enough to fill the Royal Opera House without a stellar cast. Unfortunately, the calibre of singers it really needs are often in much demand and performing elsewhere. On leaving the theatre a couple I spoke to said how much they had enjoyed the evening and one noted: 'It is not a show like 42nd Street where you come out humming the tunes'. If you know La bohème of course you have the 'tunes' going round and round in your head. Regrettably the voices you imagine you hear are often those of singers from a generation ago!
This will ultimately prove to be a very snowy La bohème and some begins to gently fall some ten minutes before the first note of music is heard. There will be a number of changes of cast during the current run of performances and the ones next summer. The current, youngish, cast bring a lot of energy to the antics of the bohemians, though it is never quite clear what draws them to an extraordinarily sparsely furnished and undecorated Scandinavian-style timber frame 'garret'. Whether it is at the top of a house – despite a ladder to the roof and an extravagant chimney – is doubtful because 7b (its number) is clearly seen at ground level during Acts II and III. There is nothing else on stage apart from one chair, an old tea chest, a small heating stove, a dirty pillow, some blankets or rugs. There is no easel for Marcello and any 'painting' is mimed. This is one of only a few diversions from 'traditional' that includes a lot of singing facing out to the audience, Rodolfo giving Mimì a kick (instead of some water) when she faints and no one would have trouble finding a missing key in such a continuously bright-lit room.
It is Act II where all the money has been put on the stage. It wasn't entirely clear where we are but now it seems to be Paris in the late 1800s and the costumes – and the number of extras used – are something of a homage to John Copley. There are three huge glass-roofed shopping galleries offering all manner of delights pushed and pulled into position. In typical Richard Jones fashion – there are so many of his tropes on display in this La bohème that I cannot account for them all – it all quickly becomes overcrowded and everyone is crammed into a small space across the front of the stage. More muscle power is needed to change what we see into the Café Momus crammed with tables. Everything is in straight lines and the bohemians, Mimì, Musetta and Alcindoro are all in the first row facing out to the audience once again. A lot of the familiar happenings gets lost in all the bustling activity and it is difficult to spot the leading characters at times. No problem at all noticing Musetta removing her French knickers to enrage her rich admirer, Alcindoro, and make her former lover, Marcello, jealous!
Act III – which again seems more Copley than Jones – takes place on a snow-covered bare stage with a single brazier and what looks like a prefabricated wooden tavern. This is where Marcello is 'shacked up' with Musetta whilst he is painting the outside and she is 'entertaining' the customers. As Rodolfo and Mimì agree to stay together until Spring the small building retreats diagonally across the stage. This is a nice touch and is as if the couple are trying to distance themselves from real life and Mimì's impending fate. As we know only too well she is dying of tuberculosis. And expire she does at the end of Act IV played out fairly straightforwardly again, though when the bohemians amuse themselves it is not with cod dancing (in all senses of the word since Colline brings in a fish) and batting bits of baguette – as Copley had them do – but by scribbling all over their apartment. 'Room' for a rethink here I suspect! Having briefly revived Traviata-like, Mimì dies on the floor with her head propped up on the stove. Cue Rodolfo's slightly OTT sobbing cries and his first instinct seems to be to seek solace from Marcello rather than cradle the dead Mimì.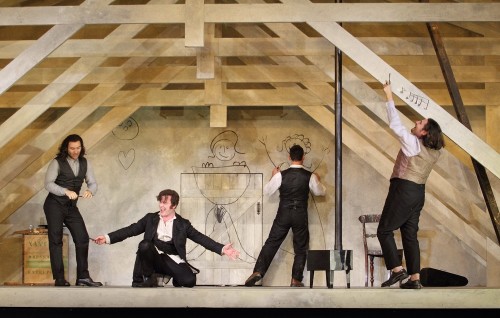 Tony Pappano's Puccini credentials are described in the programme as 'second to none' and it undoubtedly – in the vein of his recent Otello – is a loud, full-on, intensely dramatic performance which flew by at a cracking pace. However, I just wish he had allowed Puccini's evocative and romantic score to breathe. A little more sensitivity in the accompaniment would possibly have allowed his cast to reign in their often-stentorian approach to their singing. When I am at death's door I hope I sound half as strong as Mimì did at times during Act IV. Pappano's orchestra was reliably virtuosic and exemplary, and the Royal Opera Chorus, as well as, the children from Tiffin School, sang boisterously.
I was rather encouraged by the way Michael Fabiano began as Rodolfo but he became a little self-conscious about 'Che gelida manina' and it started to become clear that his polished tenor voice is better suited to Verdi than Puccini. Nicole Car announced herself – in more ways than one – with 'Sì, mi chiamano Mimì' caressing the long phrases charmingly. Though there again was no lack of power, there was a little more nuance to her singing than displayed by some of her colleagues. There was good chemistry between Car's Mimì and her Rodolfo but because of his character's self-absorption I wasn't moved as much as I have been in the past by other La bohèmes.
For me Simona Mihal's Musetta got a bit lost in the crowd during Act II. She has a vibrant personality and her Musetta was sassy, spirited and sluttish at the start, but suitably caring near the end. She has a nice voice with a lovely timbre and her Mimìs later in this run of performances should be interesting. Marcello was strongly sung by Mariusz Kwiecień though his sonorous voice doesn't perhaps have the warmth for Puccini. Despite the remaining bohemians – Florian Sempey (Schaunard) and Luca Tittoto (Colline) – appearing rather under-directed, particularly during Act IV, throughout they do as well as they can with what little Jones – and Puccini – has given them. This extended to the cameos from Jeremy White (Benoît) and Wyn Pencarreg (Alcindoro) whose characters were also mere cyphers in this La bohème.
Jim Pritchard
The Royal Opera's La bohème (with this cast) will be relayed live to cinemas in the UK and throughout the world on Tuesday 3 October. For more information click here.