United Kingdom Enescu, Oedipe (concert performance):  Soloists, Choir of the George Enescu Philharmonic, Romanian Radio Children's Choir, London Philharmonic Orchestra / Vladimir Jurowski. Royal Festival Hall, London 22.9.2017. (JPr)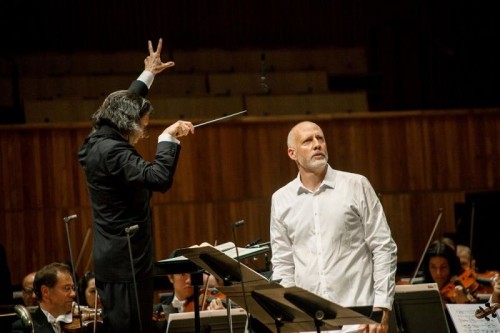 Performers:
Paul Gay – Oedipe
Sir Willard White – Tirésias
Christopher Purves – Créon
Graham Clark – Shepherd
Mischa Schelomianski – High Priest
In Sung Sim – Phorbas
Maxim Mikhailov – Watchman
Boris Pinkhasovich – Thésée
Marius Vlad Budoiu – Laïos
Ruxandra Donose – Jocasta
Ildikó Komlósi – The Sphinx
Gabriela Istoc – Antigone
Dame Felicity Palmer – Mérope
When Oedipe was staged for the first time at Covent Garden in May 2016, on this site Mark Berry described it as their 'Most Important Event' of that season (to read more click here). I certainly will not be able to better his consideration of the opera's 'compositional language' but will try my best in this review.
In an informative programme note from Evan Dickerson we learn from Yehudi Menuhin's autobiography about 'Enescu's commitment to writing his only opera': 'As long as I knew my beloved and great teacher, the score of his overwhelming opera was by his side. Night and day, instead of sleeping after and between concerts, he would work on it […] It can truly be said "Here lies the very heart and heartblood of George Enescu.' Undoubtedly he is rightly considered Romania's foremost composer, though like Mahler before him, there was probably a necessity to earn a living and so he was equally famous as a concert violinist, conductor and piano accompanist. Oedipe was begun in 1910 but Enescu did not finish orchestrating Edmond Fleg's French libretto until 1931. It had its premiere in Paris in 1936 and although a critical success, it was then was neglected until 1955 which was too late for the composer who had recently died.
Employing some dramatic license, Enescu and Fleg adapt Sophocles's familiar myth to bring us all of Oedipus's story from his birth to his death. We are in Ancient Greece for over 2½ hours of – apparently uncut – music. Most of those in the audience will know exactly what will happen to Oedipus, and it is up to Enescu and the strength of the central performance – the baritone sings for most of three out of four acts – to draw us into his character's fate. In Act II the Sphinx's riddle becomes 'Is there anything in the Universe stronger than Destiny?' and Oedipus answers 'Man!'. So ultimately Oedipe is Enescu's reflection on the human condition. As he recounts in Act IV no one made him do what he did and he is content to suffer the consequences of his actions. At the end of the opera the famously vengeful Furies seem placated by this and pronounce his absolution – 'Happy is he whose heart is pure. Peace be upon him!'.
Dickerson's programme note ends with 'Enescu's time is arriving', but performances of Oedipe have been few and far between since 1955 and are often heavily cut. This is firstly because it is far too long for such a straightforward story, especially since most of the action occurs offstage anyway (for instance, Jocasta's death and Oedipus's blinding). Secondly, because of the huge cast (14 solo roles), chorus and orchestra required. This was a dramatically-pallid concert performance with only minimal interaction between the singers and Chahine Yavroyan's insignificant lighting changing. Apparently when this opened the Bucharest's Enescu Festival earlier in September there were some video projections, but these did not reach the Royal Festival Hall.
Vladimir Jurowski – who is the artistic director of the Enescu Festival – will soon celebrate 10 years as principal conductor of the London Philharmonic Orchestra and he fielded one bass-baritone, four basses, two baritones, two tenors, a soprano and three mezzo-sopranos for this Oedipe. I suspect it was only because the concert was being recorded that certain singers did not sing more than one role as those four basses and three mezzos did seem like an extravagance!
This was the third outing for Oedipe in the UK after Edinburgh in 2002 and Covent Garden last year and as a one-off – with a possible recording to follow – it was an intriguing evening. I cannot see how a staging can be really successful and – its subject matter notwithstanding – it is clearly more oratorio than opera. In its entirety Oedipe has significant longueurs especially Act I with what I suspect are its celebratory dances. Vladimir Jurowski had his head firmly in his score throughout trying – as he admitted himself in a programme Q&A – to come to terms with Enescu's 'very strange way of notating time'. Nevertheless it was a wonderful performance from the London Philharmonic, with Jurowski concentrating on detail and colour to begin with, before cranking up the drama and ushering in the transfiguration at the end of the work. At the start are many allusions to Ravel and Debussy, then Strauss's Salome features heavily together with samplings from Wagner. I found Oedipe to be a musically adventurous work and it reminded me – and it may just be me! – more of Puccini's Turandot than anything else. You might ask why? For me – amongst other things – it was because of its expanded orchestra, interesting sound effects (a pistol shot, thunder and nightingales' singing), use of folk music, and its epic choral passages, blended with some more intimate and reflective solo moments.
Only Paul Gay in the voice-shredding role of Oedipus – another reason the opera is not heard very often – was singing in his native tongue and this helped him immerse himself in the role whilst distancing others from theirs. He made Oedipus's suffering palpable in all he sung. He was relatively tireless and totally committed even though his voice was probably not ideal for the role, because it had more bass to it than baritone. Three veteran British singers were part of the luxury casting and I have been hearing all of them on and off since the mid-1970s. Graham Clark singing the Shepherd sounded as good as I have him recently, and with my eyes closed I was back at Bayreuth listening to his incomparable Loge and Mime. As the blind prophet Tirésias Willard White intoned portentously with all the gravitas we have come to expect from this great singer. Once Act I is over the opera truly starts with the first scene of the second act and the confrontation between Oedipus and his mother – who is not his mother – Mérope; how wonderful it was to hear again Felicity Palmer singing so wonderfully.
Apart from Oedipus and Tirésias none of the singers get much to work with and all mostly sang solidly. Of them Christopher Purves was incisive and highly effective as Créon. I don't think the otherworldly Sphinx really needed someone of Ildikó Komlósi's pedigree especially since she sang amplified and from a high box. After Oedipus solves the riddle – another Turandot connection – the death of the Sphinx is illustrated by the intrusion of the unearthly sound of a musical saw. The Romanian choruses seemed to enjoy their time at the Royal Festival Hall with their role – literally – as a Greek chorus commenting on the unfolding drama.
For a few hours we are immersed in Enescu's soundworld and the goings on in Ancient Greece. There is the terrible curse upon Oedipus in Act I which reveals his destiny is to kill his father and marry his mother; and it all ends in Oedipus's self-awareness of his tragic circumstances and the destiny he wanted to oppose, believing naively that man is stronger than fate. The importance of Oedipe today might be the way it can be interpreted in 2017 and made to resonate with the audience allowing them – in part –  to experience Oedipus's suffering even though most will know how the how the story will unfold. The psychology here is that Oedipus must experience darkness before his spiritual awakening when he 'sees the light'.
Jim Pritchard
For more events at the Southbank Centre visit https://www.southbankcentre.co.uk/.