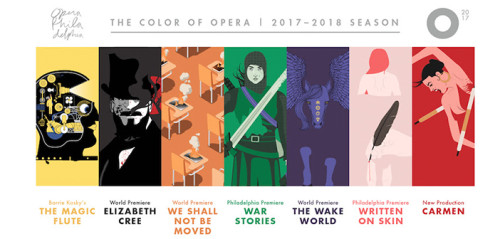 A Modest Tribute to Opera Philadelphia's Inaugural O17 Festival
This will not be a review in the usual acceptation of the term. My intention is merely to offer a modest tribute to Opera Philadelphia for the sense of burgeoning artistic enterprise it has shown in the six years since David Devan took over as general director. That progress has now been emphasized by O17, a two-week festival inaugurating the company's 2017/18 presentations, and set to become a regular feature of coming seasons also.
Incorporating 31 performances of seven distinct productions, including world premieres of works by Kevin Puts, Daniel Bernard Roumain, and David Hertzberg, this ambitious event aimed to turn not perhaps "all the world" but all of Philadelphia into a stage: for in addition to the traditional venues of the Academy of Music and Perelman Theater in the Kimmel Center, performances were also offered at the Wilma Theater, the Philadelphia Museum of Art, and the Barnes Foundation, as well as an open-air Marriage of Figaro in a recording of last season's production, broadcast free of charge in Independence National Historical Park.
I should have wished to partake of all of these activities, but unfortunately a slew of medical appointments and preoccupations in preparation for upcoming surgery left me able to attend only two. One was the world premiere of Elizabeth Cree, based on Peter Ackroyd's novel The Trial of Elizabeth Cree, co-commissioned  from composer Kevin Puts and librettist Mark Campbell by the company with London's Hackney Empire and co-produced with Chicago Opera Theater. The other was a highly unconventional Magic Flute from Komische Oper Berlin, co-produced by Opera Philadelphia with L.A. Opera and Minnesota Opera.
I cannot claim to have found much satisfaction in Cree, with its somewhat sub-Sweeney-Todd-ish story focused on human misery with little either dramatic or musical to illuminate it. But there must be only high praise for the polish and professionalism of all concerned in the performance directed by David Schweizer and conducted by Corrado Rovaris.
The Komische Oper's Magic Flute has been widely admired around the world. Envisaged as, among other things, a salute to the era of the silent film, it presents the living actor-singers in constant interplay with animations. Instead of scenery in the familiar sense, the cast appears at various heights above the stage against a plain background across which all manner of denizens of the animal world disport themselves. Most of these frolics are entertaining and many are charming, but some did not seem to me to have been very sensibly thought through. Papageno, for example, appears throughout the show in the company of a frisky cat – a charming companion, certainly, but hardly one that could have had a positive effect on the character's activities as a full-time bird-catcher, unless we are meant to suppose that some such development as the lion lying down with the lamb has reconciled birds with cats.
Instead of letting the cast deliver their own segments of spoken dialogue, these appeared on large and plain silent-film-style screens. This I also found somewhat perverse: silent cinema used the device to solve a practical problem, but with live performers on hand that could have spoken the words themselves, the problem need not have reared its head. And some important dialogue was omitted, including the most seditious pair of lines in the whole work, when a priest asks whether Tamino will be able to withstand the trials he is to undergo: "Remember," says the priest, "he is a prince," to which the corrective rejoinder is "More than that – he is a man."
There was much to enjoy in the work of co-directors Suzanne Andrade and Barrie Kosky, in the singling and playing secured by conductor David Charles Abell, and especially in the presence of a Tamino, Ben Bliss, possessed of a genuine Mozartean voice – what a pleasure to hear tenor singing totally free from any apparent sense of strain! Altogether, though, I felt that this Flute offered more to newcomers to the work than to audience members already familiar with its unique blend of profundities and frivolities. And the sheer proliferation of visual stimuli had, in the end, the effect of diminishing its artistic stature.
Nostalgically, I cannot forget some of the wonderful productions the company mounted when Margaret Anne Everitt was in charge. Some of them, especially those by the New Zealand-born choreographer and director Gray Veredon, brought true inspiration to bear on a production style that was much less conventional than it may have seemed. But I do not for a moment question the present management's and board's commitment to extending the reach of opera to newer and wider audiences, or their ability to do so with exciting and thought-provoking insights.
Bernard Jacobson
For more about Opera Philadelphia click here.