United States Verdi, Rigoletto: Soloists, Lyric Opera of Chicago / Marco Armiliato (conductor), Civic Opera House, Chicago. 7.10.2017. (JLZ)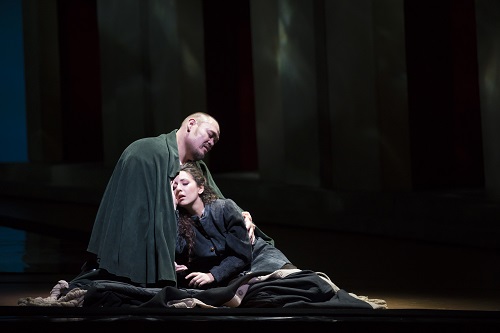 Cast:
Rigoletto – Quinn Kelsey
Gilda – Rosa Feola
Duke – Matthew Polenzani
Sparafucile – Alexander Tsymbalyuk
Maddalena – Zanda Švēde
Monterone – Todd Thomas
Borsa – Mario Rojas
Marullo – Takaoki Onishi
Ceprano – Alan Higgs
Countess Ceprano – Whitney Morrison
Giovanna – Lauren Decker
A Page – Diana Newman
An Usher – Kenneth Nichols
Production:
Conductor – Marco Armiliato
Director – E. Loren Meeker
Set Designer – Michael Yeargan
Costume Designer – Constance Hoffman
Lighting Designer – Chris Maravich
Chorus Master – Michael Black
Inspired casting of Lyric Opera of Chicago's Rigoletto created a scintillating evening at the Civic Opera House, with Quinn Kelsey embracing the title role both musically and dramatically – a Verdi baritone of the first rank. The first-act duet "Figlia! Mio padre!" with Rosa Feola as Gilda had a sense of urgency and paternal care. Kelsey enhanced the text with well-thought phrasing, especially in the repeated passages, where his vocal rhythms deftly matched Verdi's line, creating a believable and sympathetic character.
In the second-act aria with the chorus, "Cortigiani, vil razza dannata" (in which Rigoletto deciding to seek vengeance on the Duke), Kelsey responded to the courtiers' barbs directly, while his feigned agreement to serve as jester was underscored with ironic glances that let the audience know he was taking things in his own hands. It was no surprise that he earned extended applause.
The scene that followed with Feola was also persuasive, and the unaccompanied passages resonated as the audience seemed to hold its collective breath. Kelsey increased his intensity in the final scene, where the dialogue with his dying daughter was etched in the air with restraint and reserve. It was a masterful ending that capped an incredibly moving performance.
As the Duke of Mantua, Matthew Polenzani was in vivid form, delivering his scenes with finesse. The opening "Questa o quella" was nicely extroverted, and the second act aria, "Ella mi fu rapita!", showed even more of Polenzani's vocal prowess. In his interactions with the chorus, his transformation from grieving lover to triumphant womanizer ("Possente amor mi chiama") was evident aurally and also in his demeanor. His interpretation of the familiar third-act aria "La donna è mobile" contained many deft touches.
Feola made a believable and compelling Gilda, striking a good balance between devotion to her father and infatuation with the Count. The iconic aria "Gualtier Maldè!… Caro nome" struck the right tones, and she played with the phrasing to suggest her passion. The final scene was touchingly subtle, all the way through the dark, minor-mode chords that bring the tragedy to a close.
Among the other roles, bass Alexander Tsymbalyuk offered a strong Sparafucile, with Scarpia-like menace. His dark, lustrous voice made the assassin come to life. As Sparafucile's sister Maddalena, the mezzo soprano Zanda Švēde offered sensuality and conviction, leading to the opera's tragic dénouement.
The chorus showed exemplary polish and clarity in delivering the sometimes rapid-fire lines. Their balance and voices were near-ideal, and like all onstage and the orchestra, masterfully led by conductor Marco Armiliato. This production, originally from the San Francisco Opera, benefited from the fine direction of E. Loren Meeker, who gave the evening stylish life.
James L. Zychowicz