United States Menotti, The Consul: Soloists of Dayton Opera, Dayton Philharmonic / Patrick Reynolds (conductor). Schuster Center, Dayton, Ohio. 22.10.2017. (RDA)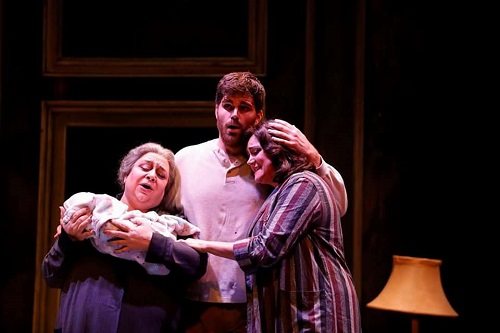 Cast:
Kara Shay Thompson – Magda Sorel
Tyler Alessi – John Sorel
Cindy Sadler – The Mother
Layna Chianakas – The Secretary
Kenneth Shaw – Secret Police Agent
Robert Norman – The Magician, Nika Magadoff
Thomas Hammons – Mr. Kofner
Andrea Chenoweth – The Foreign Woman
Minnita Daniel-Cox – Anna Gomez
Ryu-Kyung Kim – Vera Boronel
Alexander Harper – Assan
Production:
Patrick Reynolds – conductor
Gary Briggle – stage director
David P. Gordon – scenery and props
Bartlett Blair – costumes
John Rensel – lighting
Thomas Venditelli and Cassandra Brake – wigs and makeup
Gian Carlo Menotti's The Consul is neither a musical nor a conventional opera, but it is instead a superbly crafted piece of music theatre in which the music and the words – all his – are inextricably melded together. Its  dramaturgy owes more to the politically charged plays of Clifford Odetts and other members of the Group Theatre, than to the glittery worlds of Times Square or the Metropolitan Opera. There are few set pieces in The Consul yet all eleven cast members have plenty of work, thanks to Menotti, who preferred to write in a through-composed manner, instead of the "stop-and-start" style of most of the composers that preceded him.
The plot is straightforward and blunt. In an unnamed country in turmoil (which could be anywhere in the world at any time), a group of people are sitting in an embassy hoping to get out alive, solely with the clothes on their backs. How their plight and flight take shape make two-and-a-half gripping hours.
In the Dayton Opera's top-notch production, conductor Patrick Reynolds helmed a cast that any company anywhere would be fortunate to assemble. Reynolds led the Dayton Philharmonic through the difficult score with commanding assurance, always keeping an eye on the stage, always reining in the orchestral climaxes to avoid overpowering the singers.
The gifted stage director Gary Briggle pried his singers away from any and all operatic posturing, and obtained naturalistic, cohesive and believable performances. Among a host of memorable moments were the brilliantly conceived transitions from reality to fantasy in the Consulate scenes. Briggle introduced additional actors silently portraying characters of his own creation, loved ones waiting to be reunited with the unlucky people trapped in the opera's unnamed country.
The peerless design team created a somber, tense, and often dreamlike atmosphere perfect for the dark story, placing it in a stifling environment familiar to many refugees from around the world, who fled homelands to come to the United States.
The cast were simply splendid, starting with the veteran bass-baritone Thomas Hammons as the touching and amusingly grumpy Mr. Kofner, and continuing with Andrea Chenoweth's impeccably characterized Italian-speaking Foreign Woman, Minnita Daniel Cox heartbreaking refugee from an African nation, Ryu Kyung Kim's elegant Vera Boronel, and Alexander Harper's fearful but valiant Assan.
As the Secret Police Agent, bass-baritone Kenneth Shaw was superbly sinister, oily, and understated, and as the Secretary, mezzo-soprano Layna Chianakas turned a martinet functionary into a conflicted human being with glimmers of compassion. Robert Norman, a fine tenor as The Magician, managed to be both funny and pitiful.
Cindy Sadler sang with an impressive contralto, and acted the role of The Mother with grace and vulnerability. Tyler Alessi, a young dramatic baritone at the start of what promises to be a very fine career, showed disarming honesty as John Sorel, and cut a fine figure on stage. Kara Shay Thomson possesses a steely dramatic soprano which she used to advantage in her confrontations with the Secretary. Elsewhere she allowed her sizeable voice to freely soar, as in the Act I trio with John and the Mother. She made a memorable Magda, fearful and imperious – at first defeated, yet ultimately triumphantly heroic.
Dayton Opera artistic director Thomas Bankston has put together one of the best operatic productions seen here in some time. The fact that the theme of The Consul resonates so powerfully in today's world of displacement and uncertainty is not happenchance. For that choice and for their collective work, a deep bow to the good people at the Dayton Opera – cast, orchestra, design team, director, conductor, management. Next up is Rossini's The Barber of Seville – if I were you, I wouldn't miss it.
Rafael de Acha