United Kingdom Bizet, Carmen: Orchestra and Chorus of the Teatro Real / Marc Piollet (conductor), Teatro Real, Madrid, 11 & 12.10.2017. (JMI)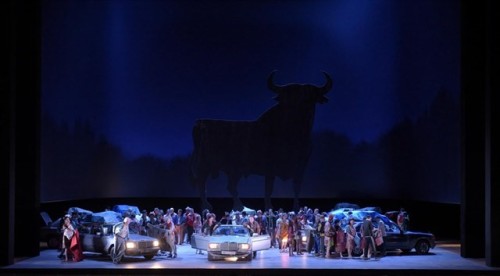 Casts:
Carmen – Anna Goryachova/Stéphanie D'Oustrac
Don José – Francesco Meli/Andrea Carè
Micaëla – Eleonora Buratto/Olga Busuioc
Escamillo – Kyle Ketelsen/Vito Priante
Moralès – Isaac Galán
Zuniga – Jean Teitgen
Frasquita – Olivia Doray
Mercédès – Lidia Vinyes Curtis
Remendado – Mikeldi Atxalandabaso
Dancaïre – Borja Quiza
Production: Opera National de Paris
Director – Calixto Bieito (original), Yves Lenoir (revival)
Sets – Alfons Flores
Costumes – Mercè Paloma
Lighting – Alberto Rodríguez Vega
After opening the season with Mozart's rarely performed Lucio Silla (review), Teatro Real is now presenting one of the most popular titles in the repertoire, Carmen. George Bizet's opera has been absent from their programme since late 2002, when it was offered in a traditional and elegant production by Emilio Sagi. This production by Calixto Bieito, whose works often provoke scandal and controversy, raised a lot of expectation for reasons that have little to do with music but with the current Spanish political situation.
It's a modern staging, superbly directed – and with some touches of provocation. The production premiered at the Peralada Festival in 1999 and then travelled around the world. Subsequently, it was reimagined for performances at Barcelona's Liceu in 2010, with Palermo, Turin and Venice as co-producers. Seen in Paris last year, it is now labeled a production of the Paris National Opera. I had the opportunity to see it a few times.
The conductor was Marc Piollet, who had already led the same production when I saw it at the Liceu in 2010 (review). His reading was correct but short in nuance and long in orchestral sound on more than one occasion. I preferred his conducting with the second cast, where tempi were livelier and Act IV was quite intense. Both the orchestra and the chorus were excellent.
Carmen was performed in the first cast by the young and appealing mezzo-soprano Anna Goryachova. It was a convincing performance and a promising debut in the house, but she needs to go deeper into the character. The second Carmen was Stéphanie D'Oustrac, whose career has been based for a long time in the Baroque repertoire. She made her debut as Carmen seven years ago, and this past summer sang the role successfully in the Festival of Aix-en-Provence. She was also a convincing Carmen in terms both of singing and acting.
The best singer in either cast was Francesco Meli as Don José. Given his background as a light-lyric and bel canto tenor, I had thought he might be better suited for the first two acts than for the last ones. In fact he shone throughout the whole performance. His voice is not exceptionally attractive, but it is very well handled. His Flower Song was the best moment of the performance, and ended in a beautiful piano, as it is written. Andrea Carè seemed to me a more modest Don José. His voice is attractive in the middle range, but he is not particularly expressive and is rather tight at the top.
Eleonora Buratto was Micaëla in the first cast. Her attractive voice has gained in size in recent times, but her aria could use more nuance. The same could be said of soprano Olga Busuioc.
Bass baritone Kyle Ketelsen impressed in the part of Escamillo, a role he has played many times. His voice is well suited to the character. Baritone Vito Priante was a little disappointing: I found his voice rather small in the middle.
In the secondary characters Isaac Galán did well as Moralès, but bass Jean Teitgen was less convincing vocally as Zuniga. The smugglers were better off in the male parts: the best was Borja Quiza as Dancaïre. Mikeldi Atxalandabaso as Remendado was correct, as was soprano Olivia Doray as Frasquita, but her voice is too metallic for my taste. The Mercédès of mezzo-soprano Lidia Vinyes Curtis was somewhat modest vocally.
José M. Irurzun