United Kingdom Strauss and Tchaikovsky: Kian Soltani (cello), Miriam Manasherov (viola), West-Eastern Divan Orchestra / Daniel Barenboim (conductor), Royal Festival Hall, Southbank Centre, London, 28.10.2017. (AS)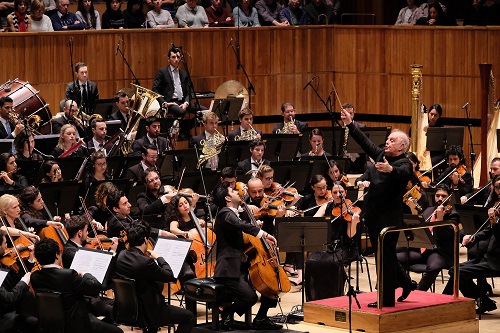 Strauss – Don Quixote, Op.35
Tchaikovsky – Symphony No.5 in E minor, Op.64
This concert was given in aid of the MS Society, and to commemorate the thirtieth anniversary of the death of the renowned cellist Jacqueline du Pré. As is well-known, Du Pré suffered from Multiple Sclerosis and died of this disease at the early age of 42. Before the concert a brief filmed tribute to her assembled by Christopher Nupen was screened, and it was a poignant experience to see footage of her as a young woman, playing happily in the company of her husband Daniel Barenboim and other artists, and to hear heartfelt praise of her art by Pinchas Zukerman, Sir John Barbirolli, Barenboim and her cello teacher William Pleeth.
That Barenboim should conduct Strauss's exceedingly complex Don Quixote from memory was itself a feat. That he should do so with such easy mastery and control was hugely impressive. His reading was in some ways a dissection of the score as if he were conducting Webern: the episode with the sheep, for instance, can rarely have been presented with such clarity, the wind instruments bleating with sharp, precise insistence. The nature of the playing of this passage underlined the fact that it contains an extraordinarily bold collection of dissonances for music written in 1897. Overall, Barenboim's tempi tended to be on the slow side: his was a masterful display of fine-tuned conducting, with wonderfully exact playing from his virtuoso orchestra. Sometimes textures even had a chamber music like quality, such was the attention to detail.
If such a description implies a lack of warmth or emotion in the performance, this was not at all the case. Careful moulding of phrases was put at the service of expression, with the strings possessing a rich, golden quality of tone, and the woodwind solos singing out with passion.
In such a context Kian Soltani's cello contributions very much took second place, well though he played, though the highly communicative quality of Miriam Manasherov's solo viola contributions suggested that the cellist could have projected his part with a little more personality.
If Barenboim's performance of the Strauss work was memorable, so too was his account of the Tchaikovsky symphony. This was a most serious interpretation, with no spurious emotional accretions, yet passion was certainly present in full force as Barenboim unfolded the first movement's symphonic argument: there was a certain subtle fluidity of pulse, but also a sense of monumental strength. An eloquent, humane reading of the slow movement followed hard on the first movement's heels: no doubt Barenboim was concerned that a charity audience would break into between-movement applause if he took a break. Then it was swiftly on to an aristocratic rendering of the third movement waltz: this had a superbly poised, balletic quality, with magical playing from the orchestra. Barenboim imbued the opening statement of the finale with a sense of proud pomposity, but then he abandoned any further posturing by playing the main part of the movement in a down to earth manner that was logically argued but also expressed with a sense of great urgency. The coda was dispatched in an appropriately triumphantly joyful manner.
This was an evening of two outstanding performances. One hopes that the musicians were rewarded by generous donations from members of the audience, so that the MS Society can well continue its encouragingly confident quest to find a cure for a cruel disease.
Alan Sanders