United Kingdom Falconieri, Telemann, Fasch, Torelli, Biber: Devon Baroque, Russell Gilmour (natural trumpet), Persephone Gibbs (director/violin), Andrew Wilson-Dickson (director/harpsichord). Great Hall, Dartington, 29.10.2017. (PRB)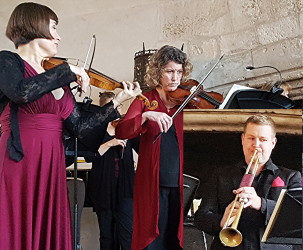 Andrea Falconieri – Battaglia de Barabaso yerno de Satanas
Georg Telemann – Le Burlesque de Quixotte
Johann Friedrich Fasch – Quadro Sonata in B flat
Giuseppe Torelli – Concerto in D for trumpet and strings (G1)
Heinrich Ignaz Franz von Biber – Battaglia a 9 for strings (1673)
J S Bach – Brandenburg Concerto No.2 in F
The clever little wordplay in the title of this concert, "Musical Battles, and the Trumpet, Naturally…", of course hinted that, somewhere along the line, the natural trumpet was to play an important part in the afternoon's proceedings. But even before the instrument made its first appearance, there was a veritable embarrassment of riches for the large audience to savour.
Since Devon Baroque's formation, the ensemble — who specialise in contemporary performance practices on baroque instruments — has garnered an enviable reputation for the sheer quality, and now real exuberance of its playing, unique to the South West of England, and indeed beyond. During that time I have been privileged to review them on a number of occasions for Seen and Heard International, where, for want of a better cliché, they just seem to get better and better each time. Now this is in no way intended to suggest that, at the outset, their performances were not always first-rate. Indeed, under the initial direction of such an eminent baroque specialist and violinist as Margaret Faultless, this was never going to be an option. But over the years they have been able to bring a fresh exuberance and freedom of expression to the mix, which, to borrow a phrase from the world of business, is now fast becoming their USP, or unique selling point.
This has partly developed as a natural outcome of playing together more often, but it is essentially down to the person at the helm. That now involves an unrivalled musical partnership (or, to reuse my previous description, a "musical marriage made in baroque heaven") between violinist Persephone Gibbs and harpsichordist Andrew Wilson-Dickson. These two eminent musicians and baroque specialists exude great scholarship, and are highly-accomplished performers in their own right. But, and perhaps this is even more important, they display such a seemingly natural and laid-back manner, whether communicating with their players, or simply engaging the audience. It is no surprise, then, that this ultimately has rubbed off onto the ensemble as a whole.
Another area to witness some change is that of repertoire. Again, this is something which the Gibbs/Wilson-Dickson partnership would seem largely to have brought to the table. This concert provided, in fact, a good example. It not only managed to include another of Bach's Brandenburgs — which Devon Baroque has been featuring, one at a time, in its programmes for a year or so — but also has some other familiar, as well as lesser-known, repertoire. It is chosen both for impact on the day, but also to derive the fullest use of the combination of instruments present.
With the battle theme very much in mind, the afternoon got off to a flying start with the bizarrely-named Battaglia de Barabaso yerno de Satanas, or Battle of Barabaso, son-in-law of Satan. The piece gave the strings a real opportunity to shine, with some highly-accomplished assistance from recorder player Olwen Foulkes and violinist Emily White, here swapping to sackbut. It also provided a fascinating glimpse even further back in time. The Neapolitan Andrea Falconieri (1585-1656) predates the rest of today's composers by some sixty years. It is good to see a baroque outfit looking in this direction for new repertoire, rather than forward into the pre-classical domain, which is already well provided for.
Telemann rarely, if ever, disappoints, but his suite for strings based on Don Quixote proved an absolute revelation—for a number of reasons, and some not probably envisaged before the concert began. Rather than merely play the Ouverture, and then the separate movements, Wilson-Dickson accompanied the music with readings of short passages from the book itself. That really added to the effect, and showed yet another facet of the harpsichordist's many talents, as he seamlessly assigned individual accents to each character in the plot.
Things were going swimmingly until the audience began to notice an odd sound in the glorious medieval banqueting hall. But Wilson-Dickson, in his most informative and interesting programme notes had already written that Don Quixote's "tilting at windmills is portrayed by Telemann in the musical score, along with some of the animals and humans…" so perhaps this odd sound was, in fact, intentional. Clearly, though, it was not, and once everyone had checked that theirs was not the offending mobile phone, it transpired that this was the fire-alarm. It caused the orchestra to stop in its tracks, and, even though there had been more than enough pyrotechnics in some of the playing so far, that was not what had triggered any alarm. Before a genuine need to evacuate came, Gibbs was able to confirm that it was a false alarm, apparently occasioned by the malicious overuse of the system by a wedding party the day before. Here again, though, the players were completely unfazed, and just picked up where they had left off, even if it did somewhat disturb the flow of music (and interspersed readings, on which Wilson-Dickson had obviously lavished great care in its preparation).
Fasch's Quadro Sonata saw the majority of the players withdraw to the green room, while the pithy four-movement work provided the opportunity for the audience to preview the soloists who would ultimately feature in the concert's final Brandenburg, but here without the trumpet. Gibbs (violin) and Foulkes (recorder) were now joined by oboist Hannah McLaughlin in a finely-balanced and articulate reading, where the trimmed-down continuo accompaniment afforded each soloist the perfect platform on which to perform, whether singly or in combination.
Torelli is usually known more as a string player, but he was also instrumental in taking the trumpet from the battlefield to the concert hall, writing more than thirty concertos for the instrument. In practice, though, this new environment is probably just as dangerous… While fatality is unlikely, there is the likelihood of being "shot down" and fluffing a note on an instrument which must play with the agility of an oboe, but which relies almost exclusively on the player's ability to find each note with the lip. That is certainly not for the faint-hearted. Even the contemporary addition of a few venting holes, allowing the player to correct the instrument's intonation more easily and accurately, is probably no more than the equivalent of wearing the scantiest of body armour in battle. Not to worry: even before soloist Russell Gilmour had blown his first note, he emanated such quiet confidence that everyone present knew he would emerge completely unscathed at the end of a tremendous performance, in which the strings provided exactly the right amount of sympathetic support throughout.
It is a sign of the times that most artists and ensembles are looking for ongoing financial support, and that this is sometimes alluded to during a performance, or in the programme. Here the task fell to Wilson-Dickson, who made a most compelling case for continuing support, even if the playing so far had more than reinforced musically every point he made verbally.
As it happened, though, Biber's Battaglia, which followed, is an example of musica rappresentativa. It seeks to imitate and incorporate the sounds and environments of the real world. In the second movement, for example, the composer evokes some drunken soldiers. He has nine different melodies played simultaneously in different keys and time-signatures, and with a variety of techniques, from using the wood of the bow, plucking strings with the left hand, slapping them on the fingerboard to conjure up the sound of gunfire, and threading paper through the strings to imitate drumming. The players combined in a most entertaining, yet still musically assured fashion, so that anyone who was considering a substantial donation beforehand did not now feel the need to hide their cheque-book.
Of course, after all this merry-making, this might have been a very hard act to follow. But the sheer quality of Bach's music in his Brandenburg Concerto No.2, and the superb performance—especially from Gilmour as he despatched the frighteningly-high notes of the trumpet part on little more than a flared metal tube with a few holes with great panache and scarcely a fluffed note throughout—ensured that this was a most fitting finale to a great afternoon.
For here was music-making that could appeal just as much to the highly informed listener as to someone experiencing baroque music for the first time. That is a duality of purpose that some other ensembles might aspire to, but few rarely can achieve.
Philip R Buttall